Few TV products tell the story of connected television like the latest devices from Roku and Logitech.
On the surface, Roku's tiny streaming stick and Logitech's massive Harmony remote don't share much in common, at least beyond the fact that both were just refreshed today. But together they offer a history lesson in streaming entertainment's path to the living room.
Roku Streaming Stick
Let's start with the recent past. When Chromecast landed last year, Google's TV dongle became a hit, thanks to its tiny USB drive–like shape and a price so cheap, it manages to turn streaming technology into an impulse purchase.
Roku's new streaming stick, just announced today, is also small and cheap(ish)—although at $50, it's $15 more than the Chromecast. But that purple stick is no knock-off. Roku actually debuted a streaming stick in 2012, which worked off of a Mobile High-Definition Link (MHL) port and sold for twice the price. Though individual consumers were able to buy it, Roku was primarily targeting manufacturers, in hopes that they'd smarten up their TV offerings by bundling it together.
Still, the success of Google's TV dongle proved that people liked its compact shape and affordability. So it's no surprise that Roku would revisit its diminutive device for consumer sales. I asked Lloyd Klarke, Roku's director of product management, how the Chromecast and Roku dongles stack up. His response: "What Chromecast does is an interesting feature. Roku is the full solution."
Like Chromecast, the new Roku stick offers 1080p output via HDMI. But that additional $15 buys a few extra things, including dual-band Wi-Fi support with extended range, so it can connect even when stashed behind other electronics. More importantly, that small purple gadget works like a full-size Roku box, so it offers an onscreen interface and 1,200 streaming channels.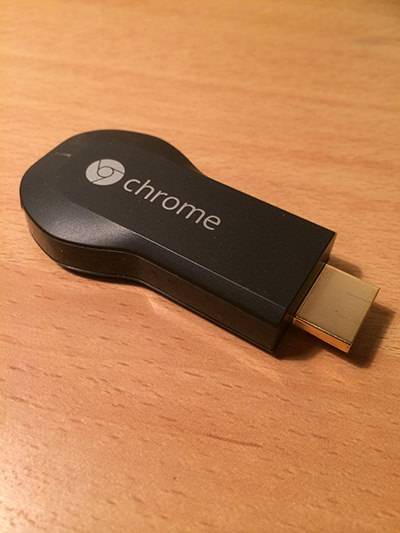 Another difference: Roku's device comes with a remote control, unlike Chromecast and emerging competitors such as the brand-new QPlay streaming device. Roku adores its remote control, and for good reason—it's one of the best in the streaming industry. And since it works via Wi-Fi Direct, it won't require a line-of-sight—an important feature, considering the stick itself will probably get tucked away behind the set.
It makes sense that Roku would play around with its smallest product, considering it will stuff its tech into actual smart TVs before long. The company announced in January that it has partnered with TCL and Hisense, two of the world's biggest television manufacturers, on integrated Roku televisions. According to Klarke, the TV sets will be ready later in 2014.
Logitech's Harmony Smart Keyboard Remote Control
As our media gadgets multiply, the need for universal remotes will only grow. After all, no one likes staring at a coffee table piled high with remotes. Logitech's line of Harmony devices is one of the most popular of this ilk. (Yes, loyal fans of remote controls apparently do exist.)
Logitech's latest is not for the faint of heart, though. The Harmony Smart Keyboard, also announced today, is nothing short of a full-size QWERTY keyboard with a built-in trackpad.
Companies have been trying to pair full-size QWERTY keyboards with TVs for ages, going all the way back to the mid-90s, when WebTV first tried to connect our living rooms. The idea seemed bizarre and off-putting at the time. Then again, maybe it was an idea that came too early. Now Logitech thinks the time is ripe, and it's betting on its experience in this area to make it a success.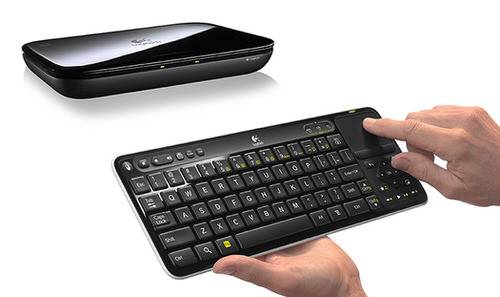 The company not only offers a popular universal remote, but it also produced the Logitech Revue Google TV and keyboard remote. The new offering takes a lot of cues from that previous connected device—from the layout of keys, to its ability to stand on end (so it can fit into small crevices).
Even so, I still couldn't imagine why anyone would want a massive device to control their television. But Todd Walker, Logitech senior manager of product marketing, reminded me how tedious it is to input search terms using standard remotes. Typing on a keyboard is so much easier.
Plus, Walker said, "for many people, their primary TV streaming device is still a computer." And in that case, they're using full-size keyboards anyway. At least with the Harmony, those users can also control the television, TiVo, add-on appliances, and much more with a single remote.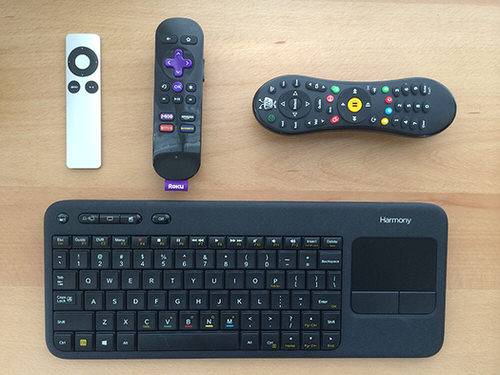 The Harmony Smart Keyboard connects to a hub, and between the two, the system supports Wi-Fi, Bluetooth and USB, as well as infrared. This allows for control over a vast array of devices. (Eight at any one time.) The database of compatibility covers some 225,000 gadgets.
Here's the stunner: Some of those products have nothing to do with televisions. Because the Harmony supports various connectivity options, it can control your television, computer and a Phillips HUE lightbulb, for example. One guy, Walker says, even connected his remote to a ceiling fan. People can also program multiple settings for different devices into a single "activity." So, a user could turn down the lights and power up the TV, streaming box and audio system with a single press of a button. Walker describes it as "one touch to turn everything on."
This borders on "smart home" territory, so I asked him if Logitech would ever consider features for, say, automation and scheduling. Walker wouldn't answer, except to smile and say, "Interesting ideas." Interesting, indeed. And somewhat logical. The company already offers things like connected cameras.
See also: The Hub Of The Connected Home Could Be In Your Living Room
If home control is part of the package, then that $150 price tag would seem a little more palatable. Otherwise, that's a huge pill to swallow for a remote control. And that's not the only thing that's huge. Ultimately, we're still talking about a giant remote. You can forget easy, one-handed operation with this, unless you use the companion mobile app.
Given that, this product won't work for everyone. However, if you stream to the TV via computer or have piles of devices and appliances to manage—and have deep pockets—this Harmony keyboard might be up your alley.
These products may take hints from the past, but make no mistake: They've got their eyes on the future. Streaming devices and remote controls will be key for numerous areas of technology—from online entertainment and smart TVs to home automation and smart homes. Companies have long battled for our televisions, but now the stakes are higher than ever.
Control the living room, control the whole house.
The Roku Streaming Stick is open for pre-orders now at various retailers—including Amazon.com, Best Buy and Roku online—and will ship in April. The Logitech Harmony Smart Keyboard is available today exclusively at Best Buy.
Logitech Revue image courtesy of Logitech. All others by Adriana Lee for ReadWrite