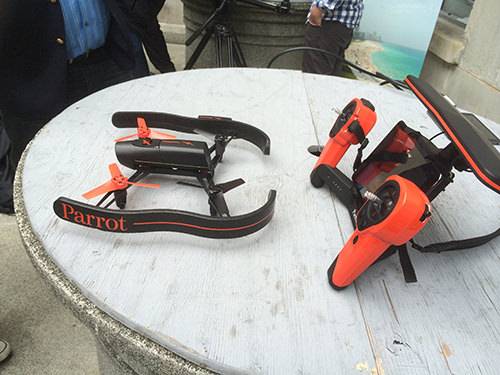 Parrot's AR drones have been a darling in the tech world for the past few years. The small, lightweight smartphone-controlled rigs are like souped-up toys for your inner child, but powered by very grown-up technology.
Now the French gadget maker has announced a new high-flying machine, the Bebop, which is designed to work with another very buzzwordy technology, the Oculus Rift virtual reality goggles. This virtual-reality-to-actual-reality combination gives people an immersive way to see and experience "firsthand" what the drone sees while it's in flight. It's practically like soaring and hovering yourself, without strapping on wings.
Brandon Stark, eat your heart out.
The Closest You Can Get To Flying
Like the youngest Stark's "warg" sight on Game of Thrones, Oculus wearers can survey things from the literal bird's eye view of this drone.
Thank the company's other new gadget—an all-new optional Skycontroller. It connects the VR goggles to the system and to the 14 megapixel, full-HD video camera with fish-eye lens. The latter offers an exceptional 180-degree field of view, so Oculus-donning users can simply look around to control pitch, panning and tilt as the copter hovers or flies.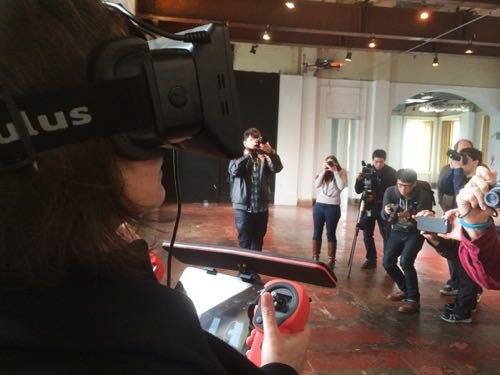 The Paris-based company knows how to crank things up a few notches and attract interest. Too bad it can't overcome the fact that Oculus isn't actually a commercial consumer product yet, so everyday customers wouldn't be able to experience this kind of flight. And Parrot only works with version 1 of the VR goggles for now (though work on version 2 support has already begun).
Not that this should stop Bebop hopefuls from claiming their quadcopter anyway. Because even without the warg sight, this model is impressive in its own right.
Drone On, Fly High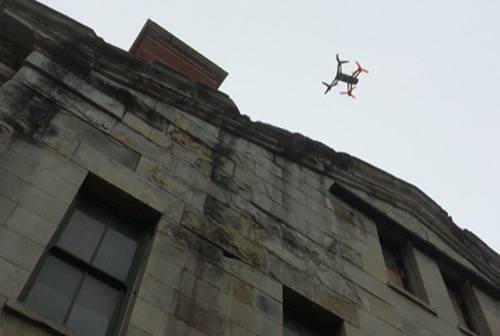 At the press event Thursday, Parrot CEO Henri Seydoux called the Bebop a "flying camera," so it's no surprise the company would pack a powerful one in there. The copter comes with a 1080p HD video camera that offers finer detail than previous versions. And customers can still take advantage of that roomy field of view to make the camera pan and zoom (though they'll be viewing the action on a mobile screen). Improvements to the software also boost stability for photos and video captured during flight.
The quadcopter offers 8GB of built-in flash storage, and with the integrated GPS, the drone can complete a pre-designated flight plan, or come running home at the push of a button.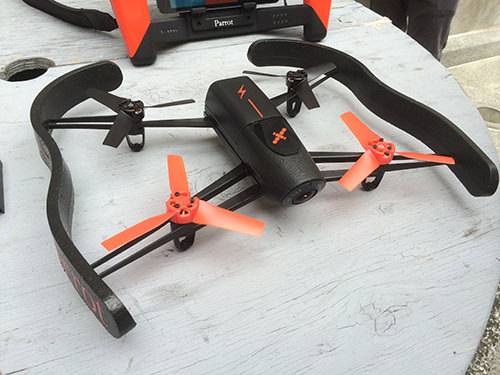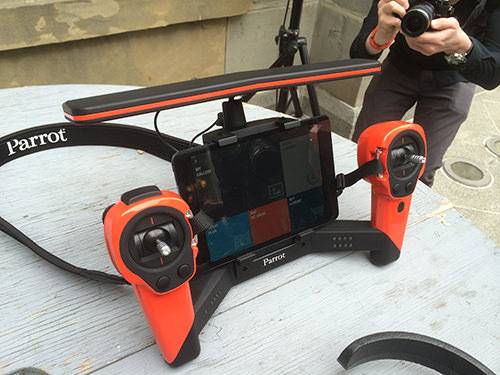 Add the Skycontroller, and the Bebop can fly as far as 2 kilometers (or about 1.2 miles) away from the user, thanks to an extended Wi-Fi signal. The controller also puts an HDMI port into the mix, so users can watch the drone footage in high definition.
As for safety, the product designers included an automatic kill switch, which kicks in upon contact to stop the propellers. And if that somehow fails, those propellers are fabricated from a softer plastic, to mitigate any damage.
Parrot may be a forerunner in the consumer drone market, but its latest still isn't a perfect product. It takes more than two hours to charge Bebop's battery, after which, you only get 12 minutes of flight. And once again, its most interesting feature—virtual flight via Oculus Rift—isn't actually available to consumers yet.
Still, it's a peep at a rather futuristic scenario, and it offers a glimmer of what people are creating with emerging technologies. Such immersive experiences could do a lot of good in the right hands. I imagine farmers using this in the field, to more accurately assess their crops, or emergency workers literally looking around a dangerous site to spot the injured.
Of course, anything that puts a high-definition camera in the skies has a potential creep factor, and Oculus-powered "vision" could up that factor. But it looks like we'll have some time to think that through before any sort of Paroculus goes mainstream.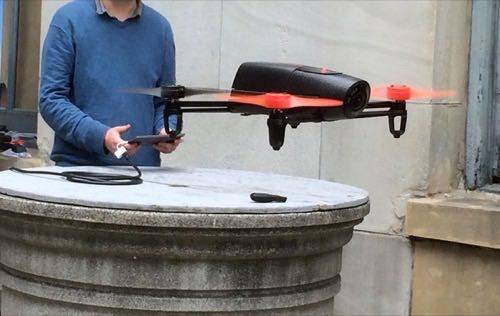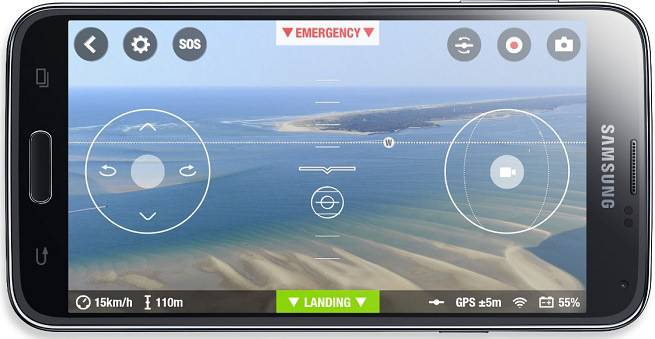 The Bebop will be available in Q4 2014, alone or as part of a bundle with the Skycontroller. No information on Bebop or Skycontroller pricing was announced at press time. Oculus Rift, version 2, is not currently available for purchase. Pre-orders for developer versions are being taken here for $350.

Mobile view image courtesy of Parrot; all other images by Adriana Lee for ReadWrite