At a press event in San Francisco Thursday, Facebook's Oculus VR unit announced a hardware and software partnership with Microsoft to help bring its virtual-reality wares to market.
First, we'll see a wireless Xbox One controller and PC adapter packed into every Oculus Rift headset package. Additionally, the Rift will natively work with the Windows 10 operating system when it launches in the first quarter of 2016—which could potentially pave the way for developers to make virtual-reality games specifically for the Xbox One console.
The Details Of The Deal
Phil Spencer, Microsoft's head of Xbox, took to the stage to announce the companies' partnership, explaining the benefits that Windows 10 support and the Xbox One controller's inclusion will bring to gamers and developers alike:
At Microsoft, we're incredibly focused on making Windows a great operating system for gamers. And with Windows 10, partnering with Oculus to make it the very best operating system for Oculus Rift, we believe we will unlock the potential for millions of developers everywhere to create incredible virtual reality experiences.
Spencer also referenced the forthcoming ability to stream Xbox One games to Windows 10 PCs and tablets—an ability that will also gain Rift support. The catch, however, is that playing an Xbox One game on the Rift via PC streaming puts users in a "virtual cinema." Essentially, gamers will be able to see their games on a virtual TV screen in front of them.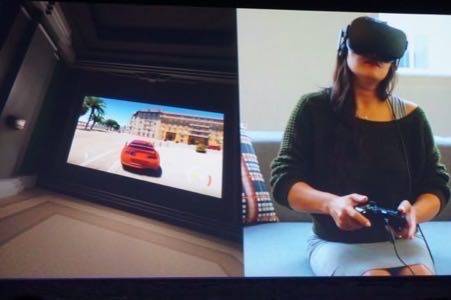 It was a disappointing visual. People want virtual reality to put them in the game, not simply give them new ways to watch games being played.
Oculus CEO Brendan Iribe did help mitigate that disappointment when he said that multiplayer Xbox One gaming might populate the virtual theater with avatars of gamers' friends or in-game rivals.
A Partnership That's More Than Virtual
A lackluster response to Microsoft and Oculus's virtual theaters aside, the partnership is pretty significant in both the short and long term. For starters, packing the Xbox One controller in with the Rift headset gives developers a standard input that they know all users will have in hand. While gamers will likely be able to use whatever controllers they like, game makers can still rely on one normalized control standard that all users will be able to access. Standardization makes development much easier.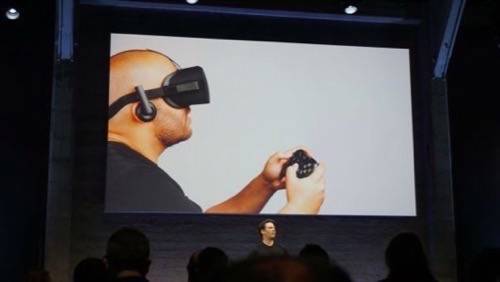 Moreover, the partnership between Microsoft and Oculus could eventually lead to the development of virtual reality games for the Xbox One itself.
Sony has plans to debut its Project Morpheus headset for the PlayStation 4 in the first half of 2016, and many have wondered whether Microsoft would have its own VR headset on the Xbox One console to compete. It's possible that Spencer and Iribe have given us our answer.
Finally, the partnership also serves to cut one of PC gaming's biggest influences out of the picture: Steam. Currently, Valve's Steam platform is the undisputed king of PC game distribution, a fact that the company looks to leverage to its advantage via its forthcoming Vive headset, which it's developing in partnership with HTC.
But Oculus and Microsoft's partnership seems to take Valve's Steam out of the picture altogether. To browse, buy, and play games on the Rift, users will access the Oculus Home.
Meanwhile, Microsoft's native Windows 10 support for the Oculus means that installing and running the device and its software should be a cinch. While there's no doubt that Steam will support the Rift, it sure does look like Microsoft and Oculus are going out of their way to let gamers bypass Steam.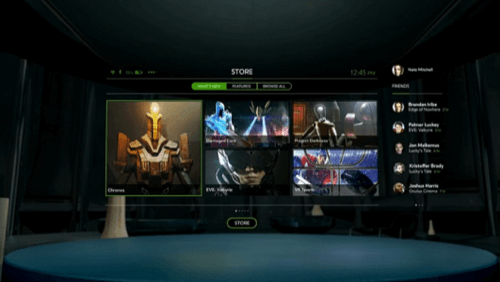 Instead, developers will likely pipe their games to Oculus for inclusion on the Oculus Home, Oculus's software hub.
The questions we can't answer right now, though developers will want to know:
Will selling games on Oculus Home offer them more revenue than doing so on Steam?
Will Oculus Home be a better place to sell games because it only sells VR games, rather than the vast bazaar of content offered by Steam?
And where does Microsoft's Hololens headset fit into all of this?
We'll know more for sure when the Rift comes out in the first quarter of 2016. But one thing's for sure: There's nothing virtual about the reality of the coming VR wars. Watch out.
Photos by Adriana Lee for ReadWrite; Oculus Home image screencapped by Brian P. Rubin for ReadWrite