Apple's relaunch of Beats Music—possibly to be known as Apple Music—could come as soon as its Worldwide Developer Conference in June. But Apple is relatively late to the streaming game, and as a result will be facing off against a fair bit of entrenched competition, from independents like Spotify to big names like Google and Microsoft.
To give you an idea of what Apple's taking on—and the level of choice you have if you're in the market for a music streaming app—we've rounded up all the major services and picked out the key features for you.
First, though, a caveat: Weighing one music streaming service against another is more challenging than you might think. For a start, there's no easy way to compare the availability of music among the millions of tracks on offer. The mix of tracks on each service also varies between countries and markets.
Then there's support for the dozens of third-party platforms to consider, from Sonos speakers to Chromecasts to games consoles. Add to that features like music curation, editorial content, exclusives, family plans, integration with external apps (such as Last.fm) and attempting a side-by-side comparison can quickly become an overwhelming task.
We've also had to leave out certain services for reasons of brevity, including Amazon Prime Music (with a much smaller library, it's more of a Prime add-on than a serious challenger) and Pandora (which focuses on radio streams rather than on-demand playlists).
With those caveats in mind, consider our summaries below as a brief taster of what you get with each service. All of them have free trials available, so check them out individually to see if your favorite tunes and features are included. All data is correct as of May 2015 and has been checked with company representatives.
Spotify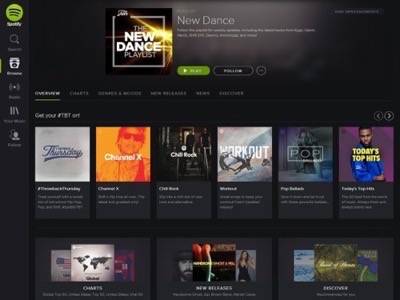 Launched: 2008
Songs: 30 million
Users: 60 million, 15 million subscribers
Platforms: Web, desktop, iOS, Android, Windows Phone, BlackBerry
Quality: Up to 320kbps
Free plan: Stream songs on demand to desktops and tablet devices with a limit on track skipping and audio quality, as well as occasional adverts. Stream shuffled radio-style playlists on smartphone devices.
$9.99/month plan: No restrictions on audio quality or track skipping, and no adverts. Plus the ability to cache songs and playlists for offline listening on desktop, tablet or smartphone.
Spotify is the first name that springs to mind when it comes to music streaming, as it's largely responsible for pioneering the model. Its key features are broad availability, both in terms of supported platforms and countries where it can be used; the option to import your own MP3s in addition to streamed tracks; and the general polish of its apps.
Rdio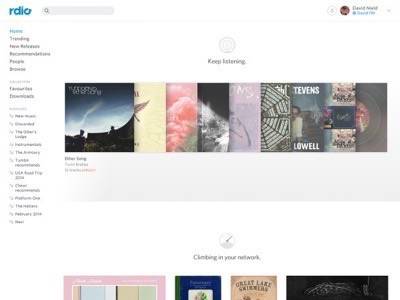 Launched: 2010
Songs: 32 million
Users: Undisclosed
Platforms: Web, desktop, iOS, Android, Windows Phone
Quality: Up to 320kbps
Free plan: Like Spotify, you can listen for free on Rdio on desktop or mobile—there's no skipping, no offline listening, and you're limited to algorithm-driven radio stations based on mood, genre or a particular artist.
$3.99/month plan: Rdio's newest plan gives you ad-free, higher-quality listening on mobile, though you're still stuck with radio-style stations. 25 songs can be cached for offline use. On desktop, there's no difference from the free plan.
$9.99/month plan: Subscribe at the top level and you get everything Rdio has to offer, including on-demand listening without skip limits or ads, and offline playback on mobile devices for times when you don't have a connection.
Rdio is often to be found in Spotify's shadow, which is a shame because it does a lot of things rather well. The Web interface is cleaner and handles swapping between computers better than Spotify, although the big miss is the ability to import your own local tracks. That aside, there's very little to choose between Rdio and Spotify in terms of features and speed.
Google Play Music All Access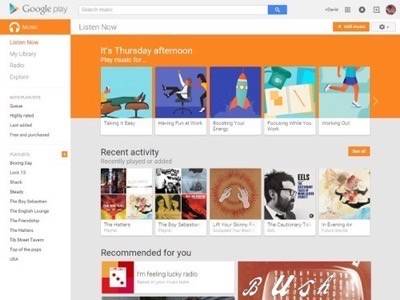 Launched: 2011
Songs: 30 million
Users: Undisclosed
Platforms: Web, iOS, Android
Quality: Up to 320kbps
Free plan: Google lets you upload up to 50,000 of your own tracks to the cloud for free and then stream them to computers and mobile devices. As long as you're only interested in your own purchased MP3s, it works well.
$9.99/month plan: If you subscribe you get a Spotify-style service on top of the locker, so millions more songs to stream on demand. You get mood-based playlists too, as well as YouTube Music Key for no extra charge.
Google's offering is actually one of the most comprehensive out there, particularly if you want to bring your own tracks along, so it's strange that it doesn't have the same kind of high profile as Spotify. However, there's no desktop app, the Web apps aren't quite as polished as some rival ones, and you can't collaborate on playlists with other people.
Deezer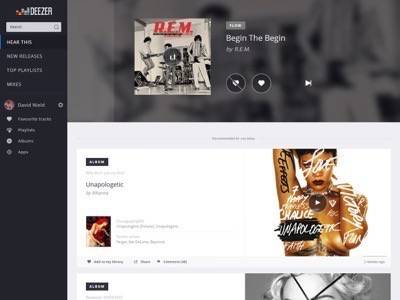 Launched: 2007
Songs: 35 million
Users: 16 million, 6 million subscribers
Platforms: Web, iOS, Android
Quality: Up to 1411kbps
Free plan: Deezer offers its own ad-supported tier, like Spotify, and it's almost exactly the same—you get adverts when listening on desktop or tablet, and on smartphones you're limited to radio-style mixes.
£9.99/month plan: Pay for a premium plan and you get all the usual goodies (no ads, offline support, freedom with your playlists and so on). It also has a team of global editors picking out the best music picks.
£14.99/month plan: For an extra £5 you can get Tidal-style lossless quality, though this Deezer Elite package is only available via Sonos speakers for now (it's also the only part of Deezer to launch in the US up to this point).
Popular in Europe but less well-known in the U.S. (where it's yet to fully launch), Deezer hits all the same features as Spotify and Rdio, even if its apps are a little less intuitive and slick. It also includes local MP3 uploads for paying members, like Spotify and Google Play Music, so you can fill gaps in its catalog with CD rips or digital music purchased elsewhere.
Tidal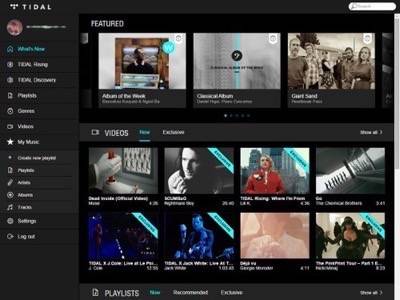 Launched: 2014
Songs: 25 million
Users: Undisclosed
Platforms: Web, iOS, Android
Quality: Up to 1411kbps
$9.99/month plan: There's a free trial available for Tidal but no free tier, and this cheaper option gives you access to Tidal's 25 million tracks up to a quality of 320kbps. 75,000 high-quality music videos are included too.
$19.99/month plan: To get the uncompressed, lossless music that Tidal is known for, you need to pay double the money. To be able to notice the difference you'll want to pay more for your audio equipment as well.
Tidal's lossless, CD-quality music is its headline feature, but it's keen to highlight the music videos and curated content on offer too. Social media features are tightly integrated and there's plenty of extra material from artists as well, plus an appealing bunch of apps. Whether it's enough to tempt subscribers to pay twice what they do with Spotify is up to you.
Xbox Music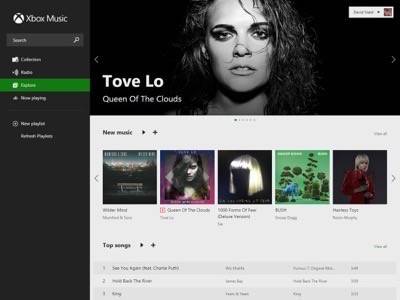 Launched: 2012
Songs: 38 million
Users: Undisclosed
Platforms: Web, Windows, iOS, Android, Windows Phone
Quality: Up to 256kbps
$9.99/month plan: Xbox Music ditched its free tier last year (a 30-day trial is still available) so you can pay $9.99 a month or $99.90 for a whole year. That gets you unlimited streaming and caching across all of your devices, which of course includes the Xbox.
Microsoft's take on Spotify/iTunes is a confusing beast, complicated by its Zune-related history, its original reliance on the Xbox and a half-hearted attempt at Windows 8 integration. (It may, however, finally be shifting away from the confusing "Xbox" branding for its music service.) Recently a new feature enabled users to stream local MP3s via OneDrive alongside millions of other tracks, making this most akin to Google's offering, but it needs a lot of refinement.
Rhapsody/Napster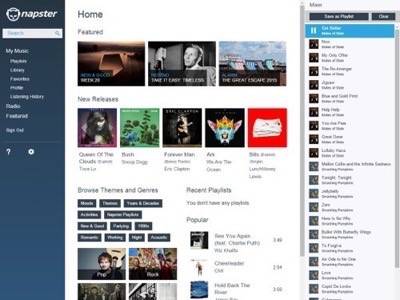 Launched: 2001
Songs: 32 million
Users: Undisclosed
Platforms: Web, Windows, iOS, Android, Windows Phone
Quality: Up to 320kbps
$4.99/month plan: Rhapsody's basic unRadio service is a Pandora-style shuffled stream that you can't fully control, though you do get unlimited skips and the option to save up to 25 'favorites' for offline listening.
$9.99/month plan: Unlimited access to millions of songs, offline downloads and up to three registered devices come with the Premier package. You can sign up for a 30-day free trial first to see if you like it.
Rhapsody is one of the oldest digital music services around (streaming or otherwise) and has acquired sister service Napster (now a genuinely legal platform) in the UK. Thanks to Rhapsody's longevity, it has a large library of tracks and supports a lot of different devices, though the newer alternatives feel more nimble and better at mobile and music discovery.
Beats Music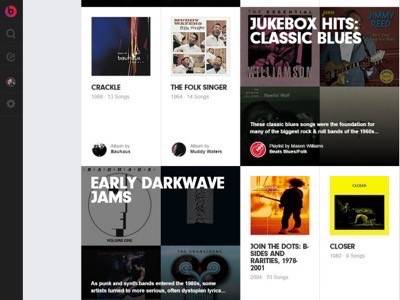 Launched: 2014
Songs: 20 million
Users: Undisclosed
Platforms: Web, iOS, Android, Windows Phone
Quality: Up to 320kbps
$9.99/month plan: Unlimited streaming, offline listening and a personalized experience are what you can expect. You can also pay $99.99 per year. There's no free tier, just the obligatory free trial period.
When Apple unveils its new streaming service we're expecting Beats Music to form the foundation of it, so it's worth mentioning even if it won't be around in its current form for very much longer. Beats Music puts a lot of emphasis on its curation and discovery features, which are handled by human editors rather than computer algorithms.
Lead image by juliana luz