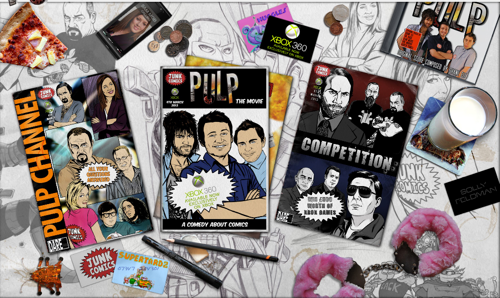 Table stakes in the online content industry these days is owning the rights to "exclusive" content, and Microsoft took a small step in that direction, agreeing to distribute Pulp, a "comedy about comics," which premieres Monday on its own Xbox platform.
"Microsoft might not seem like the obvious partner for an indie comedy, but the film industry has changed," Adam Hamdy, Pulp's co-director, told The Telegraph. "Xbox 360 can instantly distribute Pulp to millions of UK customers, and publicize the release in ways that simply aren't possible traditionally."
The Competition For Content
That's the same argument, but writ small, that online content houses like Amazon, Hulu and Netflix have chosen to try and win audiences. Netflix, of course, is shaping the future of TV by signing up shows like House of Cards, Lillyhammer, and a new season of Arrested Development – though some have speculated that Netflix should be on a deathwatch, instead. Hulu has done the same thing to a lesser extent. Amazon has also ponied up, buying the rights to the critically acclaimed television series, Justified.
And HBO, one of the first paid services to orient itself around original content, has said that more customers are tuning in to watch its original series – at least via its HBO Go application – then to watch movies. That may be because movies on HBO come and go, depending on licensing deals, while its original series – including The Sopranos, The Wire and Game of Thrones, among others, live on forever on HBO Go.
Last March, Microsoft began positioning its Xbox game console as more of a video set-top box on on the order of a Roku, with more minutes spent watching recorded movies and television content than playing games. Last year, Nielsen found that consumers spend an average of about an extra hour per week on a game console watching recorded video.
Microsoft's recent moves are in line with that trend. In September, Microsoft hired former CBS exec Nancy Tellem to run a new Xbox content studio, although the first efforts were essentially interactive "Sesame Street" programs. Adding exclusive distribution of Pulp is a more traditional content play, something that one might expect Tellem would orchestrate with Hollywood.
Microsoft representatives did not respond to requests for comment by press time.
Content Is King, But Breadth Is Queen
The difference between Microsoft and a service like Netflix, however, is that Redmond inextricably tied to the Xbox platform; although Microsoft outsells all other game console in the world (in 2012, the company claimed more than 63 million Xbox 360s had been sold, lifetime) Netflix has vastly more distribution across Apple's iOS and Mac platforms, plus Android phones, tablets and various set-tops like the Apple TV, Roku and WD TV boxes, among others.
For Microsoft, however, an exclusive content deal means two things: profits and cachet. Microsoft's interactive division is forever flirting with losses (last quarter, Microsoft's Entertainment and Devices Division recorded a $19 million profit). Although Microsoft may in fact have paid money to license the premiere of Pulp, it's equally likely that studios could pay Microsoft to promote their films, a strategy that the industry is beginning to see with Roku (via banner ads promoting recent films) Comcast and Cox (ditto) as well as Hulu Plus (via a carousel of promoted shows).
Microsoft may not have the clout of a Netflix, but analyst Richard Doherty of The Envisioneering Group has characterized the Xbox as the most socially connected TV platform, and Microsoft's "second screen" Smartglass technology gives the service a technological leg up on the competition. Now, Microsoft set on expanding its Xbox from a game console to a content distribution hub. The company may be far behind its competition in that regard, but the race is far from over.