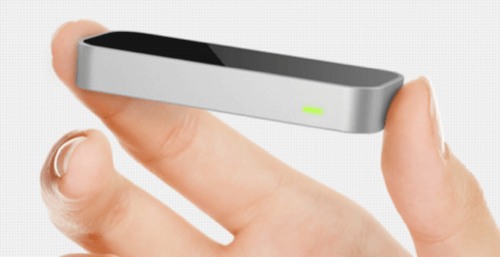 The company is called Leap Motion, and if you want to get an idea of how much everyone in San Francisco is buzzing about them, consider this: A few weeks ago I was visiting a different hot new startup in San Francisco, and in the middle of their demo the executives said, "By the way, have you heard about Leap Motion?" Then they interrupted their own demo to show me a video showing what Leap Motion's software does.
That mindblowing video has been viewed more than 7 million times since Leap Motion put it on YouTube last May. Basically the engineers at Leap Motion have invented the 3D user interface of the future. You don't use a keyboard and mouse; you don't even use a touch screen. You just move your fingers in the air, and, as if by magic, with zero latency and pinpoint accuracy, stuff happens on your screen. Think of Microsoft's Kinect controller, but way better. Leap Motion claims its device is 200 times more accurate than anything on the market and can track your finger movements down to 1/100th of a millimeter.
The first version of the product will be delivered in a little plastic hockey puck that you connect to your laptop or desktop computer. This little device will start shipping early in 2013 at an incredible price — only $69.99 gives you a new toy that isn't quite like the user interface from Minority Report, but it's not that far off, either.
Welcome To The Future
Wired called this "the best gesture-control system we've ever tested." The Verge called it "the next big thing in computing."
Leap Motion has already received preorders worth tens of millions of dollars, says Andy Miller, the company's president and COO.
Miller, by the way, is a former top executive at Apple, and his team is packed with Apple veterans. Leap Motion was founded in 2010 by Michael Buckwald, a serial entrepreneur who serves as CEO, and David Holz, a former NASA engineer who previously was working at NASA. Holz's official title is CTO but he lists himself on LinkedIn as a "mad scientist." One of their first investors was Marc Andreessen, the founder of Netscape.
Now do you see why everyone in San Francisco is so excited about these guys?
By this time next year we might be reading stories not just about how Leap Motion was one of the hot products of 2013, but about how this product changed everything.
Beyond Computers
Because Leap Motion has big plans. Laptops and desktops are just the start. "The consumer is side a way of getting it out there, but the bigger business might be licensing deals," Miller says. "We have been contacted by thousands of businesses that want to use this."
He reels off potential applications that range from robotic surgery to fighter jets, from semiconductor clean rooms to fast-food restaurant kitchens. "We've talked about seatback screens on planes," he says. "Climate control systems. Set-top boxes and TVs and remote controls. Tablets. MRIs."
McDonald's and Jack in the Box like the idea of putting Leap Motion controllers in their kitchens so that workers can manipulate screens without having to touch them.
Others want to use Leap Motion in casinos, nightclubs and DJ booths to let people control huge video boards.
"This is a big thing that really could change the way we interact with devices," Miller says.
Leap Motion won't have a booth at CES, but will be present at the show. Miller won't offer any more info as the deals have not yet been announced.
Better Yet, There's An SDK
Leap Motion has created a software developers kit so that others can write apps for the device. So far the company has received more than 40,000 applications from developers. Leap Motion will send 10,000 free units to developers so they can start writing apps.
Those developers will dream up ways to use Leap Motion that the company itself might never have imagined, just as happened when Apple threw open the iPhone to outside developers and spawned a huge new industry of apps-makers.
One guy has already figured out how to use a Leap Motion controller to drive a quadcopter:
Image courtesy of Leap Motion.