As Industry 4.0 sweeps across the supply chain, it's clear it will have a significant impact on everyone involved. Still, the question is how so?
Industry 4.0 and Supply Chain
As you'd expect from a name such as Industry 4.0, profound and revolutionary changes are coming to various industries, including manufacturing, development, and the modern supply chain.
Rightfully dubbed the fourth industrial revolution, hence the 4.0 in the moniker, it entails a sweeping trend of improved data exchange and automation efficiency for a newly digitized landscape.
Industry 3.0 was the widespread adoption and rollout of automated technologies. not the least of which is advanced robotics and programmable logic controllers. Toward the end of this era, better and more efficient automation systems were introduced and now, players are using modern smart devices and data to improve and optimize the systems.
Broken down into simpler terms, the third industrial revolution saw the adoption of computers and more modern technologies. The fourth revolution is about putting the data those platforms are collecting to use. AI, machine learning and highly advanced analytics platforms will collect real-time data from IoT sensors and machinery to enhance general operations. This idea of contextual monitoring and data flow is instrumental to the foundation of Industry 4.0.
This will have a huge impact on manufacturers and goods suppliers. It will also affect every party and process involved in the modern supply chain, as well.
Innovative Insights
Big data, machine learning, and more impactful analytics tools can only mean one thing: an ever-growing library of innovative insights. These insights will be leveraged in new and exciting ways — including the supply chain. In the supply chain management this system is eliminating more archaic processes and updating them to be streamlined, more successful, and more nimble. The next-gen supply chain, or the next logical leap forward is how the industry will operate.
Digital data and content is at the heart of this process. Data can, for instance, be used throughout the supply chain to identify inefficiencies and problems in logistics, transport, and even goods distribution. Machine learning and AI can further take this information and extract repeatable trends and insights.
A full 66 percent of supply chain leaders stated that over the next two to three years, advanced supply chain analytics will be "critically important" to their operations.
Improved Transparency, Decreased Linearity
Conventional supply chain has a waterfall effect. Each party or solution along the chain has an effect on everything else — referred to as a "chain." Manufacturers rely on suppliers for a variety of goods and items, which they use to assemble their products. Distributors and retailers rely on said manufacturers to produce and deliver the products. Any and all information tends to flow in one direction.
The inefficiency occurs when one party along the chain has an issue or a problem. This problem then compounds and continues to cascade down the "chain" to everyone else involved. This process can have dastardly consequences. If a supplier runs out of an item or good, then the manufacturer has to postpone production to find a suitable alternative. The ever waiting retailers at the end of the chain are then left with a depleted inventory or stock.
Thanks to Industry 4.0 and the introduction of smarter, more informative processes and devices, this will change considerably. The so-called digital supply chain offers huge improvements in transparency and visibility. This process can now completely shift the once-linear nature of the industry to something more modular. Suddenly, those involved are no longer part of a cascading chain of events and processes. Each can serve as more of an individual point or node along a network.
A manufacturer, for example, can see the supply shortage coming and take appropriate action. This leave greater decision capability for the waiting manufacturer. They can quickly find an alternative or come up with a new solution — dampening the impact of the break in the chain.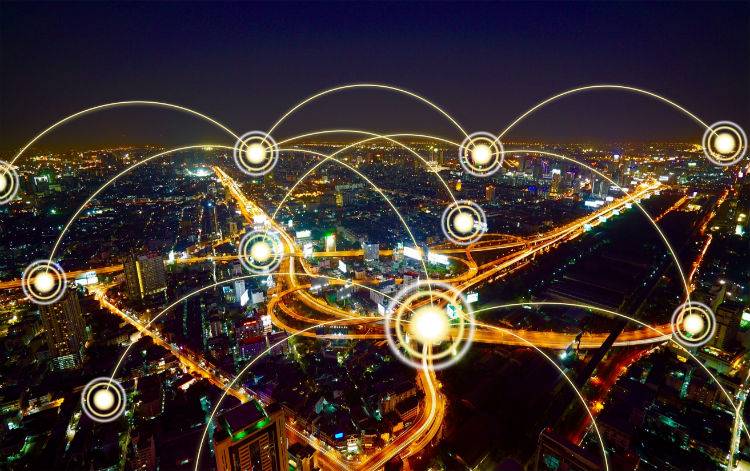 Stronger Relationships and Collaboration
The improved transparency also contributes to stronger, longer-lasting relationships all along the supply chain.
Companies can build even greater trust and support from their customers by opening up their processes and sharing how operations are handled. Many consumers today care about the environmental and economic impact businesses have on the world around them. In some cases, people will outright refuse to do business with an environmentally damaging entity.
It goes well beyond just the end-consumer, though. It also impacts relations with parties, organizations and other teams involved in the supply chain. Look at the food and beverage industry, where it's incredibly easy to damage or contaminate foods. Merely storing a type of food at an inappropriate temperature can lead to problems. With smart systems and data, however, suppliers, distributors, and retailers alike can all remain informed and aware of what's happening with the goods as they flow from party to party.
Each person can pinpoint exactly where things went wrong and what's causing the contamination or damage. This also allows them to take appropriate action and build trust between one another, even under stressful conditions.
Industry 4.0 certainly has the potential to significantly improve communication and collaboration within the supply chain.
Lower Transaction and Operating Costs
The smarter, more involved systems and insights mean parties can take action to identify problems and weaknesses sooner. Over time, they can regularly improve existing operations to become more streamlined and effective. This has the effect of lowering associated costs.
In the supply chain, big data platforms will also contribute to lower transaction fees, higher productivity and just better systems all around. Big Data can be leveraged in many ways to identify and discover new areas of efficiency. Finances specifically can be helped by big data and highlights major indirect expenditures and costs. By reducing indirect spending, companies can save over 25 percent of their overall expenses.
It's really a win-win for the entire industry, as well as everyone involved along the supply network. Accenture estimates that early IoT adopters, or the first-wave, will see a 30 percent increase in productivity, along with an additional 30 percent drop in maintenance costs. Just imagine the impact this will have on cost savings for most organizations.
Industry 4.0 Breeds Opportunity
The introduction of smarter, more detailed devices and systems also means teams will be collecting more disparate forms of information. This may seem almost insurmountable, especially when you consider how much data will be flowing in across a supply network, but that's where AI and machine learning solutions come into play. With the right digital tools and platforms, such processes can be almost entirely automated while improving accuracy well beyond anything humanly possible in the past.
This system illuminates the great potential for new opportunities and strategies. With the improved and more accurate insights, increased transparency, stronger collaboration, and reduced costs, parties along the supply chain have more room to experiment and branch out. This encourages the adoption of fresh, exciting new strategies and methods that would otherwise never be explored.
For example, 3D printing allows for mass customization where manufacturers can build products on-demand, made to order, and with incredibly complex personalization options. A setup such as this is only possible through the use of modern, smart, and data-oriented technologies like online and mobile ordering and IoT-enabled production systems.
It's safe to say that the future of the supply chain is blindingly bright, thanks in large part to the adoption of Industry 4.0.