A business boosts as much as sales go up. An ultimate goal of any seller business is to have a long-term term with businesses, that is, the buyers. Also, an essential assignment in a B2B procurement is to search, collaborate, select, and relationship building. All suppliers need to identify and meet specific requirements, and in this aspect, things have not changed in 2023. But the way buyers look for you has changed.
Many ways create a top way for buyers and sellers to recognize their potential clients. It may be easy for some businesses, but not for a new business. Where it is difficult to find international buyers, but how do you find them?
Have A Defined Market for Targeting
The ideal path to finding international buyers is to have a defined target audience. Start by recognizing and understanding customers. The target audience is a set of people who specifically need your service. They are more likely to be potential and loyal partners. A target audience is identified by,
Location
Business Type
Demography
Products
Interests
Income
Most businesses have platforms in their mind before they make a decision. However careful decisions need to be taken before diving into any model.  According to research, about $37 billion was wasted (marketingevolution dot com) by spending on ads.
5 Powerful Ways to Find International Buyers
1.      Targeted Advertising
One of the wisest ways to reach buyers is to target by advertising. But it needs to be more targeted and customized. Now, Google and social ads also have the option of targeted ads. They are more advanced now and help in reaching the right audience. The ads can be based on location, gender, interest, and audience.
This type of advertisement only caters to interested parties and is not dispersed in the crowd. Some social media tools are efficient in servicing optimization and customization of ads. Some ads can be created through Google Ads and only showcase those interested.
2.      Target Market Segmentation
Furthermore, the target audience can also be segmented by putting them into smaller groups. Where these groups can be small, they can also be more specific, which helps create more relevant messages and ads for the audience. Targeted segmentation can occur by compiling customer data and identifying who is looking for and using the products. Global buyers online can be found by asking for little information from your contacts or asking for questions for research purposes. Ask questions naturally so it does not burden any of the customers. Set some parameters that help more in targeting and segmentation.
3.      Trade Fairs and Exhibitions
Trade fairs and exhibitions are where all business parties gather together. It is more amazing for sellers, allowing them to present themselves on a prominent platform. These trade and exhibitions also take place within the location or outside, as it opens doors for international trade. Typically, the events are organized under an umbrella where the collaborators are buyers, sellers, manufacturers, stakeholders, and potential customers. They gather in one venue to reach and find relevant customers and targets.
As a seller, you can show your products and conduct an orientation. This allows them to know more about buyers.
4.      Foreign Agencies
Different agencies and embassies can also be a part of finding B2B buyers. They are not the central characters in finding buyers but are indeed good sources. Countries have embassies and consulates that welcome each other for diplomatic operations. A collaboration in local and international markets can be created to diversify these meetings. On the other hand, agencies can also be of different types, such as foreign agencies, foreign wholesalers, and commission agents, or some can hire sales commission agents to represent businesses on different forums
5.      B2B Websites
An ideal way and the one with the least hassle is associating with an online B2B platform. These platforms are an altogether concussion of trade shows, target segmentation, and target audiences. It is where buyers and sellers join with just some taps away. Due to digitalization, B2B platforms have become a frequent mode of finding international buyers in 2023. Some notable platforms are eWorldTrade, Amazon, and Alibaba.
The platforms have created a very convenient way to join, but you need to choose a sound B2B platform as a seller. So, make sure to join a notable platform and survey all its features and services.
The Pro Tips
The best way to start using social media platforms is to diversify and endorse business. Social media platforms create a direct way to target buyers and also find them. Platforms like Facebook and Instagram are the most popular in social media marketing. But the catch is to use the right platform. For example, Facebook will be better for the USA market.
Make a professional-looking website to invite buyers. A professional and easy website attracts buyers more.
Make sure you are aware of who you are targeting and how. Also, use tools that help in setting a good SEO strategy.
Obey and honor cultures from other parts of the world. Target them by creating openness and allowing their traditions and customers to be a part of the business.
Top 5 Platforms to Consider for Finding International Buyers
Here are some top selected platforms ranked for finding—international buyers' websites.
1.      eWorldTrade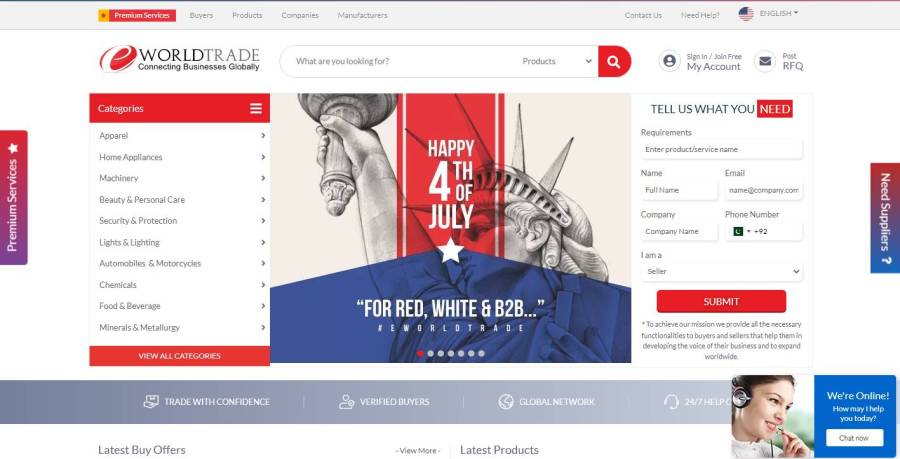 eWorldTrade began its venture about ten years ago, and since then, they have become the best site to find international buyers. Due to its inclusive service in the B2B industry, it has created a positive spell on businesses. Considering it for sellers, it is a profound place to join to begin the business journey. Sellers can easily collaborate with buyers and set a strong presence. The platform is built to target international buyers and sellers by bringing them on one platform and removing trade barriers.
Moreover, eWorldTrade has been working in the digital area and exposing business by conducting trade shows. It creates an astounding opportunity for businesses, especially sellers, to present themselves at the forefront.
2.      Global Sources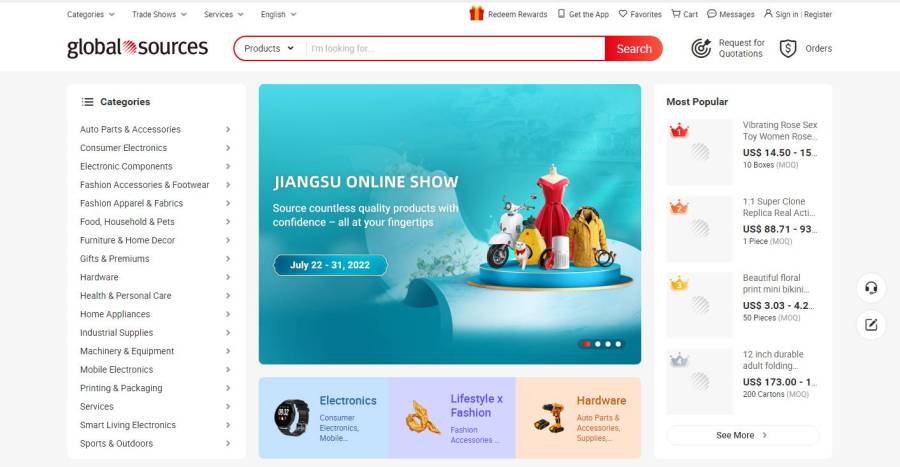 Moving on, Global Sources is also a well-recognized platform to consider for B2B sellers. It has created a tremendous opportunity for international buyers and sellers to find their niche under a set category. The platform grows worldwide, creating robust opportunities for new and established businesses. Some top B2B sellers have acknowledged Global Sources services, so it is one name to be considered by sellers. The platform also has created a separate page for RFQ, which is amazing for sellers.
Also, Global Sources has created features such as browse product categories, wholesale catalogs, ready-to-order, free trials, and trade shows. Lastly, considering its foreign audience caters to multiple languages.
3.      Alibaba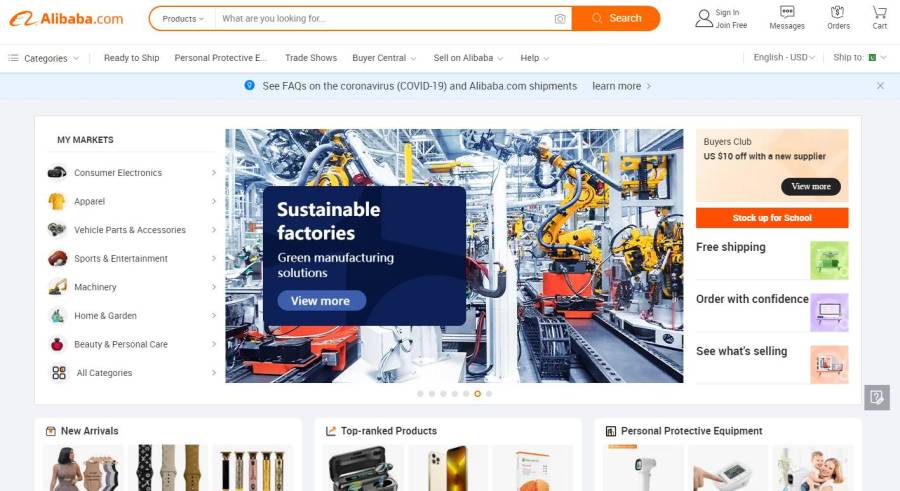 Alibaba is another top-rated name in the B2B category that does not require any introduction. The journey of Alibaba has allowed it to spread and start with new extensions within the same company. Alibaba looks forward to boosting seller accounts and getting them on a solid path for sustainable growth. They also have a free 90-day boarding service.  This service allows you to start as a new seller without experience. Sellers are coached throughout, from launching to the digital storefront.
Alibaba is one of the soundest gateways to reach millions of buyers globally. They have exclusive USA-based sellers with the chance for flexible payments with lesser upfront costs.
4.      EC Plaza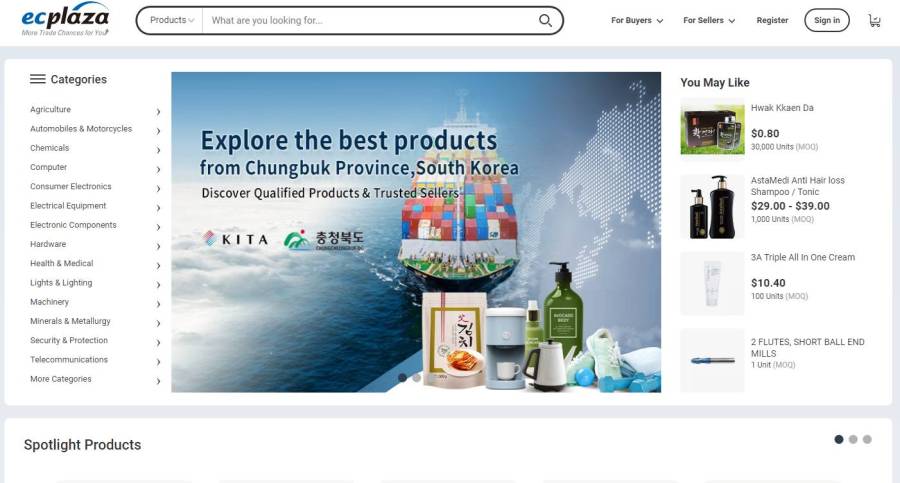 EC Plaza is an Asian-oriented B2B platform where sellers can find the best international buyers. It is a top-rated platform for finding buyers in 2023. One of the liked features of the platform is its categorization of products, which creates a greater chance for buyers to connect with sellers. It promotes global trade and helps connect authentic buyers, suppliers, and businesses worldwide. By collaborating on the platform, the users also get an insight into new markets, apps, trade shows, meeting potential buyers, and live sourcing talks.
They also have a well-defined value in treating their clients on every side and making a difference in the business world.
5.      Made in China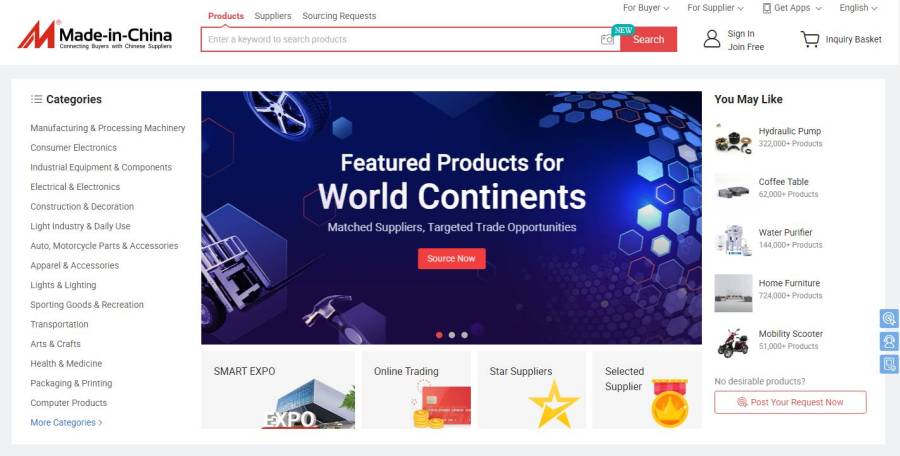 Lastly, another important platform in the list is Made in China due to its credibility in the B2B sphere. Made in China is also an Asian-originated platform where business doors are open to every type of business. The platform offers an easy target for sellers to find international buyers. This allows sellers or suppliers to grow and create more opportunities for both entities. Made in China, it also has low-cost logistics and live chat facilities. Interested parties can also ask for quotes and request them.
Trade shows are also an available feature, along with translation, tax administration, and visas.
All in One
All sellers' business is always on a competitive edge as you must beat others, collect the most significant number of buyers, and maintain integrity. You may consider the points mentioned above as a seller and later try the top platforms.
Inner article images: Provided by the Author. Thank you!
Featured Image Credit: Provided by the Author. Thank you!