Apple's exclusivity arrangement for the HBO Now standalone streaming service hasn't been broken … technically. Apple TV will still be the only streaming set-top box to offer the app. But the deal has surely gotten a little dinged now, thanks to Sling TV.
The Dish TV-owned company announced Wednesday that it too will offer HBO as a $15 add-on to its cord-cutting service. The announcement, likely the product of broader programming negotiations between its parent company and Time Warner, promises that the channel will arrive in time for the season opener of Game of Thrones in a couple of weeks.
See also: Cord-Cutting For Some: HBO Now Launches With A Limited Apple TV Exclusive
The news finally brings non-Apple users into the HBO-streaming fold, without requiring cable subscriptions. But the HBO Now app and the Sling TV service are not exactly the same. The former doesn't offer the streaming live TV channel, whereas HBO on Sling TV will, along with video-on-demand (VOD) titles. The latter also works on various devices—from the Amazon Fire TV, Roku and Xbox One, to computers, iOS gadgets and Android devices.
The difference (sort of) preserves Apple's "exclusivity" agreement, but it also means consumers will have to weigh various pros and cons for different services that essentially deliver the same programming. Here's an overview to help you sort through it.
HBO By Any Other Name Is Confusing As Heck
HBO comes in numerous forms now beyond the stack of TV channels. These versions cover HBO Go (the streaming app for cable and satellite subscribers), HBO Now (the streaming app for cord cutters) and HBO's VOD catalog, which is available on numerous cable or satellite set-top boxes and may or may not involve streaming.
Sling TV's offering mimics HBO on traditional pay TV set-tops. According to a Sling TV spokesperson, "[customers] will have access to the linear channel and the same VOD content such as original series, hit movies, original HBO Films, groundbreaking documentaries, sports, and comedy and music specials." Neither HBO Go nor HBO Now offer live TV, only the streaming VOD library.
See also: HBO Will Finally Give Cord-Cutters The Streaming They Crave
Also like cable service: You won't be able to subscribe to the one channel alone through Sling TV. You'll need a subscription to its "Best of Live TV" core package, which starts at $20, before you can add HBO to the mix.
That's a total of $35, which is still cheaper than a cable subscription, but also more limited in programming. The package includes 20 channels—including ESPN, AMC, A&E, TNT, History Channel, TBS, Food Network, CNN and Adult Swim—VOD titles and add-ons, including HBO. As for streaming it live, there's only one HBO channel, not the numerous variations available on cable, like HBO2, HBO Signature, HBO Family, HBO Latino and others.
For the money, users also won't be able to stream on multiple devices simultaneously. HBO Now users, however, can have three simultaneous streams on various devices going at once for the total price of $15.
Game Of Streams
HBO CEO Richard Plepler told CNBC's "Squawk Alley" on Tuesday that the company joined forces with Apple on HBO Now because HBO Go has been a huge hit on its TV streaming box.
The Apple TV, which has offered HBO Go since 2013, now accounts for 60% of the app's traffic, according to the executive. He has high hopes now that the streaming set-top will also help his company reach a key audience: millennial viewers. "We think HBO Now is something of a millennial missile," he said. "We think this is a terrific opportunity to earn 10 million broadband-only homes in the U.S., and that's largely a millennial audience."
Of course, to reach a younger audience, it would behoove HBO to set up shop on as many streaming devices as possible. The company has apparently found a way to do that, without breaking its three-month exclusive launch agreement with Apple. Just bending it a little.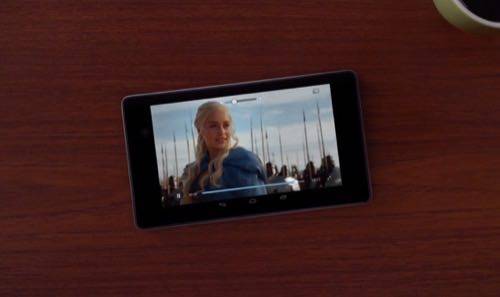 HBO on Sling TV is not technically HBO Now. Cablevision will be the first pay TV service provider to offer that app, and it's expected to roll it out early this month as well. But it's not really a streaming provider, per se, and not a maker of set-top boxes. So depending on how the deal was worded, Apple's arrangement likely still stands.
Looks like they all wanted to rush in to make the Game of Thrones deadline—even if it meant playing games of their own to get there.
Game of Thrones images courtesy of HBO; HBO Now announcement at Apple press conference screenshot captured by Lauren Orsini for ReadWrite