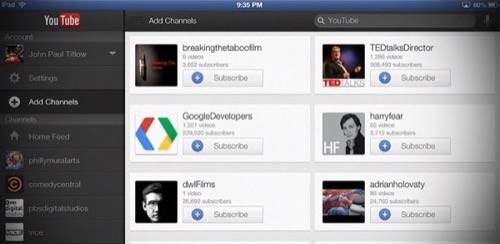 App by app, Google is creeping onto my iPad. Days after overhauling Gmail and pushing out improvements to Drive, the company has given iOS 6 one of the things users wanted most: a native YouTube app for the iPad and iPhone 5. Compared to the old, pre-iOS 6 version, this is a huge step up.
The interface matches the new visual language Google has been including across all of its major Web and mobile products lately. It's a clean layout with the same, more modern-looking typography that we've seen in its other recently-updated iOS apps. The navigation is hidden until you slide it out by tapping the menu button in the upper left.
Better Video Discovery
It looks nice, but by far the biggest improvement is the app's renewed focus on video discovery. Finding and subscribing to users and channels is the easiest it has ever been on the iPad, either on the old native version or the lackluster, tablet-friendly Web app Google initially slapped up. The app's search function – which accepts both text and voice inputs – breaks down results into videos and channels, making it easier to not only find the video you were looking for, but subscribe to more videos like it. The more channels you subscribe to, the more active your YouTube home feed will be and the more ad revenue Google will make fun you will have watching entertaining videos.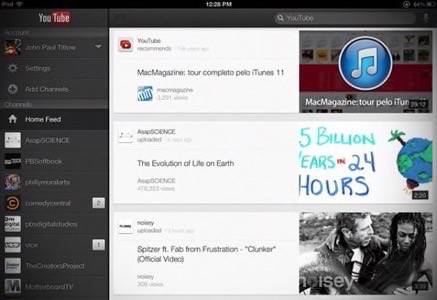 YouTube's new iPad app fits in nicely with the service's ongoing quest to carve out its role in the future of TV. This app is definitely an improvement in that regard. I AirPlayed it to my HDTV via the Apple TV box and found that the experience translates pretty well to the bigger screen. Finding content is easier, and a growing selection of the videos published to YouTube are of a higher, TV-esque quality.
How YouTube Could Better Snag My Attention
There's still room for improvement, though. If YouTube really wants to keep my attention while I'm on the couch, its iPad app should support continuous playback so I'm not left hunting and pecking for new content to watch every time a video ends. If I've subscribed to a channel (or have selected a video that happens to be part of a playlist), it's a safe assumption I want to see more, or at least that YouTube wouldn't be rude to ask if that's the case once a video is finished playing.
I don't watch a lot of TV, but when I sit down on the couch with my iPad and Apple remote in hand, there are a few apps that dominate my attention. Netflix, Hulu Plus and, to a lesser extent, Amazon Instant Video are where I get most of my movies and TV shows. For Web video, Boxee's universal, Instapaper-style "watch later" button is invaluable, and ShowYou is about as good as social video discovery gets on the iPad. So there's a lot of competition in my device's "Entertainment" folder.
But I definitely could see myself spending a lot more time with YouTube thanks to this update.