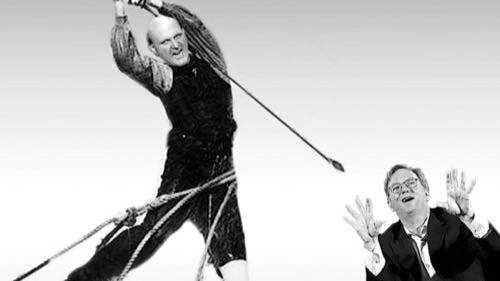 Microsoft had a pretty lousy year in 2012, putting out a string of big products – Windows 8, Windows Phone 8 and the Surface tablet – that all turned out to be be disappointing.
But those pale in comparison to what may be the biggest disappointment in Microsoft's history — its failure to convince antitrust regulators to take action against Google.
After a 19-month investigation and despite much prodding from Microsoft, the Federal Trade Commission has reached a settlement with Google that basically amounts to a slap on the wrist.
This is a crushing blow to Microsoft, which has spent millions of dollars on lobbyists and phony grassroots groups over the past several years hoping to land Google in hot water.
Indeed, Microsoft's obsession with Google doesn't just border on crazy. It is crazy, and not just a little tiny bit crazy but full-blown, bunny-boiling, Ahab-versus-the-whale nutso.
The Shadow War
For years Microsoft has devoted massive resources and energy to waging a sneaky shadow war against Google, fielding an army of lobbyists and front groups that exist almost completely to spread anti-Google propaganda, including ICOMP.org, the Association for Competitive Technology, FairSearch and SafeGov.
They call themselves "industry groups," and they have lots of members, but they're basically Microsoft fronts devoted to hating on Google. Take a glance through ICOMP's "newsroom" and "Voices" section and white papers and "ICOMP in the News" section. It's pretty much all Google, all the time — and all negative. It's a whole website devoted to bashing Google, and frankly it's kind of incredible, in a twisted way.
FairSearch does much the same. Its site is loaded with Google bashing. FairSearch's spokesman is Ben Hammer, who works for the Glover Park Group, a lobbying and PR firm in Washington, D.C., that used to lobby for Microsoft. Before taking on his role at FairSearch, Hammer worked on the Microsoft account for Glover Park.
FairSearch also hired Patrick Lynch, the former attorney general in Rhode Island, as a consultant — and then Lynch began lobbying states to investigate Google and publishing op-ed pieces in newspapers bashing Google for "abusing its power," among other things.
Microsoft even hired Randall Long, a former FTC attorney who had worked on investigations into Google during his time at the commission. A watchdog group protested and called the hire "suspicious."
In 2009 Microsoft spent millions of dollars to kill a proposed deal between Google and Yahoo. Read this Wired story about what Microsoft did, and you'll be flabbergasted.
That battle was fought by an internal SWAT team that is devoted to hobbling Google. The team is led by a lawyer, John Kelly. (See his LinkedIn bio here.) Also on the team is Kate O'Sullivan, a former exec at Burson-Marsteller, a top Microsoft PR agency that has a hand in running ICOMP.
The SafeGov 'Grassroots' Campaign
More recently, as Google started trying to sell Google Apps to government agencies – competing against Microsoft Office by offering much lower prices – Microsoft helped create a new group called SafeGov.org, another so-called "grassroots" organization whose mission supposedly is to discuss issues around government computing policies, but really ends up being just another front for bashing Google.
SafeGov's "experts" include Doug Miller of Milltech Consulting, who used to work at Microsoft doing "competitive strategy," and earlier this year disclosed a consulting relationship with Microsoft. There's also Jeff Gould of Peerstone Research, another SafeGov expert who has disclosed his consulting connection to Microsoft in the Washington Post and on a site called The Open Enterprise, but not in his SafeGov bio. Finally there's Bryan Cunningham of Cunningham Partners who co-founded a company called Polaris Consulting whose lobbying clients included Microsoft — though again this connection is not mentioned in his SafeGov bio.
SafeGov's other experts include four people from the Chertoff Group — a lobbying organization run by former Secretary of Homeland Security Michael Chertoff. They've done their part to bash Google. Chertoff criticized Google in the Wall Street Journal in July 2012. Richard Falkenrath, a principal at Chertoff and a SafeGov expert, criticized Google in the Financial Times in February 2012. Yet another SafeGov expert, Andrew Weis of Civitas, warned about Google and privacy in the Chronicle of Higher Education in February 2012.
All For Nothing
And now all Microsoft's plotting and scheming has come to nothing. Or almost nothing.
The FTC has settled with Google on the allegations of search engine manipulation. As FTC Chairman Jon Liebowitz has stated, the investigation is closed and the FTC is satisfied that Google was not acting in anti-competitive fashion. "On balance, we didn't believe that the evidence supported an FTC challenge to this aspect of Google's business under American law," Leibowitz said in a press conference on Thursday. There won't be any protracted (and distracting) legal battle. There won't be any embarrassing depositions. Google will just make a few little changes that it has already agreed to and the Feds will back off.
Of course FairSearch is howling about the settlement and claiming the FTC "failed in its mission to protect American consumers." Microsoft is still holding out hope that European regulators will do something to hobble Google. And that may happen.
But here in the States, the whole campaign is starting to look not just evil but also ridiculous and even pathetic, a failed crusade that smacks of revenge and failure and sad psychodrama.
Why Not Just Make Better Products?
Microsoft has spent the past 10 years missing out on every big new trend — search, social, mobile. Instead of looking inward and trying to fix its own problems, Microsoft has become ever more obsessed with Google.
The crusade extends to PR as well. Last year Microsoft hired Mark Penn, the pollster and PR guy who led Hillary Clinton's 2008 train wreck of a campaign.
Penn's mission is to create smear campaigns about Google. One of his big brainstorms was the "Scroogled" campaign which tried to persuade people that Google's search results are tainted by advertising. Microsoft ran full-page ads in newspapers and spots on Monday Night Football. It even created a site, scroogled.com, and urged people to complain about Google on Facebook.
Then came the "Droid Rage" ploy, where Microsoft used its Windows Phone account on Twitter to ask Android users to send in Android malware stories to win a prize. The campaign backfired when Android fans used the hashtag to mock Microsoft.
Going negative might work in politics, but when you're selling products it's probably wiser to tout the virtues of your own product. The risk Microsoft is taking is that by howling about Google, Microsoft starts to look like a company that can no longer compete, a desperate dinosaur that has toppled into the tar pit.
Worse, Microsoft starts to seem a little unhinged. Nevertheless, don't expect this freak show to end anytime soon. Supposedly Penn has been going around Washington trying to recruit consultants, telling them that Microsoft has armed him with a $50 million budget to go after Google.
Imagine the kind of cool product that a team of great engineers could dream up with $50 million. Instead, we'll get more negative ads and ineffective lobbying, while the Surface continues to post disappointing sales figures, and Windows Phone languishes in the cellar of the smartphone market, and while Android continues to gain market share in smartphones and tablets and the FTC can't find a way, despite all of Microsoft's finagling and pleading, to make a case against Google.
Keep up the great work, Microsoft.
See also: Google Escapes Unscathed From From FTC Settlement and Microsoft's Fight Against Google Continues With YouTube App Complaint.
Image by ReadWrite.