Maybe big things really can come in small, ridiculous cardboard face-boxes. Google just made several announcements Thursday that aim to advance its popular Cardboard virtual reality viewer for manufacturers, app developers and end users.
Cardboard, the curious corrugated VR "unit" Google launched at its I/O developer conference last year, seemed like a practical joke at first. (It's basically a box you fold up into a kind of headset with an Android phone in it to serve as the display.) A year later, though, we're all still waiting for the punch line.
Meanwhile, Google has gotten serious, encouraging development for VR apps and interest by "hardware" partners to make their own versions of Cardboard.
See also: Google Cardboard Gets Software Development Kit For VR Apps
It's now offering a new certification program, changes to its developer tools and new app categories for end users looking for compatible VR apps. Let's take a closer look.
Just "Works With Google Cardboard"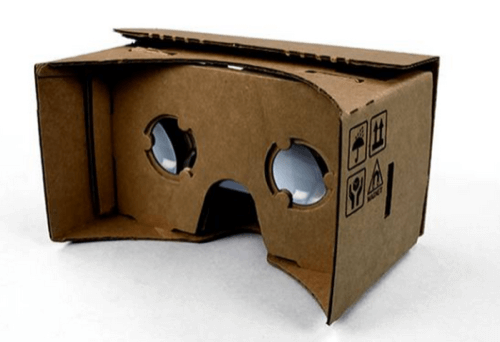 Google really, really wants virtual reality to take off—especially the sort enabled by its Cardboard project. The company has been doing its best to raise an army of Cardboard users and partners, and the latest announcements play directly into that.
The hardware, if you can describe a cardboard box that way, now comes in a variety of configurations from an array of partners. Google wants to help them, so it now offers a new certification program that lets manufacturers—like DodoCase, Knox Labs and others—prove that they based their versions on Google's original design and that the alternatives will work with any Cardboard app.
As part of the program, Google offers a "new tool that configures any viewer for every Cardboard app, automatically." Manufacturers list their major parameters—including focal length, input type and inter-lens distance—and the system churns out a QR code they can post on their products. Customers scan the code with the Cardboard app, and all supporting VR apps get optimized for that viewer.
Compliance lets them slap a "Works with Google Cardboard" badge on their products, which sell for anywhere from $9 to $40, depending on the options.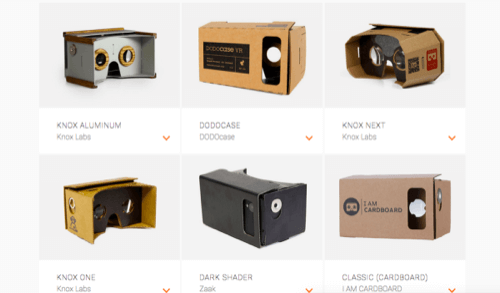 On the software side, app developers get new design guidelines for creating immersive experiences without disorienting users or confusing them with nonsensical menus and interfaces. Speaking of disorientation, Google also revised its Cardboard software development kits for Android and Unity, so head tracking and drift features work better. Update your apps with the new SDKs, and you too can earn a "Works with Google Cardboard" badge.
Not to leave end users out, Google also improved search and discovery for the "hundreds" of Cardboard apps and games available in Google Play. The company rejiggered the categories, which now list new ones such as Music and Video, Games and Experiences.
Just The Beginning
Cardboard may look like an elaborate prank, but the real joke in virtual reality is how long it's taken the technology to slog its way to the market.
Laughable—and let's not forget nausea-inducing—early attempts stymied this niche for decades. Then Oculus' 2012 Kickstarter for its Rift headset put VR in the spotlight again. Now owned by Facebook, the former indie startup has since worked on several developer versions, including its latest "Crescent Bay" unit, and its technology shows up in Samsung's smartphone-powered Gear VR headset. Meanwhile, others—like Sony and HTC—have hopped on the bandwagon. But they're taking their time. A few have promised consumer-ready releases this year, including Oculus (finally).
Amid the frenzy, Google swooped in last year to give the public the cheapest, fold-it-yourself VR viewers imaginable—even offering instructions on how people can make their own. It also promoted other companies that make their own knock-offs, urged app makers to develop supporting VR apps, and jazzed up its own Google Maps application with Cardboard-friendly VR Street View.
See also: Street View Comes To Google Cardboard
"We think that Google Cardboard offers everyone a simple, fun, and affordable VR experience," said Andrew Nartker, product manager for Google Cardboard. "It's exciting to show everyone that their current smartphone can already run great VR apps."
That sentiment steps on Samsung's territory more than most. While underpowered compared to full, computer or gaming console VR set-ups, Gear VR eradicates cables by seating a smartphone inside the unit. But Gear VR is limited to Samsung devices only. The low-tech Cardboard won't work with every single smartphone on the market either, but at least it works with more—including some Nexus, Samsung, Motorola phones and others.
Plus, Samsung's headset costs $200, while you can pick up Cardboard for less than the price of lunch.
Soon, that meager investment could look even better. Google also scooped up some new talent—namely the audio maestros from Thrive Audio team, from Trinity College Dublin's School of Engineering, and experts in 3D painting from Tilt Brush, which won a Proto Award for "Best Graphical User Interface" last year.
The move suggests that, when it comes to the humble Cardboard, Google hopes to have more to brag about before long.
Lead photo by Adriana Lee; others courtesy of Google