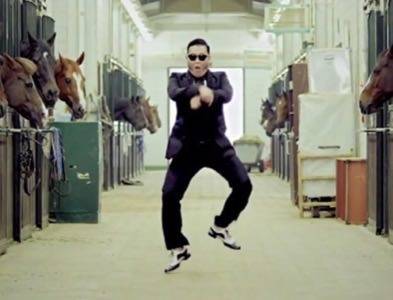 South Korean pop singer Psy's "Gangnam Style" became the most viewed YouTube video over the weekend, dethroning Justin Bieber's "Baby" by 24 million views as of late Sunday night.
"Gangnam Style" earned the distinction of Most Viewed YouTube Video Saturday, around noon, according to the YouTube Trends blog. Bieber fans, fearing the inevitable, abandoned turkey leftovers last weekend to boost "Baby" views, reported The Daily Dot. They encouraged each other on social media to play the hit on repeat, and to run scripts that played "Baby" 75 times at once.
No small percentage of YouTube viewers rejoiced in the dethroning, however, as evidenced by triumphant "Gangnam Style" comments Sunday night across YouTube.
"Baby" had reigned for two years as most-viewed on the video-sharing site. The popularity of "Gangnam Style," however, is unprecedented; the video averages 6.1 million views a day, according to data provided by ChannelMeter, a San Francisco-based startup providing YouTube analytics for online-video publishers and brand advertisers.
"Gangnam Style" was uploaded 135 days ago and broke the Guinness World Record for having the most YouTube Likes back in September. It looks like the video will set another record soon: ChannelMeter predicts "Gangnam Style" will become "the first video in history to reach 1 billion views on Dec. 16, 2012."