ReadWriteBody is an ongoing series where ReadWrite covers networked fitness and the quantified self.
If you obsessively track App Annie's rankings for top health and fitness apps like I do—okay, I'm probably alone in this habit—you'll have seen a familiar pattern: MyFitnessPal and Fitbit trading the top ranks, with a handful of pregnancy trackers and workout apps rounding out the top 10.
That changed over the past week when FitStar launched FitStar Yoga, the sequel to its popular Personal Trainer.
FitStar Yoga hit the No. 1 spot shortly after it launched on December 11, and has held that position for most of this week. FitStar's original app, by contrast, had a slower debut; the iPad version briefly hit No. 1, while the iPhone version never claimed that spot and peaked at the No. 3 spot earlier this year.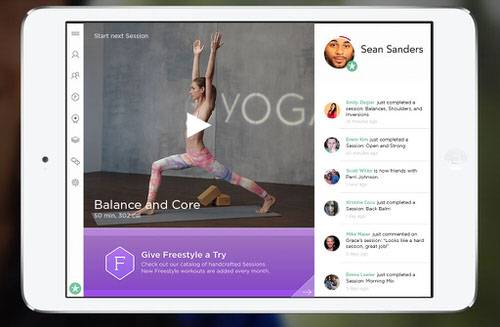 Alexis McDowel, a FitStar spokesperson, said the app reached the No. 1 spot organically—meaning the company didn't spend money on app-install adds or other paid promotions. Instead, it benefitted from prominent placement in Apple's App Store, some publicity, and email and other marketing to existing FitStar users.
One of the things I've puzzled over in my ReadWriteBody columns is what exactly makes a hit fitness app. There are a number of workout apps focused on outdoor cardio; these run trackers suffer from a certain sameness.
See also: Running In Circles: I Can't Pick The Right Running App
Both the original FitStar app and the new yoga app, produced in conjunction with yoga expert and book author Tara Stiles, have a remarkable level of fit and polish. The app seamlessly weaves video clips together into a custom-generated workout. I've tried other apps that attempt to do this, and they suffer from maddening audio glitches or crashes that ruin the experience. Other simpler yoga apps are stable, but they just display a library of poses, without any interactive or personalized features. The extent to which FitStar nailed the basic mechanics of a fitness app can't be underestimated here.
There's also the undeniable popularity of yoga, and Stiles' own following. Those can't hurt its downloads.
A 3.5-star rating, held down by some users reporting crashes, suggests FitStar has some work to do. (FitStar's original app now has a solid 5-star rating.) While I experienced some glitches, I was testing a beta version, so I can't speak to the build quality of the final version. If FitStar's technical team can work those out, it has a good shot at maintaining its lead in the charts.
Building The Perfect Yoga App
FitStar's engineers should be loose and limber by now. The company put its team of engineers to the test, including CTO Dave Grijalva, who can now do a mean crow pose, a tricky move where you balance on your arms. Getting actual experience with yoga led them to rethink some aspects of their original app—for example, the way it constantly asks participants to rate the difficulty of a move so it can adjust future workouts.
"With yoga, it's all about flow," says Grijalva. "We can't interrupt it constantly."
See also: Why FitStar Decided Its Workout Algorithm Needed To Shape Up
FitStar also had to rethink the structure of its app. Instead of just showing a series of moves, FitStar had to film and organize the transitions from one pose to another. In total, FitStar recorded 300 poses and 1,400 transitions with Stiles and other models.
Grijalva had to write a custom software tool to generate a schedule for the video shoots in order to get them all done in time. It took 25 minutes on a beefy Amazon Web Services server for that program to run.
His team also had to translate the innate logic of yoga—which poses made sense in which sequence—into a set of rules its software could follow.
"The gap was huge," says Grijalva. "We would have her give us a sequence and have her talk through the logic. She was doing it instinctively and we would reverse engineer how to do it. I don't think any of us appreciated how hard it would be to do yoga sequence generation."
Even the music—an important part of yoga sessions—is custom-generated for each workout.
The result is remarkable. In my limited testing, I found the FitStar yoga workouts pleasantly challenging. I'm probably going to stick with my local Bikram yoga studio, because the heated room and social environment are difficult to replicate with an app, and I don't like to exercise at home in my small apartment. But if I were the type who liked to exercise at home, FitStar Yoga would be a natural choice. It's also appealing as a hotel-room workout when I travel.
The app, available on iOS, is free—but you'll need a $7.99/month subscription to unlock more than one personalized yoga workout a week.
Update: This article has been corrected to note the correct price for FitStar Yoga.
Screenshots via FitStar