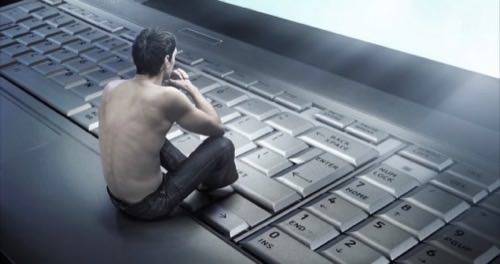 I've been thinking a lot lately about how much time I spend on the Internet, and worrying that it's too much. When I joined ReadWrite I was surprised to discover that my new colleagues are struggling with the same issue. Just last week Jon Mitchell wrote two great pieces about this: Four Days Of Digital Detox: The Ultimate Tech Decelerator and Confessions of a Professional Internet Addict. Those came on the heels of a story by Brian Proffitt, Why I'm Joining The Movement To Stop Answering After-Hours Email.
Those articles all argued (albeit not in so many words) that everyone needs to get off the Internet on a regular basis. They resonated so much with me and the rest of our staff that we've created a new series called "ReadWrite Pause" to explore issues around finding the right balance of online and offline life.
Less Is More, More Or Less
Maybe it seems weird that an Internet publication, especially one devoted to covering technology, would be urging people to spend less time online. But here we are.
I'm guessing that a lot of our readers are like us, and have mixed feelings about how much time we're all spending online. And maybe, if we all put our heads together, we can find a solution.
In my case it's all about my kids. They're twins, age 7. I have this terrible fear that they're going to remember me as some old guy who lived in their house when they were kids and was always staring at a smartphone. Or, worse, they'll remember me as some guy who was always in another city, calling home once a day to say good night.
This week I'm stuck in Las Vegas, living in a hotel, unable to get back to the East Coast thanks to the big storm. Tomorrow I head to Canada. By the time I get home next Tuesday night, I will have been home a total of three whole days in the past four weeks. On those three days I was mostly exhausted, and, yes, even on those days I spent time working at a computer and staring at a smartphone.
I look at what I just wrote and I'm ashamed of myself. Honestly.
And then I think: This is my life? Really?
The issue goes beyond how we live at home. It's even about how we work.
Work Less. Get More Done.
I was struck this week by this article on Forbes.com by a CEO who outlawed email at his company for a week and discovered that everybody actually got more work done. More important, they all felt more sane and less frantic as "a sense of calm descended."
The CEO, Shayne Hughes, argues that a lot of what email does is just get us all wound up, stressed out – spinning our hamster wheels but going nowhere.
That certainly resonates for me. Some days (a lot of days, actually) it seems that all I do is go to meetings and then come out of meetings and hack through the email that has piled up while I've been in those meetings. Then it's the end of the day and if I've managed to actually get anything done, it's pretty much a miracle, or an accident.
I know I'm not alone. I've even had people from Google – the most wired of wired environments – talk to me about the importance of going "off the grid," and how this makes people more productive.
This seems like common sense, but maybe not. It turns out there are people who believe that being online 24×7 is a fantastic way to live.
Some Folks Seem To Like Staying Connected
Earlier this week ReadWrite published a really fascinating interview with YouTube pundit Chris Pirillo who said he never disconnects, doesn't want to. His one hobby involves playing with Legos, but he's so busy with his online life that he doesn't have time for Legos.
I posted a link to the article on Facebook with a comment that the interview had made me profoundly depressed, and asking, rhetorically, whether there is anything sadder than someone who never disconnects from the Internet and is proud of that fact and thinks it's great.
Within minutes Marc Andreessen posted a comment saying, "And yet he's a lot happier than you are." Then David Berlind, a tech journalist, jumped in, saying my comment was "total bullshit" and that I should not be judging other people for what makes them happy. (Berlind might just still be sore because a few years ago I mocked him for predicting, in 2004, that Apple was "on the way out" – ha! – because of the looming juggernaut of… desktop Linux. I know, I know – just give those Linux guys more time and they'll get it.)
Anyway.
Apparently there are people who never want to be cut off from the sacred umbilical cord that connects us to Mother Internet. (I'm guessing that if you made a Venn diagram of the "24×7 digital" people and the people who are still waiting for the Linux-on-the-desktop revolution, you'd have a big overlap.)
And that's fine, I guess. The fact that some people want nothing more than to be on the Internet, at all times, only makes the subject more interesting.
I will tell you that earlier this summer my family spent a weekend at an Appalachian Mountain Club hut in New Hampshire, a place with no heat or electricity. We brought no iPads, no smartphones. No electronics at all. It poured rain the whole time. We stayed in the hut and played cards. We talked. It might have been the best time we have ever had as a family.
And it made me wonder: If you live entirely on the Internet, are you even living? I'm fascinated by the Singularity movement, where the vision is that someday (not so long from now, if you believe Ray Kurzweil) the biological and the digital will become so thoroughly enmeshed that we won't be able to tell one from the other.
For a lot of us, a kind of virtual Singularity is already where we're living. Maybe it's just a personal decision. Maybe everyone has to find the balance that works for them.
That's the conversation we're hoping to start with ReadWrite Pause. Where do you come down on this? Are you wired in at all times, and ecstatic about it? Or do you worry about how much time you spend online? What would be your ideal balance? And how can you achieve it?