At this year's Game Developers Conference in San Francisco, virtual reality wunderkind Oculus unveiled the second-generation of its much-buzzed-about hardware, the Oculus Rift. The second edition of the Oculus Rift VR headset, known as the DK2, is still very much a development kit and not yet ready for a wide consumer release.
The very first Oculus Rift took the gaming world by storm, but with low resolution and dizzying motion blur issues, the headset had obvious room for improvement. The DK2 takes the baton from the "Crystal Cove" prototype that Oculus showed off earlier this year, which addresses many of those core complaints.
So what's new with the DK2? Oculus has upped the resolution to 960 x 1080 for each of the Rift's two visual fields, for starters. The new DK2 also includes a custom-built camera that faces the player to track motion depth and makes efforts to minimize those pesky wires. Now only one 10′ cable extends from the Rift, which splits into an HDMI and a USB cable to provide video and power, respectively.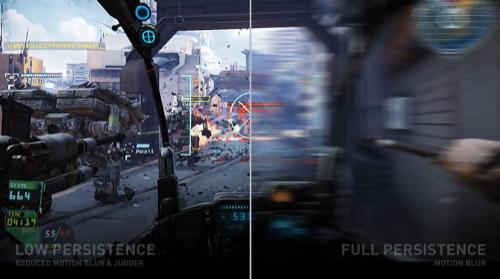 As for the Oculus Rift's dizziness problem, the DK2 employs low-persistence OLED to reduce motion blur and judder, which Oculus pinpoints as the two main causes for so-called "simulator sickness," which we definitely experienced in our time trying out the Rift. Beyond those major improvements, the DK2 ships with a built-in latency tester and an SDK with engine integrations for the Unreal Development Kit, Unreal Engine 4 and Unity 4.
According to the Oculus blog announcement:
"DK2 isn't identical to the consumer Rift, but the fundamental building blocks for great VR are there. All the content developed using DK2 will work with the consumer Rift. And while the overall experience still needs to improve before it's consumer-ready, we're getting closer everyday—DK2 is not the Holodeck yet, but it's a major step in the right direction."
There's still no word on a release date for the consumer version of the Oculus Rift, but it's still very much in active development. The company may accelerate its efforts now that Sony has officially announced its own VR headset to compete with the Rift, called "Project Morpheus," but like Oculus, Sony has no further price or release details since that system is similarly in its early stages.
In the meantime, developers interested in exploring the vast, weird world of VR can pre-order the DK2, said to ship in July, for $350.