Dell Technologies this Tuesday announced the formation of a new IoT solutions strategy, a new IoT division and a $1bn commitment in IoT R&D. Chairman and CEO Michael Dell called IoT "the infrastructure of the next industrial revolution. And that's what we're co-inventing with our customers and our partners,"
The company's new IoT Division, led by VMware CTO Ray O'Farrell, is chartered with orchestrating IoT products and services. The IoT Solutions Division will combine internally developed technologies with offerings from the vast Dell Technologies ecosystem to deliver complete solutions for the customer.
"Dell Technologies has long seen the opportunity within the rapidly growing world of IoT, given its rich history in the edge computing market" explained O'Farrell. "Our new IoT Division will leverage the strength across all of Dell Technologies family of businesses to ensure we deliver the right solution – in combination with our vast partner ecosystem – to meet customer needs and help them deploy integrated IoT systems with greater ease."
Distributed computing and the need for edge 
Much of the underlying conversation was about a move away from a focus on cloud-based delivery towards distributed computing. As well as much commentary about the benefits of edge based computing, particularly in regard to latency, IIoT security and cost benefits. According to Michael Dell:
"Dell Technologies is leading the way for our customers with a new distributed computing architecture that brings IoT and artificial intelligence together in one, interdependent ecosystem from the edge to the core to the cloud. The implications for our global society will be nothing short of profound."
The company also announced a number of new product development initiatives including:
Dell EMC 'Project Nautilus': Software that enables the ingestion and querying of data streams from IoT gateways in real time. Data can subsequently be archived to file or object storage for deeper advanced analytics;
'Project Fire': a hyper-converged platform part of the VMware Pulse family of IoT solutions that includes simplified management, local compute, storage and IoT applications such as real-time analytics. 'Project Fire' enables businesses to roll-out IoT use cases faster and have consistent infrastructure software from edge to core to cloud;
RSA 'Project IRIS': Currently under development in RSA Labs, Iris extends the Security Analytics capability to provide threat visibility and monitoring right out to the edge;
Disruptive technologies like processor accelerators will increase the velocity of analytics closer to the edge. Collaboration with industry leaders like VMware, Intel and NVIDIA and the Dell Technologies Capital investment in Graphcore reflect opportunities to optimize servers for AI, machine learning, and deep learning performance.
Project 'Worldwide Herd': for performing analytics on geographically dispersed data – increasingly important to enable deep learning on datasets that cannot be moved for reasons of size, privacy, and regulatory concern.
Investments in IoT Future through Dell Technologies Capital
Dell Technologies Capital, the venture arm of Dell Technologies, is partnering closely with the new IoT division, providing industry insight and relationships to support its strategic agenda. Through its investments in promising startups and founders, Dell Technologies Capital provides a valuable link to the external innovation ecosystem. effectively accelerating the development and deployment of new IoT, AI and ML technologies and solutions.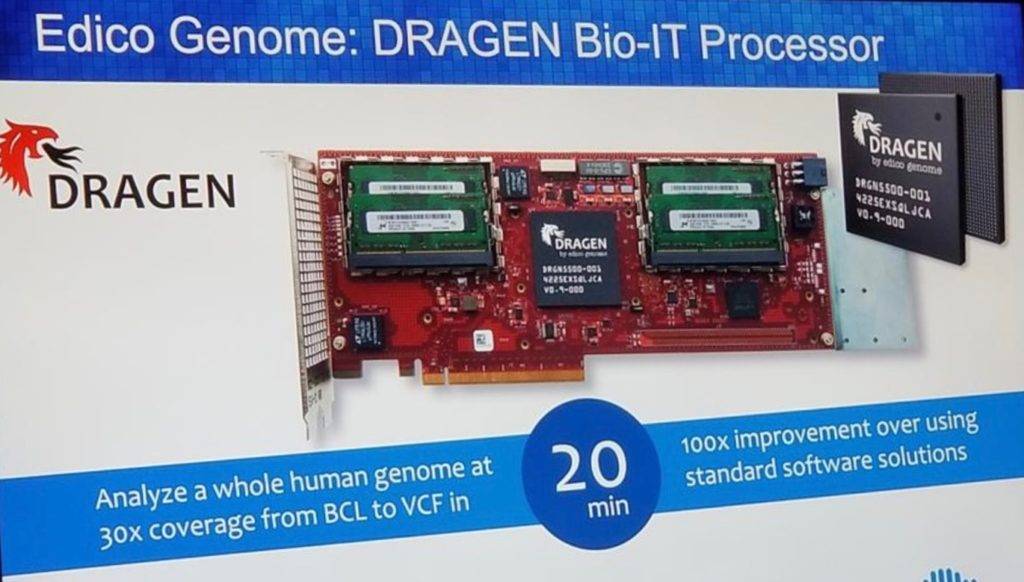 An interesting investments is with Edico Genome, creator of the first processor, DRAGEN, designed to analyze next-generation sequencing data. The processor has been successfully utilized by diagnosticians for ultra-rapid whole genome diagnosis for critically ill newborns. CEO Pieter van Rooyen detailed their partnership with Rady Children's Hospital in San Diego whereupon the presenting of an unwell newborn "A physician has 4000 diseases to rule out. The fastest the leading doctor can do it is in 50 hours. But with DRAGEN, health professionals can do the 24 hours of data analysis in 20 minutes, getting the diagnostic process down to 26 hours."