On the Internet, the "fear of missing something" may be powerful fuel for social networks like Facebook and Twitter, but at home, the stakes are even higher. That something missed could be Fluffy scratching at that pricey couch, an electrical fire starting or, even worse, an intruder ransacking the house.
No wonder cameras are many people's first or even primary foray into the connected home. Sure, connecting these gadgets can sometimes open up other security woes, but home monitoring is still big business. According to research firm Memoori Business Intelligence's report, "The Physical Security Business 2013 to 2017," the worldwide market for security gadgets will reach $23.4 billion by the end of 2013, and of that, 52%—or $12.26 billion—will relate to video surveillance.
All those streams will come via an array of choices, including dedicated closed-circuit security gadgets and specialized connected-home devices, not to mention generic webcams, nanny cams and laptop cameras. Crafty types even mod Kinects to monitor motion and even violence in the home.
If you're signed up with a service provider, then finding the right camera is easy—you simply go with whatever the service provider offers or recommends for that system. But if you're cobbling something together piecemeal, it can be intimidating to parse all of the options.
Take heart—no matter what features or placements you want, the solution you need is out there or coming soon. To start, check out some of these noteworthy options.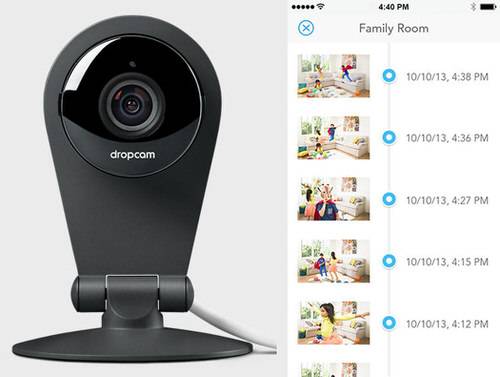 Dropcam Pro
$199 (not including cloud recording service)
The time between Dropcam product updates was about two years, but with Dropcam Pro, the company proved that good things can come to those who wait. Indeed, the latest release is a beauty, attractive enough that it won't detract from your in-home decor. Even better, the Pro offers extremely high-quality, full HD video with 130 degree viewing range and 8x zoom, as well as dual-band Wi-Fi connectivity, night vision, two-way audio, and motion and sound detection.
The setup is easy, and the companion iPhone app (Android available too), triggers mobile alerts whenever it registers activity. The company gave me a unit to test, and I wound up discovering an unintended bonus: When my husband and I had a minor disagreement, the device and cloud recording service allowed us to go back in time to a key moment that unequivocally proved my case. Score!
If a couple of hundred bucks is too rich for your blood, the previous model is still available for $149. But you may want to throw in the extra dollars, since the Pro has a Bluetooth Low Energy radio. That will give it some measure of future-proofing. Bluetooth Low Energy, or what the Bluetooth Special Interest Group is calling "Bluetooth Smart," is a hot communication protocol baked into an increasing number of connected gadgets. This means Dropcam could wind up working with other devices and sensors before long.
Unfortunately there's no local storage option. So if you pay extra for the cloud recording service, Dropcam's servers are the only place your footage will be saved. If not, it won't be saved at all.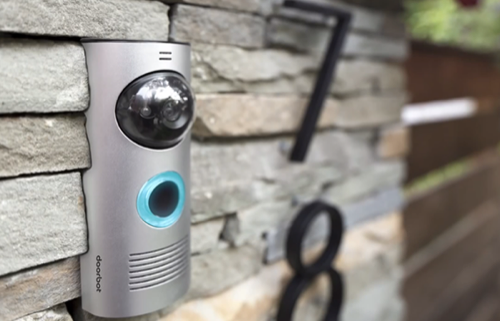 Doorbot
$199
On last Friday's episode of Shark Tank, Doorbot creator James Siminoff described his video intercom as "caller ID for your front door." He even came in with an impressive detail: Staples has begun carrying his invention this month. Too bad he didn't score an investment, but racking up publicity to match his new retail distribution is priceless. As of this writing, the product is already sold out on the retailer's website.
Video-monitored entryways aren't anything new, but Siminoff's Internet-enabled take on them allows people to greet visitors from anywhere using their mobile devices. Add a Lockitron to the mix, and suddenly those phones and tablets can also unlock those doors too.
DoorBot is weather-resistant and offers an adjustable camera with night vision, along with a microphone and speaker, to enable two-way interactions. The company claims battery life exceeds a year between charges, which seems a bit optimistic—it probably depends on how much you gab with visitors. But either way, the battery allows the unit to act as a completely independent standalone. Or users could hook it into existing doorbell wiring, if they want the device to fully replace the doorbell.
Other benefits: Families can pair DoorBot with multiple devices, so anyone in the household can answer. And it comes with a rather decent theft guarantee. If the product is stolen, the company will replace it for free. What DoorBot does not do, however, is capture video. These are live feeds only, at least for now. But the company is working on it, and hopes to launch the feature early next year.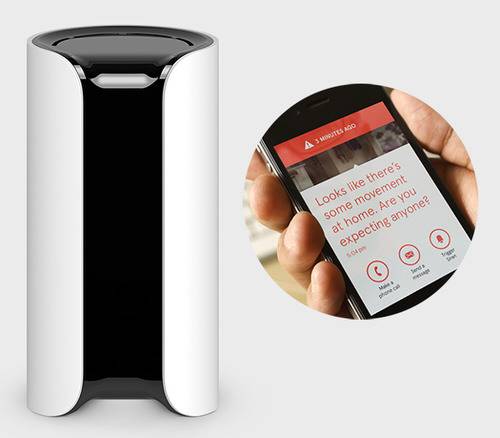 Canary
$199 (with free primary service); pre-order only at this time
Canary didn't just meet its Indiegogo crowdfunding goal of $100,000; the camera crushed it. The campaign, which launched in July, wound up raking in nearly $2 million dollars from more than 7,000 people.
The secret to this success likely lies in its simplified interface and its user-friendly positioning as the connected-home device for anyone. Nothing takes the intimidation factor out like embracing techies and non-techies alike, and indeed, there's plenty here for both. The device boasts a wide-angle HD camera, microphone and speaker, along with night vision, a siren and an array of sensors for motion, temperature, humidity and air quality. This allows people to monitor a range of conditions at home, and iOS or Android notifications can alert users to any changes. Those mobile apps feature a clean interface that lets people respond immediately, whether to set off an alarm or call emergency services.
Unlike Dropcam's continuous upload stream, Canary only records to the cloud when it senses activity. And since it learns over time, it won't bother you every night, when your neighbor's patio lights flood your kitchen yet again. Plus, with the iPhone's geofencing capabilities, it can kick on or shut itself off when you leave or arrive.
If you're looking for immediate gratification, bear in mind that no units are actually shipping yet. Indiegogo backers will receive their units in late spring/early summer 2014. Pre-orders, however, are open online now. When the product does ship, the app and primary service will be free, with additional paid service tiers available at a later date.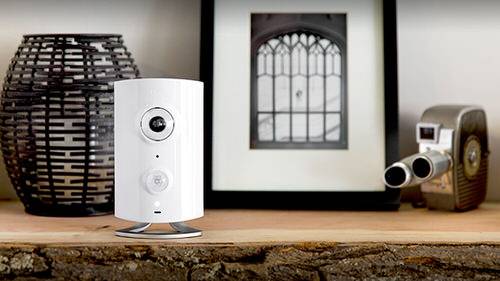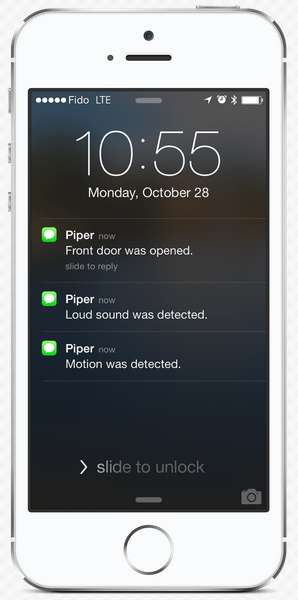 Piper
$239 (not including Z-wave accessory pack); pre-order only at this time
The petite, rectangular Piper—from Ottawa-based Blacksumac—wants to be more than just a camera. It wants to be a centralized hub for your whole connected home. Toward that end, it supports both Wi-Fi connectivity and Z-wave, one of the major home automation communication protocols. In other words, it can talk to any other compatible smart appliances, so you can monitor, trigger or set up a variety of actions for more than 200 Z-wave-enabled products.
As a HD camera, it comes equipped with a fish-eye lens that can shoot panoramic video, so users can pan around the viewing area. And its motion, temperature, humidity and ambient light sensors can trigger specified actions. Other features include microphone, speaker and remote management via mobile devices.
One great thing about Piper is also a fairly basic thing: You can put the device practically anywhere. Mount it on the wall or use the stand to set it on a counter. It can also run off household power or AA batteries. So if it gets bumped off your local wireless network due to, say, a power outage, it can still capture video and carry out commands. Then once power and Wi-Fi have been restored, it can report what you missed back over to your smartphone.
These are rather handy features, and you'll pay for them in the form of a small price bump compared to other cameras in this range. Also note that there's a small wait for product delivery—January 2014. But if you're looking to dip a toe into a connected home system, this camera-plus-hub can ease you into a larger system down the road.