It's probably pushing
it to equate Bob Dylan's career as an incredibly successful musician, with my nascent
career as a Blogger. But there were a couple of extracts in the first volume of
Bob Dylan's autobiography that I, as a Blogger, identify strongly with.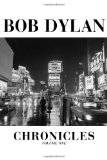 The first quote comes from page 18, where Bob was outlining his early days as a young
and then unknown folk singer in New York City. He wrote:
"There were a lot of better singers and better musicians around these places but there
wasn't anybody close in nature to what I was doing. Folk songs were the way I explored
the universe […]"
The second bit of Dylan's autobiography that caught my eye was the following,
referring to an encounter with a famous wrestler called Gorgeous George. George was just
entering the ring for a bout and, as Dylan recalls:
"…He didn't break stride, but he looked at me, eyes flashing with moonshine. He
winked and seemed to mouth the phrase "You're making it come alive." Whether he really
said it or not, it didn't matter. It's what I thought I heard him say that mattered, and
I never forgot it. It was all the recognition and encouragement I would need for years to
come. Sometimes that's all it takes, the kind of recognition that comes when you're doing
the thing for the things's sake and you're on to something – it's just that nobody
recognizes it yet."
That's how I feel about my blogging, as it relates to my career and indeed most of the
people I know in the Real World. So far the only "recognition" I've gotten for what I'm
doing is from fellow bloggers. I imagine that's a similar story to a lot of you though,
seeing as blogging is still very much a niche activity.
When it comes down to it, I write on my weblog mostly for the "thing's sake" and
because I know I'm onto something. The only exception is when I'm being paid to
write a blog post mentioning my sponsor – which I have to admit is motivated purely by
the money. My strategy for that is: for each paid post (which is once a week and it's
clearly marked as being sponsored) I try to write about the things that matter to
me, and get that to intersect with the thing I'm being paid for.
I'm trying to have my
cake and eat it too – I still write for "the thing's sake" (or at least I'm telling
myself I am), but I try to find the intersection point with my sponsor's product. My
latest such post, Grunge
CMS, was an attempt at that. Not sure yet if it's working out that way. If you have
any thoughts on that, from a reader's perspective, I'd like to hear them.
So back to Bob Dylan's autobiography, which was a wonderful read. He didn't take a
purely chronological approach to it, despite the title! He started out with the early New
York pre-fame days and then suddenly segued into the mid-to-late 70's when he was trying
to escape his fame and live a normal family life. One of the themes I most enjoyed was
his refusal to accept the role of Spokesman for his Generation. He'd developed tactics
and strategies to try and get rid of that unwanted tag, which mostly amounted to strange
behavior and quirky recordings (such as one of my favourite Dylan records,
Nashville Skyline). I wonder what would have happened if Kurt Cobain – another
musician anointed as a Spokesman for his Generation – had adopted the same tactics,
instead of killing himself? We'll never know and I'm making a lot of presumptions even
asking that question.
btw I'm also currently on a Dylan kick with his music. I've borrowed a number of his
old records from the library and I'm really enjoying
Blood on the Tracks. I'm playing it over and over. Music, for the thing's sake.