Today at the RIM (Research in Motion) developer conference, the BlackBerry makers introduced a new member to it's family – the BlackBerry PlayBook. The PlayBook is a 7-inch "professional" touch screen tablet device which features a 1024×600 display, multi-touch gestures and a 1 GHz dual-core processor. One of the more interesting features, for fans of augmented reality (AR) at least, is the device's pair of front- and rear-facing cameras, both of which can shoot HD video.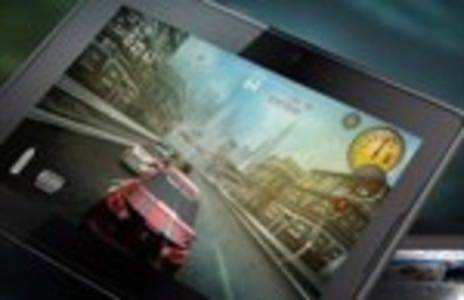 When Apple introduced the iPad, AR enthusiasts were disappointed to find it had no camera facing in either direction. With the growth of the mobile AR industry through applications like Layar, junaio and Wikitude, the only thing limiting the potential of the technology these days is the hardware it's run on.
The PlayBook's dual cameras could easily turn the device into AR developers' best friend. With a 5-megapixel rear-facing camera, and 3-megapixel front-facing camera, many mobile and desktop augmented reality experiences could be brought to the device. Not only could the PlayBook (which is smaller than an iPad) be held up to interact with marker- and image-based mobile experiences, it could also be used with front-facing desktop webcam experiences.
One problem with AR on BlackBerry devices, however, is the lack of a compass. Without the compass, some of the more well-known vision overlay experiences will be hard to come by. If the new PlayBook also lacks a proper GPS chip (which may come in future 3G and 4G models) this would rule out some of the location-based AR experiences as well.
Some of the most compelling desktop AR examples use what is called a "virtual mirror" technology. Using a webcam, users can sample clothing, accessories, hairstyles, makeup and many other items which can be virtually placed on their face or body. More gimmicky promotions let users try on helmets and masks from sports teams and movies, like Transformers.
One of the other features of the PlayBook that will benefit AR developers is the device's support for a full Web browsing experience, including HTML5, Flash and OpenGL. While some AR vendors require users to download special plugins, others use the open source FLARToolKit to develop Flash-based augmented reality that should be usable on the PlayBook.
Breakthrough mobile AR apps of the future will likely be those that can seamlessly blend the mobile and desktop AR worlds together. Imagine playing a game where hunting virtual enemies meant scanning infront of you with one camera while also having a "rear-view mirror" of what's coming up behind you. Or being able to show the front-facing camera an icon or marker that triggers a rear-facing location-based navigation experience.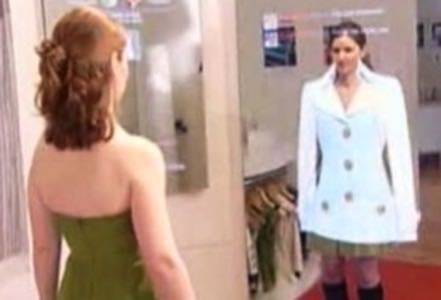 Possibilities for this type of augmented reality are extremely promising, and devices like the PlayBook could the first to implement them. Once Apple and Android devices start using dual-camera systems, however, the BlackBerry's days could be numbered. For now, though, AR developers should be keeping a keen eye on the PlayBook.