Instagram is many things to many people—but if cat pics and selfie-fests are clogging up your feed, it might be time to refresh your following list. Instagram is an amazing way to stay connected to friends and family, but it's also a great way to learn something entirely unexpected while you're killing time at the bus stop. Happily, plenty of awesome scientific research teams, agencies and organizations have mastered the art of Instagram to do just that.
Sprinkle a few of these awesome Instagram accounts into your feed and you'll probably even learn something while you're at it.
1. NASA Goddard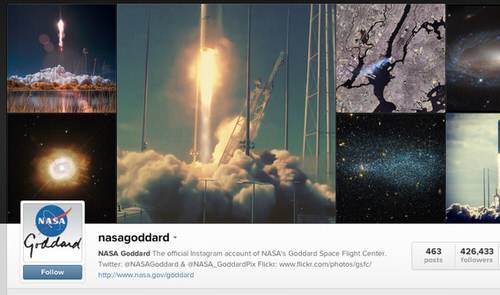 A major NASA research center, Goddard peppers its Instagram account with a combination of Lego astronauts, historical shuttle launches, and Hubble space telescope shots—all with fact-packed descriptions, of course. Goddard's Instagram has a good sense of humor too. In one shuttle launch photo, "Frog Photobombs NASA's LADEE Launch," a small frog is seen flying through the foreground of a remote-launch camera shot. While the space shots certainly won't be captured with an iPhone, NASA continues to impressively pioneer education through emerging social media outlets, hitting the right tone.
2. U.S. Department of the Interior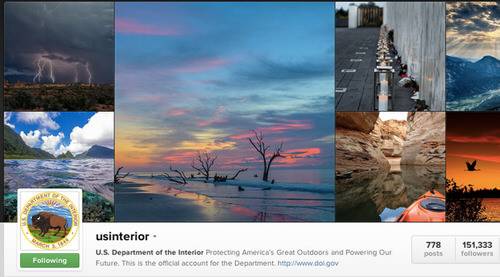 Another government agency, the U.S. Department of the Interior, boasts an eye-candy rich Instagram account—but it's not all fluff. The department tasked with conserving the nation's natural resources makes a compelling case through its Instagram, showcasing stunning shots of U.S. national parks that speak for themselves. Whether you're interested in biodiversity or just happy to be pointed toward your next travel destination, the DOI account is well worth exploring.
3. National Geographic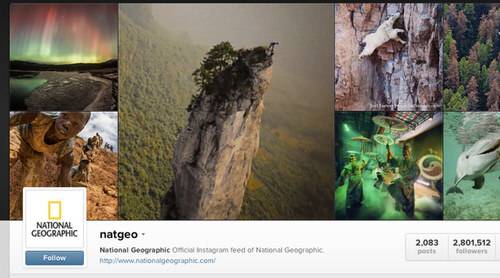 A grab bag of amazing shots from around the world, NatGeo has an extremely active, well-followed Instagram account. While not strictly scientific in nature, the account offers both iPhone and professional photographer's glimpses of a vast breadth of communities, cultures and creatures the world over—a perfect use case for the app. Our only quibble is that some photos are watermarked, which seems like a very un-Instagramly way of attribution these days. Given the array of sources, photo quality isn't exactly consistent, but the content is always interesting.
4. National Oceanic and Atmospheric Administration (NOAA) Fisheries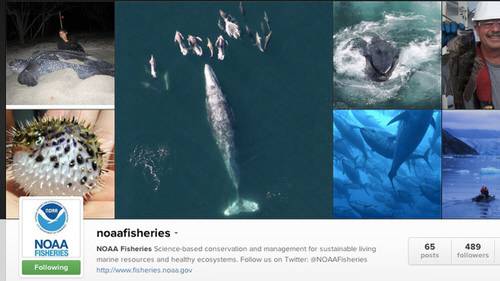 If you're into marine life, conversation or just cute pictures of seals, the new National Oceanic and Atmospheric Administration (NOAA) fisheries account will be right up your alley. The NOAA Fisheries account is both a behind-the-scenes chronicle of NOAA's efforts to maintain existing marine ecosystems and a peek into those thriving ecosystems themselves. For even more great shots, follow the primary NOAA Instagram feed.
5. Mars Curiosity Rover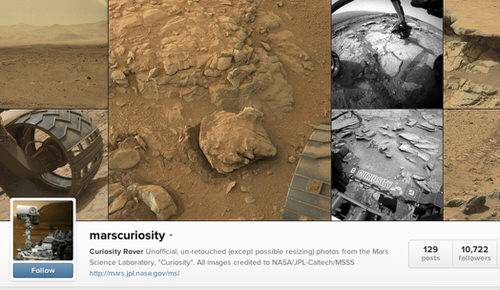 We couldn't leave the Mars Curiosity rover off of this list. The internet's favorite anthropomorphized mobile Martian research lab has an Instagram account worth following because, well, it's on Mars. Sure it's a lot of reddish dust, but these "unofficial, un-retouched photos" continue to offer amazing new chapters in the story of Curiosity.
6. General Electric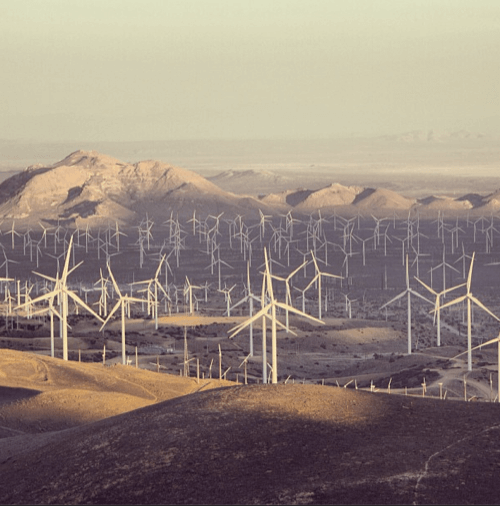 An energy conglomerate is an unlikely candidate for an awesome Instagram feed, but you'd be surprised. Someone at GE knows what's up, and the photos of massive turbines and generators are as sparsely beautiful as they are fascinating.
7. The American Museum of Natural History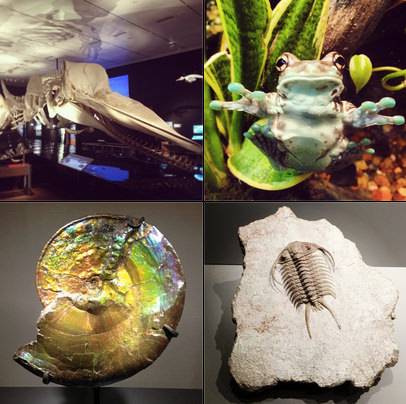 Instagram is completely perfect for museums. What better way to get would-be museum goers through doors than to showcase highlights from your collection? While the AMNH seems to update Instagram somewhat sporadically (just like British museum—get updating!), maybe we can put the heat on for more Insta-education around the natural sciences.
8. USGS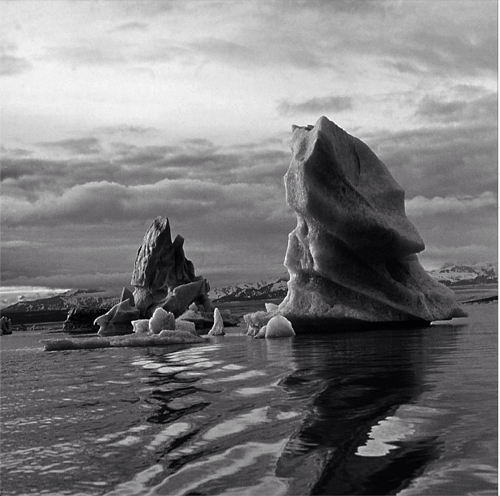 The U.S. Geological Survey has been Instagramming its heart out lately, with cool photos from the natural world that never cease to impress. Huge glaciers? Check. Giant snails? Also check.
9. Cory Richards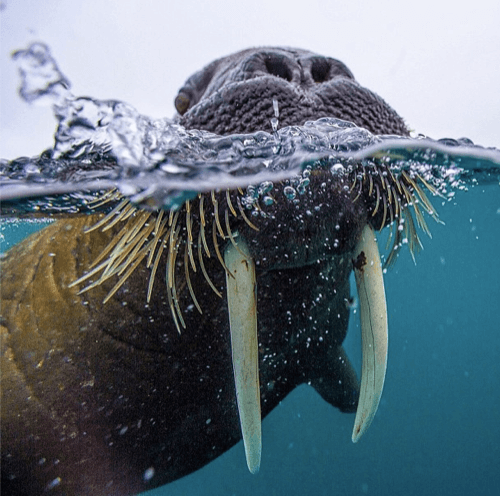 Get a more immediate, personally curated first-hand look at the life of a talented National geographic photographer and adventurer.
10. Smithsonian Magazine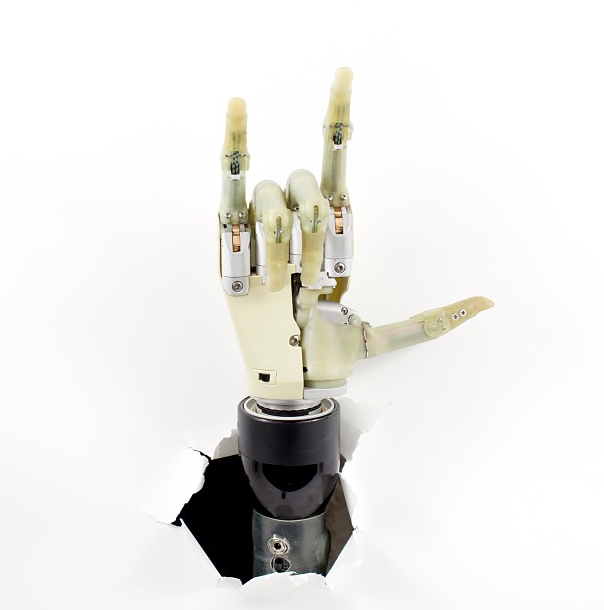 There are about five thousand different Smithsonian accounts, but the Smithsonian Magazine offers the most updates and the best photographs. Also: robots!
What's missing from our list? Well, you tell us. Personally, we'd be happy to see DARPA and MIT's robotics labs blowing up our Instagram feed with science-rich goodness.