High-quality audio recording was once the exclusive domain of professional studios, radio stations and other settings tricked out with top-notch equipment. But now, thanks to advances in technology and lower pricing, professional-level audio recording has moved within reach of practically anyone.
So if you've ever wanted to reach a broad audience as a podcaster, there's no time like the present. These days, the difference in quality produced by professional set-ups—with layers of soundproofing and pricey microphones—don't sound all that different from recordings made on a smaller budget.
But hardware and software alone don't make for polished audio. Having worked in studio settings ranging from small town radio stations, to control rooms of nationally syndicated radio shows, I can tell you that good technique is just as important.
For the best recordings on a budget, check out this list of tips and tools for the budding podcaster.
Choosing a Good Microphone
Podcasting set-ups can vary, but in most cases, the two fundamental pieces of equipment are a microphone and a computer. The microphone captures sound, and the computer handles everything else, from recording and editing, to ultimately submission and syndication. Additional components—such as an audio interface, mixer, compressor and more—can be useful, but they're not required.
When it comes to microphones, good ones don't have to cost a fortune. But wary of ones that are too cheap. You want to strike the right balance of cost vs. quality. Excellent mics that sound like they cost hundreds more can go for anywhere between $100 to just over $200.
Bear in mind that, if you're podcasting, you want a microphone that can focus on small areas, like the sounds coming out of your mouth or a guest's. The built-in microphones on a laptop or smartphone aren't suitable for professional recording, because they pick up noises coming from anywhere in the room. Unless you want to capture the squeaks of your chair or background conversations, you'll need a dedicated mic.
The two main types to look at are dynamic and condenser. A dynamic microphone doesn't require external power, and it does a good job of picking up a limited range of audio through a compact design. Condenser microphones usually need power from an external source, but they provide richer, fuller tones.
AT2020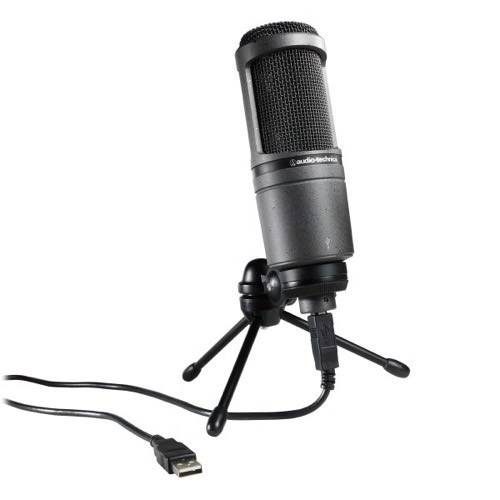 The AT2020 USB microphone by Audio Technica ($102 – 149) is an excellent starting point for podcasters on a budget. The small USB condenser mic can sit on any desktop, and comes with its own stand.
There's one downside, though: Its lack of integrated controls means that you'll need to do some extra work setting up recording levels and/or touching up in post-production to get the exact sound you need. But even with this in mind, the audio quality of the AT2020 is exceptional for its price.
The Yeti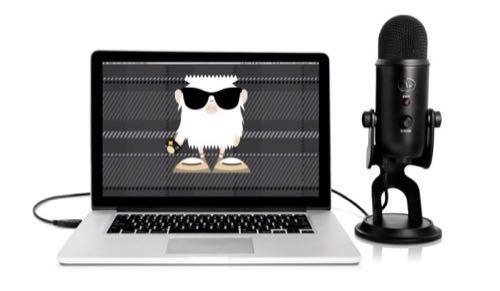 The Yeti by Blue Microphones ($129 – 149) is another excellent choice. Since it can pick up sound along multiple directions and recording patterns (cardioid, bidirectional, omnidirectional and stereo), the device can come in handy during two-person interviews. The Yeti can record what is in front of and behind it, so you only need one microphone instead of two.
That pro comes with a con, however: This product, in particular, captures a bit more background noise than you would normally find in a professional solution. To minimize that, you can tweak its volume settings and tweak the recording in post-production.
The Yeti also offers gain (or amplitude) control, an integrated mute button and a zero-latency headphone output, for real-time audio monitoring over headphones. The primary connection is USB, though there's also a pro version that features both USB and analog XLR option.
XLR is a common three-pronged audio connector that provides power and carries a clean analog audio signal from the microphone to whatever it is plugged into. This isn't a connection found on most PCs, but it may come in handy if you eventually add in a mixer or other audio equipment.
Rode Podcaster
Fans of dynamic microphones should appreciate the Rode Podcaster ($220). The USB mic features broadcast-quality sound, capturing a crisp 18-bit, 8 to 48kHz audio. You need to stick pretty close to the microphone, if you want your voice picked up, but that can be a benefit. It means less background noise will make its way into your podcast.
The Podcaster also offers an integrated 3.5mm headphone jack for live monitoring.
Zoom H2n and H4NSP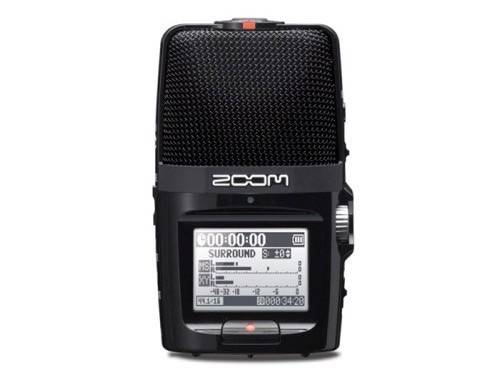 There are some great stand-alone audio recording solutions out there that can record high-quality audio from anywhere for later editing. The Zoom H2n ($160 – 225) and H4NSP ($200 – 250) fit in this category. An all-in-one audio recording powerhouse, the 2015 edition of the Zoom H4n features built-in 90/120 degree XY stereo microphones, which point two integrated mics at the source, for truer, more accurate audio. Powered 3.5mm, dual XLR / Hi-Z input jacks give you the ability to connect a multitude of external microphone and audio input devices, so you're not entirely dependent on the built-in microphone solutions.
The devices also support multi-channel recording for stereo and 4-channel audio, so you can record multiple individuals in their own independent audio tracks. This makes editing and mastering audio for different voice types in an audio-editing program easier.
By contrast, the H2n has five integrated microphones for mid-side and XY stereo recording, as well as a mic/line input jack for recording from an external audio source. With USB, you can connect the Zoom H2n and use it as a USB microphone or transfer audio files through an SD memory card.
Choosing Your Editing Software
Once you're done recording, you'll probably need to edit the files to eliminate mistakes, shorten the length or just improve the sound quality. With software, you can run a virtual compressor, limiter, and/or background noise reduction process over the audio. If you have a good ear, you can even tweak audio levels to give your voice more base or cut down on elements you're not happy with.
Even the best radio personalities in the world have a rack of effects between them and the audience. Modern audio editing software can do the same for you.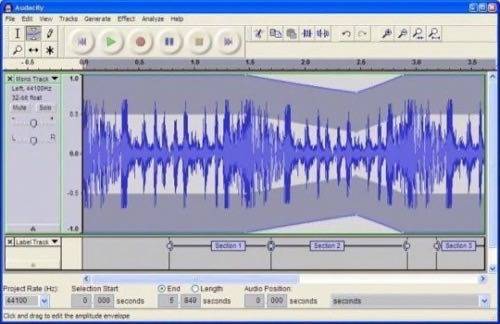 Audacity (free) is a powerful audio recording and editing program for OS X, Windows, and Linux. Because it's open source, it has benefitted from a large community of users and code contributors over the years. Audacity offers multi-track mixing, numerous effects and additional audio elements, such as intro sounds, music and more.
For a commercial solution for Windows or OS X, Adobe Audition ($49/month as part of Creative Cloud or $20/month individually) has long been a go-to software of choice in the audio world for its extensive capabilities. As part of the Creative Cloud suite, it can be used in conjunction with other Adobe products such as Adobe Premier.
OS X users also have free access to GarageBand for audio editing and effects. The application used to be synonymous with podcasting, since it featured built-in support for exporting audio as podcasts. Too bad Apple removed that feature in version 10.0 a couple of years ago. You can still use the software, though it's not quite as easy to make podcasts as it once was. (An iOS version of GarageBand is also available.)
Audio Recording and Editing Tips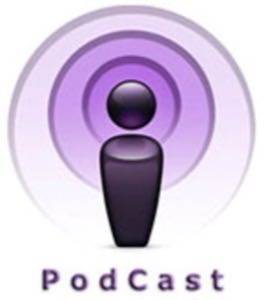 Once you have your microphone and editing software in place, you are ready to record the first episode of your podcast. Technique is every bit as important as the hardware and software that captures it, so bear the following in mind:
Keep your microphone at an angle: If you are breathing directly into your mic, your audience will hear it. You'll come off sounding more like Darth Vader and less like a professional broadcaster. Keep the microphone roughly 45-degrees to either side of your mouth to boost your sound quality of your voice.
Record in quiet surroundings: Recording in a noisy room with kids in the background, pots and pans banging in the kitchen, or a fan blowing in your face will make your podcast's quality suffer. Using a dynamic microphone might help beat back some of the ambient sounds, but it's better to use a quiet space with minimal echo. Some podcasters even record in a closet amid their clothes to cut down on echo and air conditioner sounds.
Cut out the coughs: Audio is very forgiving when it comes to pauses, coughs and even meandering trains of thought. You can edit all of these out in post-production using software (see above). You'll come off as a better speaker, and your audience will appreciate the pace and on-point presentation.
Not naturally eloquent? Try a scripted dialogue: Some people have a knack for winging it. They can flow and speak without inserting 'umm' and 'uhh' or stumbling over their thoughts. If you are not one of those people, try writing down what you intend to say ahead of time. Even the best newscasters in the world have a teleprompter, and many popular podcasters use a pre-written set of bullet points to guide them through a show.
Recording professional-sounding audio used to require deep investments and a lot of time. Those days are long gone. Now, you don't have to drain your bank account or spend hours setting up an array of equipment. With a little practice and the right tools, you can get your message out there, loud and clear.
Lead photo courtesy of Shutterstock; Audacity screen capture courtesy of Audacity; "podcast" graphic courtesy of Apple; product shots courtesy of respective companies