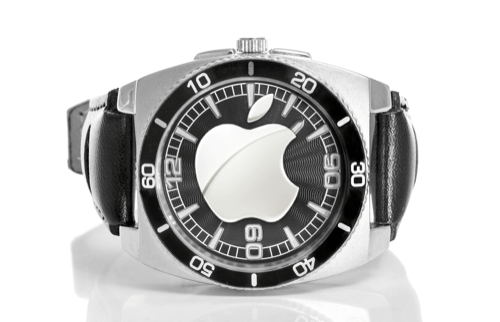 Apple is reportedly developing a smart watch made from curved glass. Does it really have a choice? With iPhone sales stalling, the Cupertino innovator is in desperate need of another hit product, and not just any product: Apple needs something that consumers will refresh every 12 to 18 months. My editor Dan Lyons has his own thoughts on why these Apple watch rumors are making the rounds. But what if we take them at, pardon the pun, face value?
At Apple's size, the company must be very choosy about its products. While Apple does at times dabble in $100 million "hobbies" like Apple TV, its bread-and-butter depends upon multi-billion dollar breakout successes like the Mac, iPod, iPhone, and iPad. Apple simply isn't the kind of company that is going to release a horde of SKUs, each designed to reel in a hundred million dollars here and a hundred million dollars there.
(See also Who's Manipulating Apple Stock With This iWatch Story?)
The company continues to thrive, but its stock has taken a beating recently as investors fear that Android is knocking the iPhone off its lofty perch, and will almost certainly do the same in the tablet market. (Some investors are more sanguine on its chances.) Over time, it's simply not possible for Apple's high-margin, premium product strategy to own the mass market. So as it fades into highly profitable niche-status in smartphones, just as it has in personal computers, Apple needs a new hit to drive it forward.
Apple Needs A Particular Kind Of Hit
But not just any kind of hit. While The Wall Street Journal and others have reported that Apple has a TV in the works, a TV doesn't fit Apple's recipe for success. All of Apple's big hits have a few things in common:
They're focused on consumers.
They're priced at a premium but within the budgets of the middle class (in Western Europe and North America)
They're cheap enough that consumers "refresh" to the latest version every 12 to 18 months
A TV, however, and particularly a premium TV like Apple would be inclined to make, is not going to fit in the budget of many consumers, and certainly not in less affluent markets. But even if it were, people don't buy new TV sets every year. Apple could still build a multi-billion dollar business with a multi-year refresh rate, but this would significantly change Apple's standard operating procedure.
Much more likely would be significant improvements to Apple TV, taking control of video content from the cable and satellite operators. One Apple source tells me that Apple is waiting on DirecTV's exclusive contract with the NFL to end in 2014. Regardless, an Apple gateway to bounteous video content fits perfectly with Apple's iTunes business model, as well as the three factors above.
An Apple Watch Could Be A Perfect Fit
But then, so does an Apple smart watch. In fact, an Apple smart watch arguably better fills Apple's product portfolio, as it serves as a complement to Apple's iPhone and iPad products, helping to spur sales both ways. It also could further expand Apple's App Store business, with a range of fitness, diet, and other apps landing on one's wrist.
It would not, however, find many fans at traditional watchmakers, as Box CEO Aaron Levie humorously points out:
The biggest reason for thinking an iWatch could be a big deal for Apple, however, is that it perfectly fits Apple's business needs and design ethos. Watches have seen little innovation for decades, yet continue to be used for both style and utility. (As for myself, I traded in my watch years ago for my iPhone, which provides the time and more.) At $250 to $500, Apple's smart watch could be hugely profitable but also inexpensive enough to justify consumers buying the latest and greatest each year.
None of this guarantees that Apple will release a smart watch. And it's possible that Apple will ignore my advice (again) and release a high-end TV. There aren't many product categories that fit Apple's need for consumer products with a 12- to 18-month refresh cycle. Wrist watches just happens to be one of the few.
Image courtesy of Shutterstock.