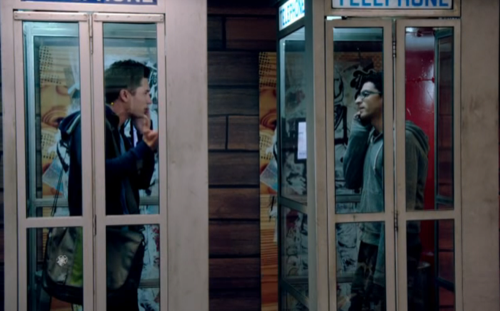 Over time, great cities tend to inspire their own iconic comedies: New York's Seinfeld. Boston's Cheers. It's Always Sunny in Philadelphia. Now Betas is the show that could put Silicon Valley on the comedy map – but only if you help.
Betas is one of the eight comedy pilots that Amazon has been featuring on its Instant Video page. If enough voters back Betas – or any of the other comedies – then Amazon will greenlight its development into a full-fledged original series, taking on shows like House of Cards and Lilyhammer on Netflix.
Betas = Heart, Surrealism And Desperation
To its credit, Betas integrates much of what made 1980s comedies great – heart, a touch of implausibility that borders on surrealism – and swirls it all together with the desperation and ambition of the Silicon Valley feeding frenzy. For many entrepreneurs, the right handshake seems to be all that separates them from poverty or untold riches, a cruelty that can instantly reduce months of work to ashes. Chasing that dream is frustrating. And funny.
Betas reminds us that Silicon Valley has become high school writ large: geeks may be the new jocks, but the popular kids still have all the money and dweebs are still dweebs. And owning all the toys is still the high score.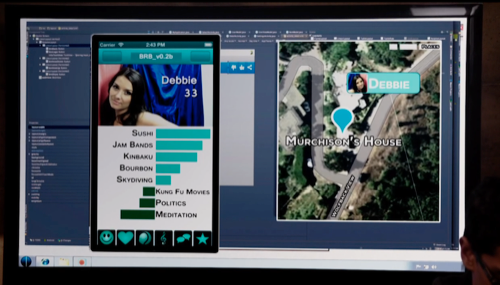 Betas begins in the sort of community workspace many techies could imagine working in, if they weren't, you know, working: Employees chase each other around with Nerf guns, others grind Cheetos into their keyboards. "Nash," the neurotic, socially inhibited engineer played by Karan Soni, can't take it. He freaks out and hides in one of the telephone booths the workspace has put against the wall, a quasi-ironic homage to older technology. Nash, despondent, tells his company's founder, Trey (Joe Dinicol), that the latest build of their Highlight-like social discovery app, BRB, bricked the phone.
"Who cares? Investors are making investments from napkin sketches made by high school dropouts!" Trey responds.
"I don't make napkin sketches!" Nash wails.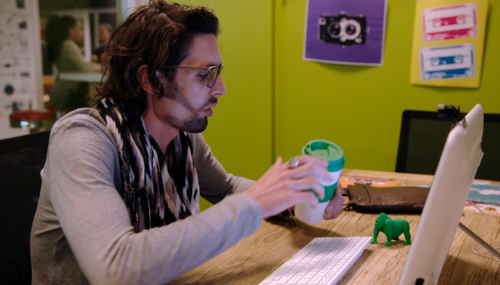 The plot of the pilot revolves around a meeting that Trey is convinced BRB needs with George Murchison (Ed Begley, Jr.), who plays electric flute with Moby and slices his own "Ferrari of trout" with an Asian shortsword. Part of the reason is one-upping the team behind "Valet Me," a parking app whose sudden success makes the douche bag developers instant stars. Trey is convinced that the when Murchison hears BRB's pitch, he'll invest – and talks his way into Murchison's home using "Larry Page" as an alias.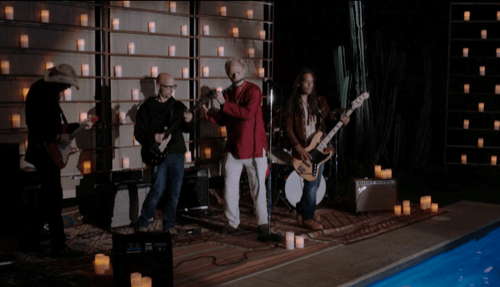 The other members of the BRB team include Hobbes (Jonathan C. Daly), a bearded, jaded developer whose idea of relaxing is watching Webcam porn at a local laundromat, and Mitchell (Charlie Saxton) a pudgy dweeb whose biggest goal is to talk to Mikki (Maya Erskine), the cool Asian chick who's looking for just about anything to spark her empty life. "I would never say damp," Mikki muses. "It makes my vaj seem like the Dagobah system."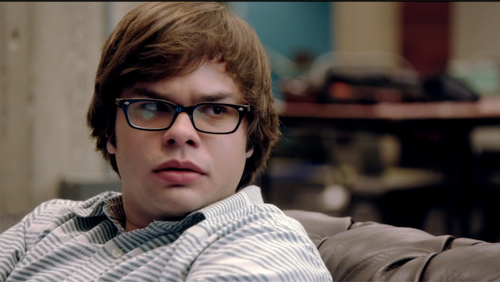 Betas Brings Silicon Valley To Life
Betas may be a scripted comedy, but it feels a hell of a lot more real than Randi Zuckerberg's reality TV fiasco, Startups: Silicon Valley that debuted last year. Then, a cast of pretty wannabes partied their way from meetup to meeting to hangout to loft party, leaving everyone in Silicon Valley muttering, "What the hell is this?" Startups' worst crime, however, wasn't that it was vapid; it was just boring, and we'd seen all the tricks that reality series could throw at us before. It's hard to fathom how anyone got beyond an episode or two.
(See also Startups Silicon Valley: The Painful Truth Behind A Caricature Of Excess.)
The Big Bang Theory may hold the crown of TV's geekiest show. But BBT mocks geeky science culture – Star Trek, Iron Man and the ins and outs of academic life – without really touching on what makes a life in technology so great. Betas tosses you in the deep end; it assumes you know what "Series A" funding is, and who Mark Zuckerberg and Page are. Little touches – bumping phones to swap digits, for example – lend the series the "oh yeah, people really do do that" feeling. Silicon Valley will hit the big screen this summer, when The Internship looks inside life at Google – but do you really think a sanctioned look inside the Googleplex is going to end up all that funny?
(See also Geek Movies: The Top 10 Most Inspirational Films For Techies.)
Think Scrubs: Silicon Valley
Think of Betas as Scrubs Silicon Valley: the four members of BRB are starting at the bottom, hoping to climb to the top. In Scrubs, there's a natural progression: the young residents must earn their way up the medical ladder to become full-fledged doctors. What makes Betas so compelling is that Silicon Valley isn't like that. Instead, it's a roller-coaster ride: This week it's a funding deal, next week it's a show-stopping bug. What happens if Trey and the team accidentally leak their user information? What if they're hacked? Do they attract the attention of Anonymous? Does Microsoft make a pitch to buy them? Does IBM?
Look, crazy stuff happens in Silicon Valley every day. But there's no reason why we can't watch it on our TVs at night, too. So watch Betas. Vote for it. Let's make this happen, people.