Amazon has put Apple TV, Roku and Google's Chromecast in its crosshairs with its new Fire TV streaming device.
See also: Amazon Fire TV Wants To Ignite The Streaming Experience—And It Just Might

The box comes with many of the standard Internet video features you'd expect from a modern set-top, along with some intriguing new ones—like predictive streaming, which anticipates what you'll want to watch next and auto-buffers it for you. It also includes some that other devices have played around with, but not perfected, such as voice search, "second-screen" features using phones and tablets, and plenty more.
Amazon claims to have nailed them. If that's true, it might even justify the $99 retail price—no small matter, considering the Fire TV is at the upper end of a market filled with inexpensive rivals.
To help you decide if it's worth the cost, here's a quick guide to some of the Fire TV's major features.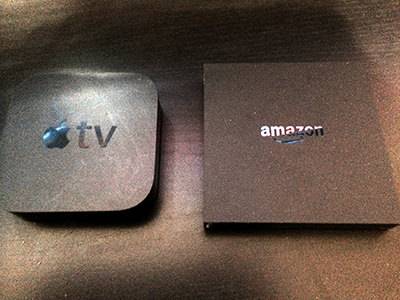 ASAP Predictive Streaming
Amazon's ASAP (short for Advance Streaming and Prediction) feature not only predicts what you'll want to watch next, it gets the video ready for streaming by automatically starting the buffer. That means, when you hit it up, it will play right away.
What you need to know: Even if the feature's not all that accurate, it's supposed to learn your tastes over time. This could be a really handy convenience that speeds up the streaming experience. But anyone sensitive about privacy will want to take note, as you may not like the idea of a tech company tracking your entertainment preferences.
Gaming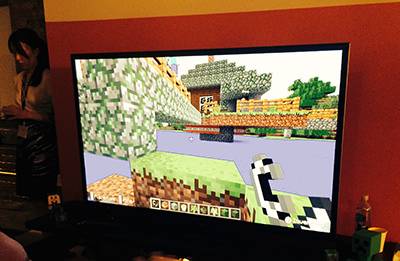 Fire TV aims to go well beyond Sudoku games and Angry Birds. The box offers first person shooters, side-scrollers and more, as well as multiple player mode. You can use the set-top's remote control or, optionally, a separate Bluetooth controller (available for $40).
What you need to know: Fire TV-specific versions of Mojang's Minecraft: Pocket Edition, Gameloft's Asphalt 8, and Telltale Games' The Walking Dead are heading to the Amazon device. The company has enlisted Disney, Gameloft, EA, Sega, Ubisoft and Double Fine to flesh out its gaming choices.
Amazon Game Studios also launched Sev Zero, its first game built from scratch for the Fire TV. The group describes it as "a fast-action third-person shooter experience … with tower defense gameplay," and it's available for $6.99 (or free, with a Fire game controller purchase).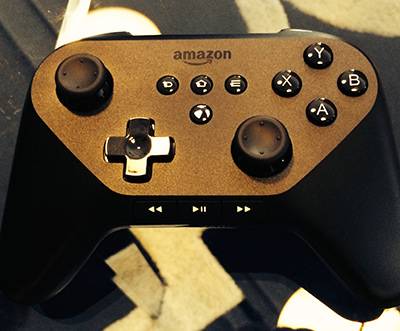 As for actual gameplay, multi-player mode hooks friends up via mobile devices on Wi-Fi. The primary user, who plays using the actual television, would use the Bluetooth controller for a more direct connection.
X-Ray (aka Kinda Sorta Karaoke)
Ever wonder who that actor is? Or the name of a song that's playing? X-Ray can take care of that. The "second screen" feature works on mobile devices to pull in TV and movie data from IMDB—like credits, cast info, song names, trivia—for shows and songs that are currently streaming. It can even serve up lyrics as a tune plays.
What you need to know: It only works on the Kindle Fire HDX at this time, though support for iPhones and iPads will launch later this year.
Voice Search
During the Fire TV announcement, Amazon VP Peter Larsen declared, "This is voice search that actually works." There's an embedded microphone in the remote control, so users can search titles without fussing with directional buttons.
Searching for movie or TV shows one letter at a time on a directional pad is one of the biggest irritations of modern streaming. If Amazon can make this feature work well, that alone could accelerate this box's success. And make the streaming experience so much easier for us couch potatoes.
What you need to know: Well, Larsen's partially right. Voice works for searching movie titles by keywords, actor's names and such. There's even a dedicated button on the remote control for it. Unfortunately, the feature doesn't work for every app. Netflix and Hulu results wouldn't come up in our early tests with the device. And you know what that means—the hunt-and-peck search isn't extinct yet. But I cross my fingers that it will get better, because I'd love to kiss that annoyance goodbye for good.
Password-Protected "FreeTime" Kids Section
There's a lot of mature content out there, so the FreeTime app was retooled as a dedicated, kid-friendly safe zone that requires a password to exit. In other words, they can get in, but they can't get out without knowing the magical "open sesame" for the egress. The parent creates profiles for each kid, setting what they can see and time limits based on type of content or time of day. Inside FreeTime, kids get a kid-friendly design, and parents know that the only thing theirchildren see is what they picked for them.
What you need to know:If you've already done the setup on your Kindle Fire tablet, the settings will sync to the Fire TV. The password feature's interesting, but the timer may be more so. Parents won't have to manually manage their kids' screen time, thanks to auto-shutoff—say, when it's time for bed or homework. Amazon says it will be available next month, but bear in mind that it will require a subscription. FreeTime Unlimited covers these features, plus unlimited access to movies and TV shows. Prime members get a discount: Instead of the regular $5 monthly per child (or $10 per family), they pay $3 per child (or $7 per family).
Streaming Choices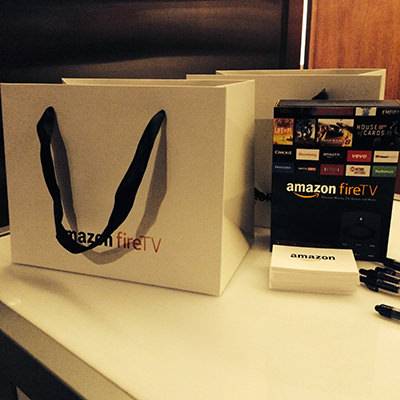 Leave it to Amazon to turn streaming into a comparison shopping experience. When you call up a movie or show, Fire TV puts all your available streaming options on the screen, so you can pick the one with the cheapest price.
What you need to know: The only services this works with right now, apart from Amazon Instant Video, are Prime Instant Video and Hulu Plus, which are subscription-only. And subscribers to those services get all of those shows and movies for free. The company says it will extend this capability to other providers, but until that happens, your only choice for renting or buying a movie á la carte is from Amazon.
Casting
No streaming device is complete these days without casting. (Thank you, Chromecast. Or rather, DIAL, the protocol that lets multiple devices interact with each other.) With this, Fire TV users can fling Amazon streaming media from their mobiles to their televisions, and use those phones and tablets as remote controls or second screens.
What you need to know: The feature's only available on Kindle Fire HDX to start, with iPhone and iPad support coming later this year (though, once again, it doesn't support other Android devices, like those from Samsung, HTC or Motorola). Kindle tablets can also mirror their displays on TV, and later this year, so will any Miracast-compatible devices.
Photos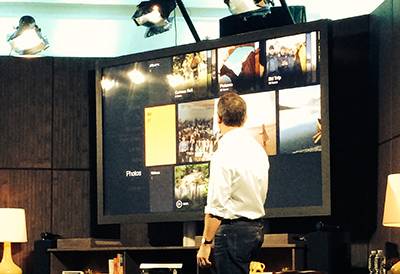 Fire TV has photo support at launch, so users can show off stored images, or snap them on the spot and have them displayed. Take a picture with your smartphone camera, and if it's synced with Amazon's Cloud Drive, it will automagically appear on the big screen.
What you need to know: Amazon's primary photo feature is easy … if you're an Amazon Cloud Drive user and sync your images from your phone to the service. But if you're not, take heart—you may be able to download a third-party app from a service you use to the Fire TV. (Of course, you may not. We'll see.)
Interface
In short, it looks pretty clean, managing to pack in quite a lot without appearing cluttered. There's a rather Roku-like left sidebar for navigation, which conjures sections for Search, Movies, TV, Watchlist, Video Library, Games, Apps, Photos and Settings.
What you need to know: If you're impatient, you'll appreciate the relative ease and speed of flipping through the pages and navigating to different screens.
Performance
Perhaps more than anything else, the Fire TV is supposedly easy to use and extremely fast. Part of that's due to the ASAP feature (above), but it also has plenty of horsepower under the hood to help the cause.
What you need to know: If you're a hardware fanatic or A/V aficionado, you will love the Fire TV's specs. The box comes with a quad-core processor, dedicated GPU, 2 GB of memory, support for 1080p video, Dolby Digital Plus surround sound, and dual-band, dual-antenna Wi-Fi with MIMO. (That stands for "Multiple In, Multiple Out," which basically offers faster wireless connection.)
If you're not, think of it this way: This is not a Chromecast, which offers minimal hardware and basic casting features for a cheap $35 price tag. Fire TV is close to the polar opposite—more powerful specs and features, at nearly three times the price.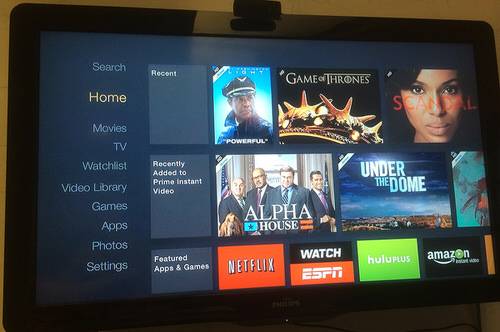 That means shoppers will likely be choosing between this and an Apple TV or a Roku 3. Ultimately, it boils down to choosing a new set-top box with unique features for its growth potential, versus sticking with an established product.
Fire TV is available on Amazon online, with Staples availability starting April 5. Apps include Netflix, Prime Instant Video, Hulu Plus, YouTube, WatchESPN, Showtime, Amazon MP3 and Pandora, among others, as well as other fan favorites like Plex, RealPlayer Cloud and Bloomberg TV.
So at launch, Amazon's TV box already supports more streaming sources than Apple TV—though the latter could see some new partnerships and even a new model within mere months.
The Roku lineup, meanwhile, just got refreshed last fall, and last month added a new product, the Roku Streaming Stick.
There are no shortage of choices for TV streaming. And it seems like Amazon threw everything but the kitchen sink in its slim little box, hoping to entice you. Let us know below if this sparks your interest, or if this Fire ought to just flicker out.
Lead image by Adriana Lee for ReadWrite; all others by Dave Smith for ReadWrite