If you have to jointly author a spreadsheet with a colleague, what is the first thing that you do? Email it back and forth. This can be painful, particularly as you try to keep track of your partner's changes and hope the emails transit back and forth across the Internet. Add a third or fourth person, and things get worse. Luckily, there is a better way, and a number of Web-based service providers have stepped up with tools to make spreadsheet sharing a lot easier than sending attachments.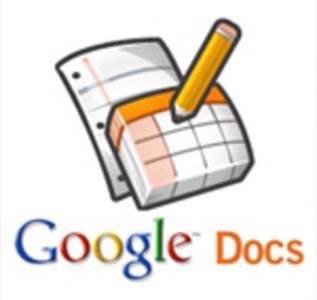 We've written about a few of them, including Longjump and Hyperbase (one of our products of the year for 2008), but I have tried a bunch others, and will show you what is involved and how they stack up.
The process is very straightforward: you either copy and paste data or take your spreadsheet and upload it to the service, after creating accounts for you and your collaborators. Then you can make changes via your Web browser, no other software is required. Some of the services allow for more bells and whistles. Setup time is minimal; your data is properly protected by the service and safe from harm. And you don't need to learn any Web/database programming skills either.
For many people, the spreadsheet is still one of the most popular low-end database applications. The rubric of a table of rows and columns is easily understood and can easily be used as a way to view records and fields of a database. Plus, you don't need to design special reports to view your data entries, and you can easily sort your data without having to create data dictionaries or other database structures, just use the appropriate Excel commands. Having a specialized service that can share this data makes it easier to collaborate too, whether your partners are across the office or on the other side of the world. As long as they have an Internet connection, they are good to go.
There are eight different services currently available, in order of increasing cost:
Online Spreadsheet Sharing Services
Pricing and support
When you decide on the particular service, it pays to read the pricing fine print. There are discounts for annual subscriptions on most services, and some such as Smartsheet offer additional discounts for non-profit and educational institutions. All of these services have 14 day or 30 day free trials to get started, so you can get a feel of what is involved in manipulating your data and how easy it is to make changes, produce reports, and receive notifications.
The downside is that some of these services can be pricey, as you add collaborators. Each service has different ways to count actual "users". For example, if you want to jointly edit the same spreadsheet with two others — that usually counts as a three-user license. But if you want others to just view your data but not change it, these others usually don't consume additional licenses. Smartsheet doesn't have any user limitations, which is great if you are going to publish it for wide use around your corporation. They can also get expensive if you need to attach files to particular cells in your database, as you can see from the table above.
Customer support can be extra too. TrackVia, HyperBase and QuickBase all include phone support in their offerings. Google and Microsoft offer online help only. Smartsheet offers support on its premium plans that begin at $50 a month, although you probably won't need it because it has copious help pop-up screens and suggestions for first-time users. The others offer minimal support.
Distinguishing features
Let's review each service and touch on some of their distinguishing features. First is how they notify you of changes to your file's content. Some services give you more control over how they will email you when one of your collaborators has made changes. Another feature is how they can publish your data, if you want to invite others to view it. While this throws all hope of security to the winds, for less secure information it is a great way to start a collaboration process. Some can design very sophisticated reports; others show you your data in the familiar grid layout that Excel uses.
Another thing to look for is how each service loads your data: with some, you can upload an Excel file from your hard drive, while with others you have to either import a comma separated file or cut and paste your data from your spreadsheet to inside your Web browser. Why is this important? If you have more than a simple table of columns and rows, cut and paste will probably not work and you will have some cleanup to do after the import.
Finally, there is the consideration of how much control they give you over the look and feel of your data. Some of the services, such as Smartsheet, Longjump, TrackVia and QuickBase, have dozens of pre-built templates to help you get started with organizing your data, such as client contacts, issue tracking, or expense reports. The others you are left to be your own designer.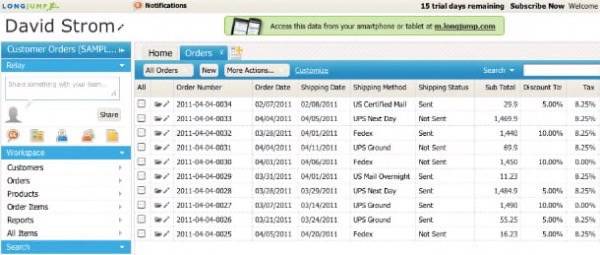 One caveat: Web services are constantly being changed, especially prices as the vendors tweak their offerings. (For example, DabbleDB.com recently exited this market.) This analysis is based on what we saw in mid June 2011, so do spend some of your own time checking out particular features that are deal-makers or breakers for you. We also tried to test each service in a wide variety of browsers on both Windows and Mac operating systems, but again, things quickly change in that department too.
SpreadsheetLive
This service has real potential and is still free. I had real trouble getting the service to work with importing Excel 2003 file formats, but Excel 2007 worked fine.
Google Docs
Google Docs continues to update its collaboration features, but they aren't as extensive as the other services. The upside is that they are free and you can invite as many collaborators as you desire. The edits and entries to the spreadsheet appear in near-real time. Any spreadsheet that you create inside the Google Docs system doesn't count towards your storage quota, (imports are limited to 2 GB) which is also a nice benefit. Collaborators have two basic roles: either full access to the entire spreadsheet or just viewers. And you can combine the spreadsheets you create with Google Web forms, which can be used to develop some powerful shared databases.
When you combine Google Docs with Box.net, you have more collaboration features but you will need to pay for a Box account and it is a bit tricky to share your spreadsheets between the two services.
Microsoft Live
Similar to Google Docs, you can set up a shared spreadsheet in Microsoft's Live service for free, for up to a 50 MB file size. Collaborators also can only either view or (if they are registered with the Live service) can edit the entire spreadsheet.
Smartsheet
If looks and cost matter and you don't need a lot of storage, then consider Smartsheet. They have templates galore to make it easier to design a good-looking database. They also have all kinds of notification controls, where you can set frequency and what particular content has changed. Smartsheet handles publishing with a single click of a button, with a variety of publishing options too.
Longjump
Longjump has a full-featured database service, with templates, reports, the ability to link tables and custom widgets galore. One downside: you can't import Excel files directly, only after converting them into comma-separated files. There are several differently priced plans: if you need more storage or users, you can spend up to $500 a month or purchase either separately.
TrackVia
TrackVia has an appealing pricing plan for the higher-end market with at least ten collaborators on a spreadsheet. But the good news is that it has plenty of features that befit its higher cost. You can import an Excel file, start with one their existing templates, or start from scratch. There are also different email notifications it can send you when new records are added or elements change.
TrackVia will send you a CD copy of all your data for an additional $100 that will be sent overnight to you. TrackVia has integrated email merge features, so if you set up your spreadsheet for that particular purpose, such as a list of customers that you want to stay in touch with, you can use this service as an inexpensive contact management system (this will cost a penny an email extra). You can also create a public Web page that asks questions that you can use to collect information to include on your spreadsheet, similar to Google Docs/Forms. There is also a way to graph and chart your data. Finally, there is a function to find and eliminate duplicate records in your data, which can be handy depending on how many authors are entering information.
HyperBase
HyperBase is an add-on to the Web-based HyperOffice, which is a competitor to Google Docs and Microsoft Live Office. You have to purchase an annual contract for the office services before you can make use of the shared spreadsheets in HyperBase. The starter set is for five users, with additional users at less than $10 a month. This isn't really the best platform if all you want to do is share a database, as it is really designed as a full-featured open office product where you can create documents and spreadsheets and collaborate with others using its project management and wiki features. Nevertheless, you can design some rather sophisticated forms and data layouts with the product. If you have lots of local Excel spreadsheets this isn't the product for you because you need to first save them as CSVs to upload the data.
QuickBase
At the most expensive end of the spectrum is Intuit's QuickBase, but perhaps the most polished. Inuit has a reputation for quality online services and QuickBase delivers. It can only import files in CSV and not from Excel formats directly. This is a real database application, and the default operation is to take each row of your spreadsheet and turn it into an individual record. You have lots of controls over reports, and as we mentioned, tons of templates.
Summary
If free is key, then start with Google Docs and examine its forms features.

If you want to import your Excel files directly and don't want to pay a lot of money, then start with Smartsheet. They have a nice mix of features and reports, and seem to work in a variety of Web browsers without trouble. If that service doesn't have a rich enough feature set for you, or you want to have more collaborators, then consider QuickBase, Longjump or TrackVia if you can afford the monthly fees.