2016 has been a great year in wearable tech. We've seen the continued prominence of the smart watch, the rise of a new generation of virtual reality headsets, and a variety of new and unique products coming out of the crowdfunding world.
2016 kicked off with a record-breaking quarter, with over 19.7 million wearable units shipped in the 1Q2016, up 67.2% from the same quarter in 2015.
This growth goes well beyond the smartwatch market, which saw a steep 51.6% decline in 3Q2016 as brands including Apple and FitBit geared up to launch a new generation of their wearable devices.
If there's one thing that this year made clear, it's that the wearables market is a lot more than smartwatches. It's a whole new generation of devices that connect and interconnect with each other and the world to give the wearer something they couldn't get from their smartphone alone.
Fitness and health
Fitness trackers are the gateway drug to wearable technology. Even people that don't like smartwatches are likely to want a fitness tracker to keep tabs on their daily activity and encourage them to lead healthier lives.
There are some studies out there that indicate that fitness trackers may not be as useful for everyone. That aside, they are a very appealing first step for many users as they dip their toes in the wearable technology world.
The success of fitness trackers aside, the abandonment rate for these devices isn't zero. The price gap between a basic fitness tracker and a smartwatch that also includes fitness tracking features like step counting and heart monitoring is holding a lot of people back from taking that next step (no pun intended).
Fitness Trackers like the Garmin Edge and Frontrunner are taking fitness tracking to a new level. Users are being offered an important safety feature that alerts family and friends to their location while they're out running. This makes them not only a great way to keep tabs on physical performance but to help keep the user safe while they're out doing their thing.
FitBit refreshed its lineup of trackers this year introducing the Flex 2 which is not only thinner and lighter than its predecessor, but also water resistant to 50 meters and able to track a swimmer's activity. The Charge 2 was also unveiled this fall which has all of the features of the original and an additional breathing prompts to help you relax.
This wasn't FitBit's only big move in 2016. It bought out Pebble, which is a dominant presence in the crowdfunding scene and known for making cross-platform smartwatches featuring e-paper displays with long battery life and plenty of hackability.
Police and public policy
On a social standpoint, a spotlight has been placed on police-community interactions in recent years. In 2016, wearable body cameras became a focal point for new legislation aimed at creating a safer environment for citizens and providing an accurate, fair account of police-involved shootings.
Many cities in the United States adopted policies requiring their law enforcement officers to wear body cameras. These policies vary greatly from city-to-city in terms of where, when, and how these recordings are taken and shared with the public. Studies have shown a dramatic reduction in complaints against officers that are wearing them.
As more cities adopt the use of these body cameras, we can expect the costs involved and the infrastructure required to maintain the huge amounts of data they generate to become a hot topic for years to come.
Virtual reality
2016 brought us the realization of several years of anticipation of VR. Sony's PlayStation VR, for example, has reportedly met all sales expectations in its first few months of release. In fact, the VR headsets are outselling consoles in Japan.
Just about every company with skin in the gaming or small screen game is taking a stab at virtual reality. Google, which long had a whimsical VR experience through Google Cardboard, introduced Daydream in November which is a soft, comfortable VR experience requiring nothing more than the Daydream headset and a Pixel or Moto Z smartphone.
HTC released its own major candidate in the VR space with the Vive. This VR experience requires a lot of room and the mounting of a two cameras (referred to as base stations) to get a full 3D experience you can walk around in. The HTC Vive has become the official VR experience for Steam's VR endeavors.
The Oculus Rift also made its public debut this year after receiving $2.4 million in initial funding back in 2014 through Kickstarter.
Real-world gaming
Wearables have played an interesting role in this year's most popular mobile game, Pokémon Go. This game, which forces users to step out of their homes and roam their local hot spots in search of cartoon monsters, is part augmented reality, part scavenger hunt, and part paper toss game.
What makes this a wearable's story? Apple dedicated nearly 10 minutes of its recent Apple Watch Series 2 announcement to app support for Pokémon Go. While wearing an Apple Watch, you can rack up steps which count towards hatching in-game eggs. You can even receive alerts when Pokémon are nearby. You can also get alerts when you are approaching a location that gives you access to free in-game goodies called a Pokéstop.
Pokémon Go's creators Niantic have even created their own wearable. Pokémon Go Plus lets you catch Pokemon without even looking at your smartphone.
The Pokémon Go Plus launched earlier this year and sold out in minutes. Today, stores around the world are anxiously awaiting the eventual second shipment of these little wrist-worn devices as early buyers attempt to turn huge profits on sites like Ebay, Amazon, and even Walmart where a $39 device is currently priced at $214.
Smartwatches
We can't really talk about wearables without coming back to the flagship sub-category, smartwatches.
Sales of smartwatches have been on the decline since Apple's initial launch of the highly anticipated Apple Watch. The Apple Watch was the initial introduction to the smartwatch world for many Apple fans that had long been left out of the loop in the many Android-based options.
Apple would, of course, rebound in the 4Q2016 boasting impressive (yet not yet publicly released) sales numbers of the Apple Watch Series 2. The Apple Watch Series 2 is water resistant, making it possible to take it in the pool with you without panicking over the possible loss of your $300 device.
Another big trend in the smartwatch world this year are hybrid smart watches. These watches feature the face of a traditional analog watch with the backend of a smartwatch. One brand pushing these very heavily is Fossil, which hopes that the sleeker look and longer battery life of hybrid watches will convince more users to switch.
On the Android side of things, the Android Wear program is in full swing with over a dozen companies offering smartwatch options with feature sets that go well beyond what we thought was possible even five years ago.
The Samsung Galaxy Gear S3, for example, is a beautifully traditional looking smartwatch with a brilliant display and an extensive feature set.
Smart glasses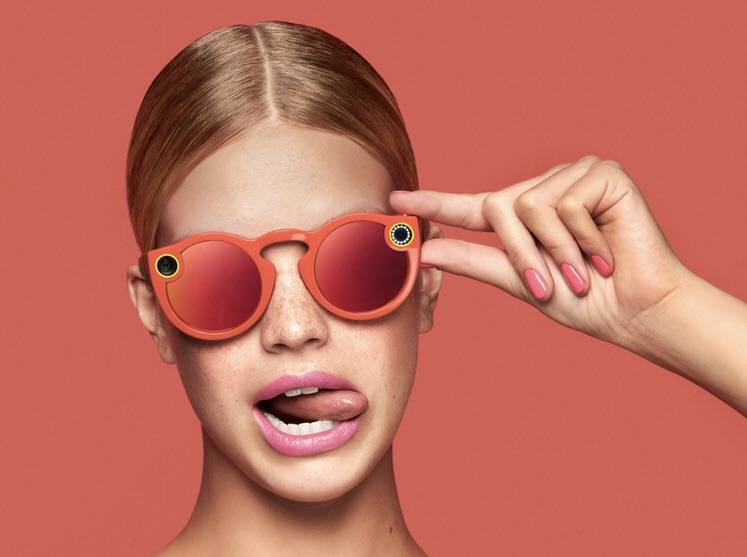 You probably thought smart glasses might be dead. A pair of crazy looking sunglasses fitted with cameras might change your mind.
We really can't do a proper wearables round-up without talking about the Snapchat Spectacles. This product came out of nowhere and immediately captivated the social media crowd. It has a $130 price point and supplies are intentionally scarce.
If you're lucky, you might end up with a Spectacles vending machine popping up for a limited time near you. Supplies are super limited and getting your hands on a pair of these is extremely tricky. You never know where a Spectacles vending machine is going to appear. It could be New York City or a truck stop in Nebraska.
The wearable market is constantly evolving. What was a big hit one year could be the inspiration for a whole new category the next!