Wearable technology is still more hype than bona fide trend, but that hasn't slowed down companies around the world who desperately want to know what makes people want to slap gadgets on their bodies. Some advice from the folks who have actually had hits in this space might be in order.
The founders of GoPro and Pebble were happy to oblige on Wednesday at the TechCrunch Disrupt conference. Read on and learn.
Be Versatile
If there's one thing GoPro creator Nicholas Woodman is proudest of, it's the Red Bull Stratos space jump by Felix Baumgartner last year. "He was standing on the edge of existence, jumping back down to Earth," Woodman said of Baumgartner's leap from more than 128,000 feet in the air. The skydiver had a GoPro body cam strapped on under his visor, recording his first person point of view as he broke the sound barrier. This year, the camera company joined the Red Bull Signature Series—an NBC extreme-sports show—as an official partner.
The pre-release Google Glass can only dream of such achievements at this point. (Though Glass has made its bones with at least one extreme stunt of its own.) Maybe that's why Woodman—who made Forbes' billionaires list earlier this year—isn't sweating over his would-be wearable tech competitor.
Woodman also notes that Glass can only record from one vantage point. "Devices like Glass will do a terrific job of capturing the first-person perspective," he said. But that's just one of numerous possibilities, he added. Since GoPro mounts practically anywhere, it can record from numerous vantage points—whether lashed onto a boat in the ocean, a race car driver's dashboard or a stratospheric skydiver.
Fred Armisen's brilliant Saturday Night Live sketch of a tech reporter covering Google Glass pokes fun at the device, spawning other comedy videos that underscore the limitations of using it to record objects, people and events.
"Google Glass doesn't lend itself well to the world of GoPro, which is all about versatility," Woodman argued.
Mesh Into People's Lives
Eric Migicovsky (featured, above) knows a thing or two about versatility. His Pebble e-paper smartwatch features an intentionally simple design intended to let its apps shine. The approach worked. Pebble was widely reported as Kickstarter's most successful campaign, and the device's popularity is largely credited for sparking the current race to make our wrists smart.
See also: Why My Pebble Smartwatch Beats Samsung's Galaxy Gear, Hands Down
Not that Migicovsky intends to position the Pebble as a smartphone killer. "The best computer you have is the one sitting in your pocket," he said. "Pebble and smartwatches should be things that take advantage of that. They should also take advantage of other devices [sitting around your house]."
Interesting sentiment—especially since the smartwatch category's newest entrant, the Galaxy Gear, comes from a company that makes everything from mobile devices and TVs to refrigerators. But there are a few obstacles standing in Samsung's way, and those are exactly what Migicovsky wanted to call out.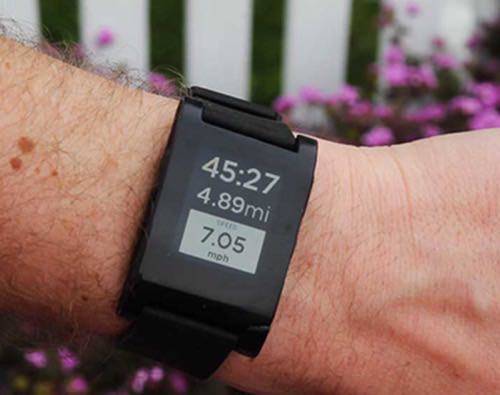 "[A smartwatch] needs to mesh into your life; it needs to have a long battery life; and it needs to not be annoying," he explained. "It needs to just work in your life." Although Pebble has faced its own share of criticisms over late shipping on certain models, those jeers aren't inherent product flaws. Meanwhile, the chief complaints about the Galaxy Gear so far revolve around dismal battery life and a chunky girth that could get in users' way.
"These [are] overspec'ed machines," he continued, "but no one has really thought about how they fit into your life." That's what he thinks separates the Pebble. "It just works. That's the experience we really want to encourage."
TechCrunch Disrupt images by Madeleine Weiss for ReadWrite. Fred Armisen photo screencapped from YouTube video by Doug Cody. All other product images courtesy of respective companies.