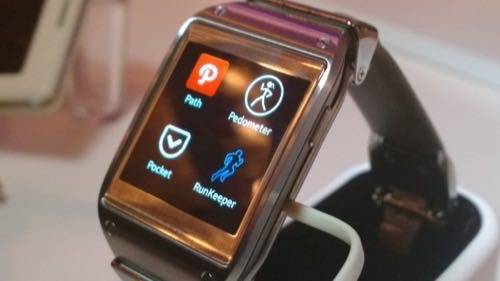 Samsung took the wraps off the Galaxy Gear, its much-anticipated new smartwatch, formally entering the "arm race" for watch-based wearable computing.
The Samsung Gear is the South Korean company's bold effort to trump Apple's own expected entry into wearable computing. Apple has long been rumored to be working on its own iWatch, but hasn't yet made any official announcements.
The new device will sport:
A 1.63-inch Super Amoled display, 320 x 320 resolution
A single core 800 MHz processor
Six wristband colors
A 1.9 MP camera
A speaker and two microphones
4GB built-in storage
25 hour battery life (315 mAh battery)
Bluetooth
The Gear will sell for $299 in the U.S. It launches globally on September 25 in more than 149 countries, and will be available in the U.S. in early October.
Gear operates more like an accessory to other Samsung devices over Bluetooth, similar in some respects to the Pebble smartwatch (and unlike newcomer Omate). It will display smartphone or tablet notifications, let you answer calls, and of course, tell the time.
Gear is powered by Android and won't have to rely on accessory apps. Integration will be baked right in for a variety of features. Samsung says the device is compatible with more than 70 apps initially, including Evernote, Path and Glympse.
See also: The Smartwatch Arm Race: Don't Lock Us Into A Closed Loop
For security, Gear boasts Auto Lock, which can lock down the companion smartphone screen whenever the smartwatch is more than 1.5 meters away from the phone. It also unlocks the smartphone when the two devices are close by again. Find My Device allows users to find misplaced their smartphone or tablet by making them issue sounds, light up and vibrate. The smartwatch also offers wrist-situated music playback control and a pedometer.
To start, Gear only works with two choices for now: the newly announced Samsung Galaxy Note 3 or the latest Galaxy Note 10.1. Software updates for Gear integration are in the works for Samsung's S4 and S3 smartphones, as well as the Note 2.
What's your take on the Samsung Gear? Are you interested in a smartwatch in general, or this one in particular? Let us know what you think of the device in the comments below.
Lead image by Dan Rowinski for ReadWrite