Samsung has made its play for our wrists, and it's a doozy. Its showy unveiling of the $299 Galaxy Gear was clearly designed to position the smartwatch as a hot lifestyle gadget.
The company showed off a slew of Gear features that work from the start—taking photos, speech commands, counting its user's steps. And more features are in the offing. But one big thing is missing: Consideration for how people will actually use this device.
Early Impressions: The Gear Is Grinding
There's no doubt that Gear is an attractive, albeit chunky, product. It comes in a variety of colors and works with more than 70 apps, some of them quite popular, such as Evernote, Path and RunKeeper. Samsung put it under the spotlight at its Unpacked event yesterday in Berlin, where it also debuted the new Galaxy Note 3 phablet and Galaxy Note 10.1 (2014 edition).
But Gear is no equal to those other devices. It's not meant to be a standalone gadget, and in fact is really more like an accessory that extends the features of a nearby, even smarter device. At the moment, that would be a Note 3. Once paired, Gear users can manage messaging, make calls or control music directly from their wrists. The watch can even act like a Jawbone UP or Nike Fuelband replacement, thanks to its pedometer features.
Sounds great. Unfortunately, early hands-on impressions suggest that Gear may not live up to all its promise just yet. It appears to suffer from some performance lags, in addition to hardware quirks. Although software is an easily updatable work in progress, hardware issues are another matter.
For instance, the Gear's single speaker is not only strangely situated in the strap's buckle, but it also delivers a weak little piddle of audio. That effectively kills any dreams of using it as a two-way communicator, á la Dick Tracy's watch phone, except in the quietest of environments.
Even then, it's not ideal. Holding the buckle up to an ear to listen and then moving the watch to line up the microphones near the mouth, and then back again seems very annoying and completely impractical. And forget about music. Gear only offers music controls for songs playing off of the primary paired device.
These are some fairly major usability issues. Another is device compatibility. Gear only offers full functionality with the Note 3. That cuts an awful lot of people out of the equation right from the start. Support for other devices is in the works, but until that rolls out, we're looking at a limited group of would-be customers.
Sand—Or Water—In The Gears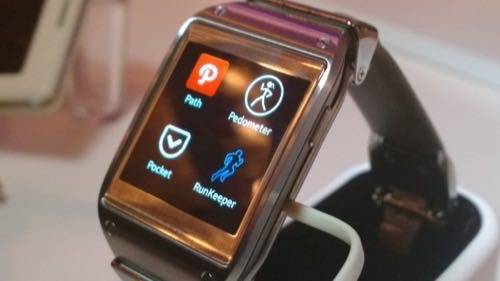 Initially, I was concerned about Gear's durability. Anything electronic that's meant to be worn every day would need to be rugged. Fortunately, Samsung used sapphire glass, which it touts as highly damage resistant, for the watch face/screen.
If only the company had thought through a few other fundamental issues too, like water tightness and potential daylight glare—both key attributes for a lifestyle device. New Kickstarter darling Omate addressed the water issue head on by designing its full-fledged standalone Android TrueSmart watch to be water-resistant. Sony did likewise with its Smartwatch 2.
Did Samsung? The company didn't say in its presentation, so I contacted it to find out how the Galaxy Gear deals with moisture. At this point, I still don't know, because the spokesperson referred me to the press materials for the device, which offer no information on the subject.
As for the display and its readability in daylight, Samsung relies on Super AMOLED, which is its own name for the high-definition screen it uses across its range of smart devices. Although Super AMOLED isn't the worst performer in sunny conditions, it's also not the best. LCD (liquid crystal display), like that used in the iPhone 5, is slightly better in full sunlight. And both Super AMOLED and LCD are trounced by beautifully readable e-paper displays, like the one used in the Pebble smartwatch.
An e-ink or e-paper display certainly would've helped spare battery life, which is a big concern with the Gear. At 315 mAh, the devices power capacity is downright meager. (The Note 3 features a 3,200 mAh battery.) Even using the Bluetooth 4.0 low energy standard, the Gear can only eke out what Samsung claims will be 25 hours of life. That means users will have to charge their watches at least once a day, and probably more.
The biggest obstacle of all, however, might just boil down to cost. That $299 price tag is on the upper end of the smartwatch price range, and it's for a product that has limited device compatibility, questionable durability and short battery life.
In other words, the Gear appears to be a lifestyle device that neglects to address the most important thing … people's lifestyles.
Dick Tracy image screen capped from YouTube video by Oliver Harper. Galaxy Gear product image courtesy of Samsung