According to The Leading Question's recent research report, as many as 65% of UK teens are streaming music on a monthly basis. Meanwhile, file-sharing has decreased significantly since the Digital Britain Report consultation to address illicit P2P file sharing. While music sharing sites have come and gone due to funding, legal issues and lack of users, here are some of the streaming sites that continue to thrive.
1. Grooveshark: Gainesville-based Grooveshark is best known as a site where both rights owners and uploaders were originally compensated for sharing. The online community offers WordPress integration, widgets and music sharing via Facebook.
2. Deezer: Deezer offers users free and legal streaming music while sharing advertising revenue with artists and rights owners. The site launched with a Sony BMG partnership and signed a Universal Music deal in 2008. Users can share their favorite music by connecting with friends within the social network, or embedding playlists in 3rd party sites.
3. Spotify: Heralded as one of the best music streaming experiences on the market, Spotify is only available in the UK, Sweden, Norway, Spain, France and Finland. TechDigest TV uploaded a fantastic looking preview of Spotify's much anticipated iPhone app.
4. Tunerec: Swedish company Tunerec allows users to create music libraries and playlists from recorded radio play. Because libraries are taken from recorded music, it takes a while to populate playlists; however, according to RWW's initial review by Frederic Lardinois, the service is worth the wait.
5. Last.FM: If you haven't heard of Last.FM, you've probably been living under a rock. The site offers users the ability to create radio stations and stream them complete with AudioScrobbler-powered recommendations.
6. Pandora: To the user, Pandora and Last.FM are similar recommendation-based radio services; however, where AudioScrobbler makes statistical inferences, Pandora's recommendations are determined by the Music Genome Project's 400 distinct musical characteristics.
7. Slacker: Slacker is another popular radio recommendation service. Users input tracks and receive recommendations. Slacker first launched with custom mobile hardware and has since expanded onto other mobile devices.
8. The Hype Machine: This is a fantastic service for those willing to leave music selection to the experts. Like other sites, this one allows listeners to search for music and stream playlists; however, the files on the site are actually streamed from the blogs of top labels, DJs, promoters and music start ups.
9. Blip.fm: Blip.fm is another site where music lovers can access millions of streaming songs. Members receive their own station and the ability to share station programming responsibilities with friends. The site also offers integration with blogs, Twitter, FriendFeed and Last.fm. The act of blipping refers to the act of linking to a song and attaching a 150 character comment to it.
10. MOG: MOG is a music blog network that encompasses more than 300 blog posts per week. The site offers an in-depth look at new artists and includes music recommendations, videos and streaming audio clips. A good place to start with this service is to play audio from it's Recently Popular Posts page.
11. Lala: Lala also offers users a playable web browser interface. The service contains 7 million free online songs and the ability to purchase additional web songs at 10 cents each or downloadable MP3's for 80 cents and up each.
12. Imeem: Imeem is considered "the new social mixtape". The streaming music site allows users to create playlists and share them across the web. RWW recently covered Imeem's iPhone and Android launch.
13. SoundCloud: SoundCloud also allows users to upload tracks and share them via the cloud. Listeners receive shared files via an email-style interface. From there, they can choose to either play the music from the site or download the tracks they've received from friends.
14. 8Tracks: This service lets users upload 8 tracks as a playlist and share the playlist with friends. This service is essentially what Muxtape used to be.
15. Muxtape: Muxtape has transformed from one of the early mixtape-style music sites (users uploaded and shared playlists) to a directory of bands. It remains a great place to discover indie bands.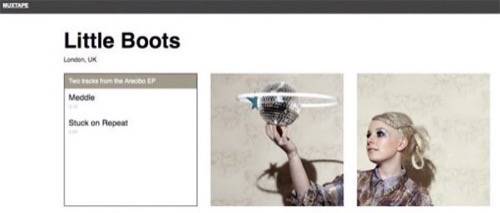 16. Project Playlist: Project Playlist indexes music from across the web. Again, users create playlists and share links to music files with their friends. Reviewers see this as one of the best music search engines in existence.
17. Skreemr: Skreemr is also a search engine and music indexing site. It claims to offer users access to "6 million mp3 files from over 100,000 web sites".
18. Fizy: Similar to the now defunct Seeqpod, Fizy is an extremely bare bones approach to streaming music with a simple search bar. Like Seeqpod, the site offers speedy music video results and audio results, and unfortunately, legally questionable content. Perhaps the site's recent acquisition will change that.
On the Horizon: Microsoft is set to launch a streaming music site at the end of July. For more info on this project check out our coverage.