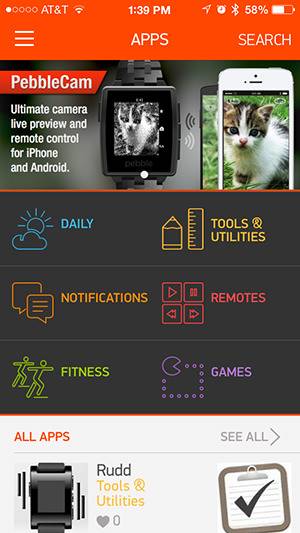 The Pebble smartwatch is growing up. A year after it started shipping to Kickstarter backers, the startup officially cut the ribbon on Pebble's very own app store last week. With this, Pebblers get a single resource covering the latest watchfaces, tools and time-wasters for their favorite arm gear.
The Pebble Appstore, available through the updated Pebble mobile app (currently for iOS; Android coming soon), corrals all the latest watch apps and puts them in one place. Featured partners include Yelp, Foursquare, GoPro and ESPN, which all boast rather decently-polished Pebble apps. These join loads of other intriguing downloadables; none of the Pebble apps charge at this time, but some do require companion smartphone apps that cost money.
Pebble stocked the digital shelves of its Appstore well before the launch, having courted app makers for months. Thanks to this tactic, the store opened with more than 1,000 entries in its inventory. (When Apple's App Store premiered in 2008, it only had about half of that, at 552 apps.)
There's plenty in the app store to please Pebble wearers, with some offerings so handy and clever they might even convert critics and doubters into smartwatch believers.
10 Ways To Rock A Pebble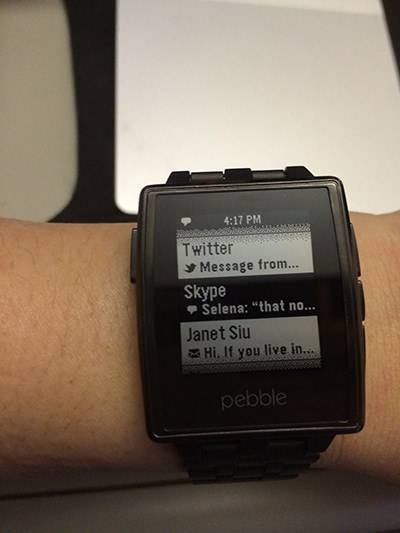 A lot has changed since Seiko debuted its Pulsar NL C01 in 1982 for the gobsmacking sum of $3,995. And for the money, what people got was a watch that could store just 24 digits.
Compared to Seiko's effort more than 30 years ago, Pebble's built-in features are much more useful. Out of the box, the smartwatch can use its e-ink display to show notifications (with saved history), as well as music controls for songs playing on your smartphone. It also vibrates, shaking your wrist for alerts or your morning alarm. And that's just for starters. Add a few downloadable watch apps from the Appstore, and the device becomes a command center for a slew of uses.
Act as a remote camera shutter: Would-be action stars with GoPros now have a Pebble app to turn their watches into camera shutters. No more fiddling with smartphone apps, remote controls, or the camera itself. Of course, everyday smartphone camera users can have the same feature, thanks to watch apps like PebbleCamera, Pebble Snap and PebbCam, among others.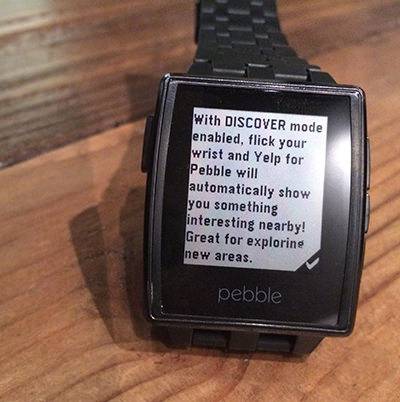 Shake to get Yelp recommendations: If you're looking for loads of Yelp listings to evaluate, you'll still want to use your phone or laptop for that. But when you need a quick pick for a restaurant or bar, just open the Yelp Pebble app and shake your arm for a nearby recommendation.
Check into a Foursquare location: Pull up Foursquare on your watch, and it produces a list of the Foursquare locations closest to you. From there, just push a button to check in.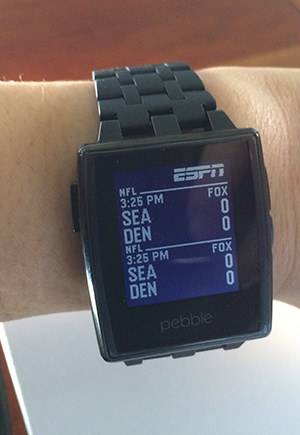 Check sports scores: For avid sports fans, the ESPN Pebble app might be the most tempting reason to get a smartwatch yet. At a quick glance, users can check NFL, MLB, NBA, NHL, NCAA Football or NCAA Basketball scores, making boring dinner parties and piano recitals a little more bearable.
Send texts from your watch: Major cellular providers usually provide email-to-text services, which deliver short emails to your phone as SMS messages. The Email to SMS app takes advantage of this, letting users create a few pre-written texts—such as "On my way!" or "Driving now. Will text you later"—that can be sent directly from the watch.
Maintain your health: As a wearable tech device, smartwatches and health features should go great together. Looks like Pebble app developers got the memo. A scan of the store reveals numerous options for monitoring steps, sleep patterns, calories burned and more, thanks to apps like Runtastic, Let's Muv, Movable and many others. Or, if you're not into quantifying yourself, just load 7-Minute Workout and get illustrations of exercises, for easy reference on your watch.
Control your house: Pebble has joined forces with iControl, maker of the smart home technology behind services from ADT, Bright House, Comcast, Cox, Rogers, Time Warner and others. That means it shouldn't be long before your watch will unlock doors and turn on lights in those connected domiciles. But some users don't have to wait, thanks to a few indie developers with apps including:
Huebble, to command Philips Hue lighting
Leaf, to manage a Nest thermostat
Plex Advance Remote, to control TVs equipped with Plex video
Kronos, to direct Sonos music system
Pay for Starbucks coffee: For some reason, I received a lot of Starbucks gift cards lately. So I unified all those funds into one account, and now I can tap into that from the PebbleBucks app. The app generates a barcode for my watchface, which I scan at the counter to pay for drinks and snacks. No more fumbling with a phone app or whipping out my wallet.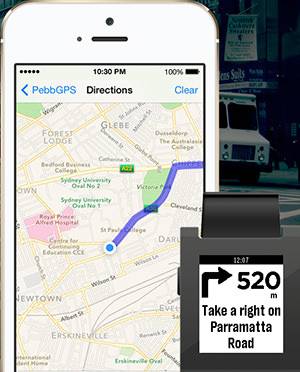 Get directions: Apps like Pebble GPS & Map, PebbGPS and Maptastic can geo-locate you using your phone's GPS. But if displaying maps on your arm is not enough, you'll love the turn-by-turn directions some of them can put there as well. Nothing says tourist quite like checking your phone's maps on the street. Don't let it happen to you.
So much more: Smartwatch+ (iOS) is an all-in-one app that offers a load of features, including snapping photos, watching stocks, checking the weather, sending "http" (read: online) requests, and displaying calendar appointments and the battery status of your iPhone. But the most eye-catching feature may be its Bitcoin tracker—which seems to be an emerging category for Pebble apps. Users who want a standalone watch app to keep tabs on that can also hit up Bitcoin Watcher, BitCoin and BTC Price.
And more apps are on the way, from major players like Pandora and Mercedes—though the car company likely won't allow remote ignition of actual vehicles. However, crafty independent app developers are working to fill that gap.
Update: Apparently, Pebble users can even get their Flappy Bird fix on their wrists, even if they can't get it on their phones anymore.
The Smartwatch Giant Cometh
See also: Steel Yourself: A New Pebble Smartwatch Is On The Way
Smartwatches may not have ascended to "essential tech" status just yet—their primary features are already capably handled by our smartphones—but they excel as convenience products because they literally put the features we want close at hand (no pun intended).
There's also a side benefit to smartwatches: They're a boon to politeness. After all, glancing at a watch is less intrusive than excavating a phone and checking messages while someone's trying to talk with you.
Whatever the reason, smartwatches have been gaining traction. Research firm Strategy Analytics projects global smartwatch sales to grow as much as 500% this year. It's an intriguing category, one that tech companies from Apple to Nokia might enter this year. If they do, they would join the likes of Samsung, Qualcomm and Sony, along with smaller competitors like Martian, "i'm Watch" and, of course, Pebble—the little company largely credited for making the smartwatch the hot category it is today.
But now, with its very own app store and a growing inventory of apps to fill it (not to mention a brand-new stainless steel model called Pebble Steel), Pebble seems to be growing into a wearable tech giant—one capable of wrapping itself around numerous tech categories and putting them right on our wrists.
PebbGPS image courtesy of Pebble. All others by Adriana Lee for ReadWrite
Update:While the updated Pebble iOS app has launched with the app store on board, the Android version is still forthcoming. According to the Pebble software engineering team, the reasons seem to revolve around issues like fragmentation, among other complexities involved in developing for this platform.