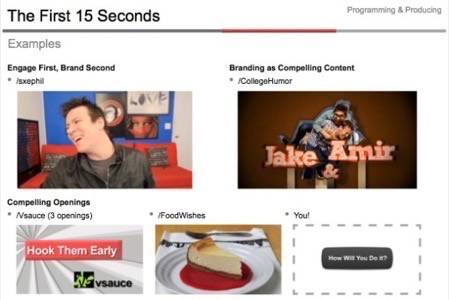 Statistics show that we are watching fewer videos on YouTube. However, we are watching longer videos and subsequently spending more time on the site. YouTube is changing. But it's also looking over its shoulder at Facebook, which looms as a big threat should it acquire Viddy or Socialcam.
To celebrate its seventh birthday, YouTube boasts that 72 hours of video is being uploaded to the site every minute. That figure was 48 hours one year ago, meaning YouTube is experiencing strong growth in video uploads. This growth in uploads may indicate that emerging competition from social video apps like Viddy and Socialcam isn't yet cause for concern at YouTube. But if Facebook buys either Viddy or Socialcam, then suddenly YouTube would have a problem – because then there would be a large competitor offering easy video sharing.
Another concern for YouTube is that its video views have decreased every month this year. After a record traffic year in 2011 and an all-time peak of 21.8 billion video views served in January, monthly views started to go backwards. In February, it was 18.5 billion views, March 16.5 billion and April 15.6 billion.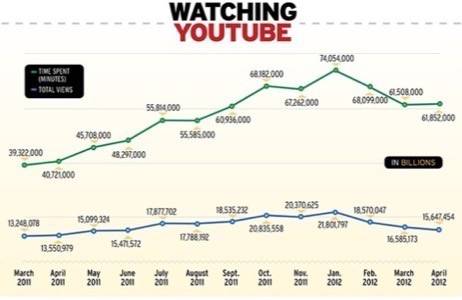 The good news is that engagement on YouTube is up. The amount of minutes users spend watching YouTube has grown 57% year-over-year, to more than 61 billion minutes in March 2012 according to comScore (although that too has declined since peaking in January 2012). Over the same time period, the average length of a video view grew one minute, to now average four minutes. That's almost certainly a result of more professional content on YouTube, helped by its new channels strategy and a big redesign in December. By comparison, YouTube's main competition in the professional content market, network-TV platform Hulu, has an average of 8.5 minutes per view.
The upshot: People are watching fewer videos on YouTube, but they are watching longer videos and spending more time on the site.
That's a net positive to YouTube – especially since advertising dollars are attracted to professional videos.
What's Happening with Amateur Content?
There's no question that Viddy and Socialcam are a threat to YouTube for amateur content. In particular if Facebook buys either one of them; although it's also possible that either Viddy or Socialcam could dramatically grow and become a YouTube-like sensation on its own terms. YouTube will be keeping a wary eye on developments there.
Despite the threat of Instagram-like video apps, YouTube is doubling down on content creation as a core feature of its site. It is doing this across the whole spectrum of content creation: from amateur to professional, with a lot of gray in-between. At the pro end of the spectrum, YouTube is busy making deals with big content creators such as professional sports leagues and Disney. It is also investing in new kinds of content creators, including the gaming network Machinima.
The channels strategy is an indication that YouTube sees 'bottom-up' content creation as key to its future. As if to remind people that it is still top dog in amateur content, YouTube's seventh birthday video highlights baby videos and its usage in the Arab Spring.
Evolving Into a TV-Style Network, Web-Style…
Right now YouTube is in a transition period, moving from the amateur era of online video to the professional era. But YouTube isn't just copying TV networks, instead it is banking on a new kind of professional content. To do that, YouTube is supporting and encouraging amateur content creators, giving them the opportunity to turn semi-pro or even full-on professional. The Creator Hub on YouTube entices "creators" (deliberately left undefined, so that it can mean everyone and anyone) to become a "partner" of YouTube.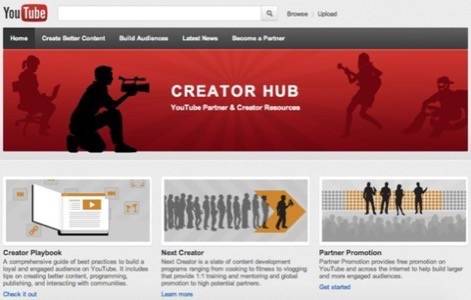 A lot is riding on this new form of professional content on YouTube. Its success depends on two things:
How well YouTube transitions its amateur content creators into the professional era; and
Whether it can pioneer new forms of professional content to make money from.
Those two things are closely interlinked, the success of Machinima being a good early example. Machinima's mix of video game reviews (many done by amateur/semi-pro creators) and Web native original programming (further up the professional spectrum) are an early blueprint for success. Machinima is an original – TV style content built on and for the Web – and couldn't have happened without the YouTube platform. YouTube needs to find many other success stories like Machinima.
While the decline in video views and the threat of Viddy/Socialcam is cause for some concern, overall I think YouTube is focusing on the right things: pushing content creation across the whole spectrum and focusing on engagement levels over views.