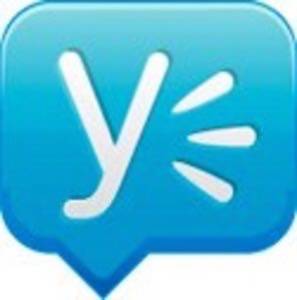 It looks like the joke may have been on me. When
debuted from TC50 in 2008 I posted
. That is unusual. I am an entrepreneur and know how hard it is to build a startup so I love celebrating the success stories. In Yammer's case, it looks like I was wrong. (This is one case where I love being proved wrong!)
In the last few months I was hearing positive things from customers about Yammer. Then I saw Emergence Capital put in $10 million. There must be some serious traction for that to happen. So I spoke to David Sacks, CEO at Yammer, to find out the story behind this news. There are some interesting lessons in their success for other SaaS entrepreneurs.
Yammer Traction
Raising $10 million from VC that really understand SaaS is not traction, but it is evidence that traction is probably already there. I was keen to find out some numbers.
Sacks told me that Yammer has over 60,000 networks (a.k.a companies using Yammer) and that the average network has more than 10 employees. So that means that they have over 600,000 "seats".
But most of those are free. The Yammer story is about how well freemium can work if done right. Sacks told me that they have a conversion of about 10% to 15% from free to paid. So you can do the math. Actually you cannot really, this is normal in a private company that opens the kimono slightly but won't do the full disclosure that you get and expect from a public company.
But you get the basic picture. They are getting lots of free users and converting a reasonable number to paid. And they don't need Superbowl ads to do this. So the CAC/ACV ratio (customer acquisition cost divided by annual contract value) looks like it must be pretty good.
Simple Is Good
When Yammer won TC50 I saw many other ventures that had far more sophisticated technology and models. So it seemed like a joke that something as simple and derivative as Yammer should win.
But in the startup game, simple is good. There is a reason we often have to remind ourselves to KISS – keep it simple stupid. It is hard to get noticed and even harder if your proposition is not brain-dead simple.
One analyst who tracks Enterprise 2.0 told me that Yammer was like the "gateway drug for social media in the enterprise". It is so simple to get started. Then when you get some benefit you look around for additional features. Sacks was keen to point out the sophisticated features that Yammer has now built for enterprise customers. You can see them on their site, and the big companies using Yammer and singing its praises (such as Sungard) would demand these features.
But adding on features when you get market traction is not that hard. That is not the story. Getting traction is the story.
The 'Google Price'
Their base price is $3 per user, per month, and they have a Gold version at $5 per user, per month.
That is what some people call the "Google price" (how high they price their apps). Zoho is in the same range. In the non-digital world we call this the Walmart price, a.k.a the China price.
At scale, these prices lead to a great business. But you have to get to scale. Starting with these price points makes scale more achievable.
No SaaS startup can ignore this price point any more. A low entry price reduces friction. Remember the 10% to 15% conversion from free? Price is key to that.
Google Buzz Will Kill Them. So Will Twitter. Hmmm…
I spoke to Sacks on the day that Google Buzz was buzzing. Actually I had already switched off Buzz, deciding that it is a time suck, and no longer believe that Google wins at every game they enter just because they won the biggest game of all – search/PPC.
When Yammer first came out I thought that Twitter could replicate their "private mode" with a few lines of code. They could and it would have stopped Yammer dead in its tracks. But they did not. They still could, but now Yammer has some traction. If Twitter offers this capability now, Yammer can still make it. And Twitter has a priority list of mega-big opportunities as long as your arm – and this one is probably way down the list.
So Yammer may be able to carve a big enough role for itself between the gorillas.
The Great Unified Messaging In The Sky
Yammer is a replacement for email. That obviously does not mean people stop using email, they just stop using it for some messages. That is happening already. Messaging is getting fragmented and that creates its own problem. So lots of smart folk are going after unified messaging. Google is using millions of people as a consumer research panel by throwing Wave and Buzz out there and analyzing the reactions.
Somebody will get unified messaging right. But it will require some user interface magic. If Apple focused on this… ? In the meantime, we can expect fragmentation for a long time to come. Yammer's approach to this was simple and elegant.