Yahoo Image Search got a nice update today that allows users to filter search results by Creative Commons (CC) license.

For now, this search only includes CC-licensed images from Flickr, Yahoo's own photo sharing service. The Yahoo Image Search interface actually turns out to be a very nice gateway to the CC-licensed image collection on Flickr, especially because the previews update immediately after you change a filter setting.
Creative Commons licenses allows content creators to restrict and open up the use of their creations depending on the exact license they choose. Depending on the license, images, for example, can be remixed, used commercially, and shared freely with and without attribution.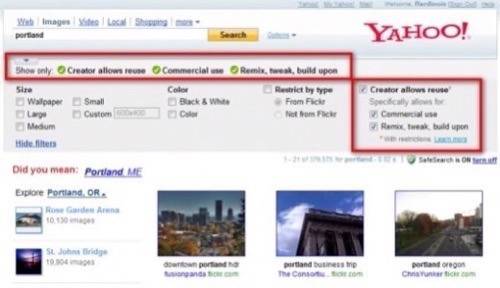 Flickr's own search interface is relatively clunky compared to Yahoo Image Search and the filter settings on Flickr are hidden behind the advanced search feature which only appears after you have initiated a regular search. While this is also true for Yahoo Image Search, Yahoo remembers your settings between search sessions, which is quite a time-saver.
There are also a number of third-party tools for searching CC-licensed images on Flickr, including compfight, one of our favorites, but few are as slick as Yahoo's Image Search.
As we reported earlier this year, most Flickr users choose the most restrictive licenses for their images, but with over 100 million CC-licensed images on Flickr, chances are that you will find a good picture with the right license for almost any occasion.