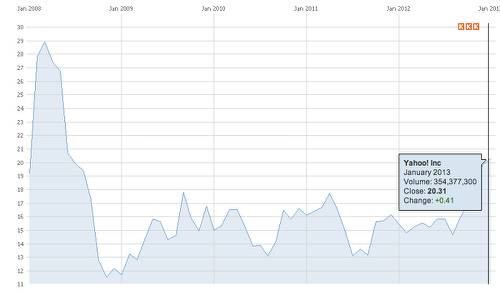 Yesterday In its fourth quarter earnings call, Yahoo reported its first revenue growth spurt in four years. The company saw 2% year-over-year growth for the first time since 2008, with a net income of $272.3 million in the fourth quarter. The numbers beat out Wall Street estimates by 30%, with shares opening at $20.87 – the highest point Yahoo's stock had seen since its 2008 era highs.

All eyes are on CEO Marissa Mayer, former Google engineer and executive, who is widely credited with jump-starting Yahoo's stock into late 2012. Confidence in Mayer has inspired a much-needed morale boost for the company, which is still struggling to find its footing among massive, savvier competitors like Google and Facebook.
On the call, Mayer focused on the changes she's enacted since taking the helm of the ailing web giant. Emphasizing speed and change – two of Yahoo's enduring conceptual hurdles – Mayer noted that the company has been implementing a new major corporate initiative every other week. She admitted that the Yahoo's bureaucratic roadblocks have made it "confusing and cumbersome" for clients to do business with the company, and that breaking down the existing bureaucracy will be an ongoing challenge.

Mayer put a strong emphasis on bringing new talent into the fold and her desire to make Yahoo the "absolute best place to work". In December, Yahoo named PayPal cofounder Max Levchin to its board, and has all intentions of revamping its image and attracting more big name industry players.
Mayer and the new Yahoo crew have an uphill battle on their hands – but if you ask Wall Street, the company looks more alive than it has in years.