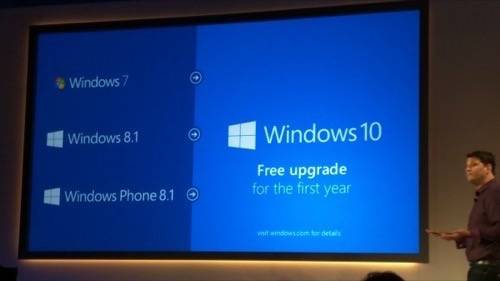 Windows 10, Microsoft's attempt to atone for its Windows 8 sins while also positioning itself for the mobile future it's never really grasped, will be available as a free upgrade for its first year after release.
Microsoft vice president Terry Myerson announced the upgrade plan at a major Windows 10 event at the company's headquarters in Redmond, Wash. The upgrade will be available to any computer running Windows 8.1 or Windows 7, plus smartphones running Windows Phone 8.1.
The free-upgrade plan, which mirrors Apple's decision a year and a half ago to distribute its own software upgrades at no charge, is a huge gamble for Microsoft. Sales of Windows licenses represent a goodly chunk of the company's revenues.
But the company clearly felt the need to make a major play for developers, who so far have largely shunned Microsoft's mobile platforms and whose allegiance to desktop Windows apps remains in question. If the plan works as intended, the free upgrades should drag most Windows users onto Microsoft's latest and greatest operating system, making it a big, unified and presumably more attractive target for app developers.
"This makes Windows the most attractive development platform ever," Myerson said. Some of Microsoft's competitors will doubtless beg to differ. But it's still a huge move.
Photo by David Hamilton for ReadWrite