Jack Herrick knows a bit about Demand Media, one of the top 20 web properties in the U.S. and the subject of several ReadWriteWeb articles about sites that are pumping thousands of pieces of content into the Web every day. Herrick sold the business he founded, eHow, to Demand Media in 2006. eHow is one of Demand Media's flagship properties, but Herrick became frustrated with the focus on quantity over quality. So he created another business, wikiHow, which he claims produces higher quality articles.

wikiHow has today unveiled a redesign (screenshot below). However we were more interested in the content quality question, so we asked founder Jack Herrick what makes him think wikiHow is any better than Demand Media's content farms?

The newly re-designed wikiHow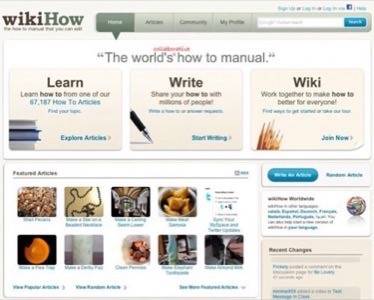 How Jack Herrick Went From eHow to wikiHow
"When I ran eHow," Herrick told us via email, "we produced content in a manner somewhat similar to the way Demand Studios does today (although at a much, much smaller scale.)" However Herrick ultimately became frustrated with that model when he realized that "it would fill the web with a bunch of mediocre content."
"It's like eating a McDonald's burger vs. a wonderful, home cooked meal."
At the time Herrick thought that the mediocre content production would hurt eHow's long term brand. Although he now concedes he may've been mistaken on that point, given Demand Media's success over the past couple of years.
When Herrick sold eHow in 2006, he began to work on wikiHow – a wiki how-to manual which now competes with eHow. wikiHow currently generates 19 million unique visitors per month, according to the company (it's about to hit 20 million monthly uniques). Demand Media's eHow is still the market leader in how-to content, however wikiHow is a small unfunded company with only 7 employees.
Herrick is convinced that the wiki model for producing content attracts "passionate volunteers." He thinks that the wiki way will "ultimately result in a higher quality product," compared to eHow.
The other prong of Herrick's argument is that eHow gets what it pays for in terms of content quality. "When you pay $15 for an article, you get a $15 product…and nothing more," he noted archly.
Wikis Aren't Perfect Either
Jack Herrick admits that "wiki content typically starts out as low quality," but claims that "once it matures and receives enough edits it can be amazing." And that is really the crux of this argument.
A quality wiki article, whether it's found on Wikipedia or wikiHow, will generally be one that has received a number of edits from people who know the topic well. wikiHow itself has done research which shows this. Herrick told us that in previous research, wikiHow found that "the more people who edit an article, the more readers it attracted and the higher quality the article became."
The problem is, there's no guarantee any given article will attract passionate volunteers to edit it. Wikipedia is a non-profit organization and so it's more likely to be attractive to volunteers – they're contributing to the world's knowledge base and no corporation is profiting from that. wikiHow, on the other hand, is a commercial enterprise. It calls itself a "hybrid organization," meaning a "for-profit company focused on creating a global public good." But it's a company nonetheless. While the content of wikiHow has a Creative Commons license, the company profits directly by it.
The company vs. non-profit issue may not be a big influence on many of wikiHow's current volunteers, but it may prevent wikiHow from scaling to Wikipedia's size.
Comparing wikiHow to eHow
Although by no means a perfect approach, I decided to choose a random topic and compare wikiHow and eHow. The topic I chose was: decorating a room using Feng Shui.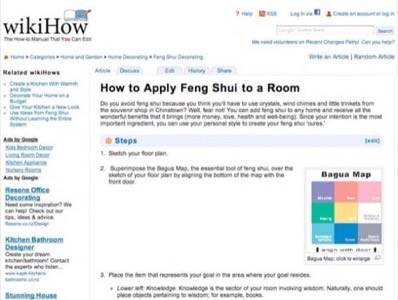 The wikiHow article had been contributed to by 8 authors and it was a comprehensive, helpful article – complete with diagram and video.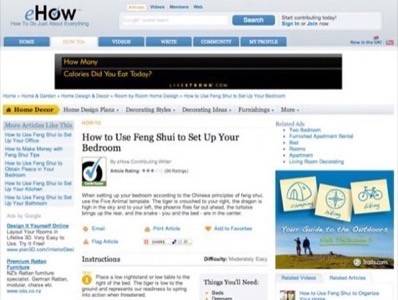 A comparable eHow article was helpful too, although much less comprehensive and with no accompanying media.
The verdict? In this case the wikiHow article was better. But your mileage may vary per topic and article.
Which Approach is Better, Wiki or Paid Content?
When done on a large scale, is paid-for content (such as Demand Media's eHow) better than volunteer wiki content? Herrick makes a good case, but in reality it isn't black and white.
The most famous example of a wiki, Wikipedia, generally produces quality content – although there have always been instances of contentious content on the site.
wikiHow founder Jack Herrick: eHow content "lacks soul."
Herrick contends that wiki content is inherently better because "volunteer writers are passionate about their topics and we allow anyone to continuously edit articles." In comparison, he claims that sites like eHow produce "static, low quality" content that "lacks soul." Herrick even used the ol' McDonalds analogy: "it's like eating a McDonald's burger vs. having your friend who happens to be a great chef cooking you a wonderful, home cooked meal."
Ultimately I don't completely buy Jack Herrick's argument that wiki-produced content is necessarily better than paid-for content from "content farms." Both types of content could be either good or poor quality, depending on the quality of the people who write and edit it.
How-to content needs to be precise and well-researched, which requires time. The best wiki how-to content is likely to be articles which have been edited by multiple people. But equally, well-informed writers can easily produce quality how-to articles in one go.
However, the feng shui examples above showed that (in this case) multiple wiki authors produced better results than a single paid contributer.
Let us know your thoughts about which is better: wikiHow or eHow? Or neither?