The hyperlocal social networking app DeHood launched in May for iPhone, and it's got some users totally hooked. The app lets you check-in and communicate with people in your neighborhood and neighborhoods in other cities and is designed for "real-time interaction between families, friends and neighbors."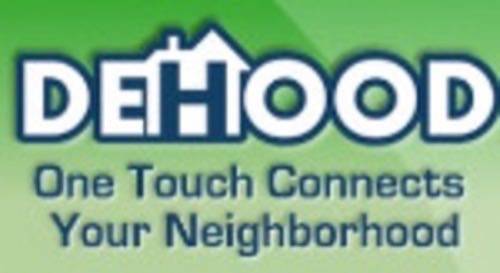 Another way to say it: DeHood is similar to Foursquare but new updates make it more like the popular mobile social game MyTown. A cool app, yes, but a major location player – probably not.
The app's main functions appear to be local check-ins, local deals, and broadcasting messages, news and photos to other DeHood users. The users I ran into in DeHood say they to use it to meet up with strangers and friends in their neighborhoods.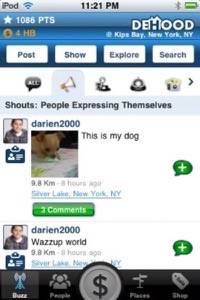 There are loads of other things to do in DeHood, included the less-trafficked Questions, Tips and Reviews sections. You can also map nearby businesses and send private messages. You can also "friend" someone in DeHood, invite your friends to join and see a check-in leaderboard.
The app's new update introduced a point system called Hood Bucks, which you can use to become King or Queen, Prince or Princess, a Noble or a Joker of a city or neighborhood. You get points for checking in, posting messages and reviews, or buying Hood Bucks at $.99 for 25.
Dehood is a fun app that people seem to like. Its biggest problem is that it's bogged down with buttons, icons, options and stuff you can do, and everything takes about three seconds to load. The app would benefit from a less busy interface and a tutorial for new users.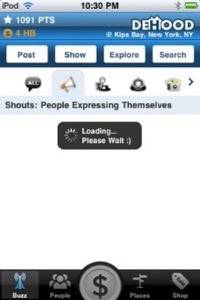 Right now DeHood is home to tweet-like broadcasts, super-friendly overtures from anonymous users, confused new users trying to figure out how to use the app, a hodgepodge of photos and a smattering of reviews. For now, people will find Yelp more helpful for tips and reviews and FourSquare better for making life into a game.
But DeHood could potentially become a great place for hyperlocal news and neighborly relations, such as finding lost pets, borrowing cups of sugar, meeting new neighbors or organizing meal deliveries for a neighbor in need.
DeHood says it's working on a "wide range" of Application Programming Interfaces, or APIs, that will let developers build their own location-based applications using DeHood's data. But as a location-aware app that's heavy on functionality and light on users, DeHood doesn't look like a location platform yet.