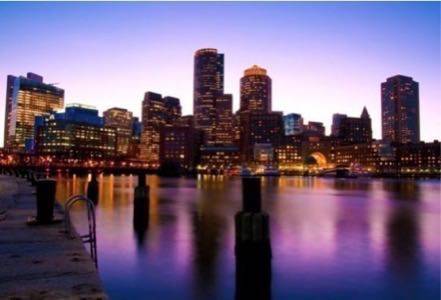 Sorting through the list of applicants for ICANN's new generic top-level domains (gTLDs), a couple things pop out. For one, Amazon and Google are being extremely aggressive in applying for domains. Many media properties have applied for their brands, such as ABC and CBS. But one application uniquely sticks out: The Boston Globe has applied for the domain .Boston. This is the only geographic location for which a media company has applied. Why would the 140-year-old news outlet want to own a top-level domain?
A variety of cities applied for local-name gTLDs. New York City applied for .NYC through its Department of Information Technology and Communications. The City of Paris applied for .Paris. Sydney, Australia applied for .Sydney through the State of New South Wales Department of Premier and Cabinet. These are all very logical things for municipalities to undertake.
Boston is different. The City of Boston didn't apply for its own gTLD. Instead, it will work in conjunction with The Boston Globe to operate its domain registry. The Globe will own and operate the registry through a technology partner, OpenRegistry, that will take care of all the technical aspects of the .Boston domain.
"It is something we started looking at last year," said Jeff Moriarty, VP of digital products at The Boston Globe and Boston.com. "We saw that there would be an opportunity to do .Boston, and this made a lot of sense to us."
Owning .Boston would give The Globe an opportunity to enhance its media properties by creating subdomains like news.boston and sports.boston. But the opportunity is much bigger. The Globe is positioning itself to be the center of Boston life on the Web. "The .Boston TLD aims to become a new online identity for the city of Boston, its inhabitants, companies, organizations and institutions, managed and supervised by The Boston Globe," the application stated.
The Globe will function as a website registry through its partnership with OpenRegistry. But it's not looking to become a Domain Name System (DNS) registrar like Go Daddy, according to Moriarty. It will provide the City of Boston with URLs such as mayor.boston, city.boston or visit.boston. The goal is to give Bostonians a digital presence that outstrips anything they could produce on their own. The newspaper has always thought of itself as central to the lives of those who reside in and associate with the city, and by owning .Boston, it views itself as the gateway to all things Boston online.
Applications submitted by other cities express similar aims. The difference is that other cities do not have a news organization applying for their gTLD. This is what makes The Globe's approach unique.
"It's not about the name," said Alexa Raad, CEO of Architelos, a TLD consulting firm. "It's about offering those who would buy a domain name under it a value proposition. That proposition must also be valued by the end user of the website with the domain name under the TLD."
In Raad's view, ownership of .Boston could give The Globe powerful leverage over the local business community. "What if Dee-Dee's Steakhouse was Dee-Dee'sSteakhouse.boston?" she asked. "People who Googled 'good steakhouse in Boston' would find Dee-Dee with all the apps embedded in their website that .boston developed, including which MBTA line to take, which stop to get off, how much it would cost, how long it would take, the ability to buy the MBTA ticket online and how to walk to the station. Dee-Dee didn't develop the apps; .Boston did and thereby added value."
Only three other cities in the United States applied for geographic gTLDs. In addition to New York City, Miami (.Miami) and Las Vegas (.Vegas) applied for names.
"Most cities didn't seek out experts who could help them visualize how they could have leveraged the TLD," Raad said. "Many CMOs of even the savviest brands were in the dark about all this. I suspect that, of the city names that applied for a TLD, some or at least one will succeed. That success will drive TLD geographic applications in the next round."
The Globe is the only applicant for .Boston, and it has the city's support, so there appears to be little reason why ICANN would deny the application. The decision should be made within seven months, and the new domains should start coming online in early 2013. Eventually, ICANN will open up a new round of applications for gTLDs. Meanwhile, cities, companies and media organizations will be watching The Globe as a guide of the opportunities and pitfalls that owning a top-level domain can bring.
Top image: Boston skyline at dusk courtesy of Shutterstock.