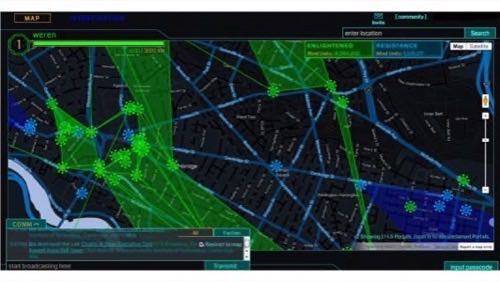 It was 10:30pm on a Tuesday in Cambridge, Massachusetts. A slurry of snow and rain fell in clumps as I huddled in front of my local post office, clutching my smartphone and shivering. People walked by, giving friendly nods to me, this creep lurking on the street with no apparent purpose other than staring at my smartphone, tapping furiously, waiting, then listening to the sounds that came of it. What was I doing on this corner at night when I could have been curled up on my couch, reading a book and sipping eggnog?
I was playing Ingress, the new Android location-based augmented reality game from Google's Niantic Labs. And I was not quite sure what I was doing.
What Is Ingress?
A mystery wrapped inside a riddle inside an enigma. At least that is the way it is being marketed. At its core, Ingress is a game that tries to get you to move around. It encourages you to collect "Exotic Matter" (XM), a mysterious energy discovered by scientists in Europe working with the Large Hadron Collider particle accelerator. It is believed to be some sort of structured data. This matter can be found and collected just by walking down the street. It is used, along with a variety of other items that can be gained in game play, to "hack" portals.
In Ingress, portals are areas of interest, such a public park or a federal building. This is what I was doing on that chilly evening: hacking my local post office. In real life, if I said that I was hacking my local post office, the FBI would be knocking down my door in a matter of hours. But Ingress is not reality. It is augmented reality.
The term "augmented reality" typically conjures the idea of using a smartphone's camera to create visual overlays through the viewfinder. Usually this will lead us to a local business or display some type of deal at a nearby restaurant. The Yelp app does this and so does new features for the next-generation Lumia devices from Nokia. But, augmented reality does not necessarily have to use a smartphone's camera. This mixture of location, reality, augmentation and mystery are what give Ingress a unique and exciting new angle on the concept of mobile gaming.
In terms of plot, there are two factions in Ingress: the Enlightened and the Resistance. The Enlightened think that XM is a good thing and want to help something called "Shapers" escape the portals scattered throughout the world. The Resistance thinks that these Shapers are here to invade and are out to stop them. In terms of game play, there is no fundamental difference between which side you choose, other than the color (green for Enlightened, blue for Resistance). You can hack portals controlled by your alliance for strength (by adding "Resonators") or attack those of the opposition to destroy those Resonators. Various items of differing purpose and strength can be found through these acts as gameplay advances.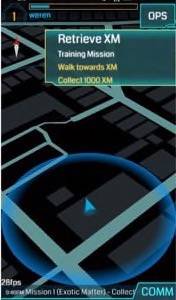 The game is inherently social, though not in the familiar status-update manner associated with games like Zynga's FarmVille. Ingress is more of Massive Multiplayer Online (MMO) game a laWorld of Warcraft, where people in the environment can access a universal chat to talk to each other. The chat works on a sliding scale from local (players within 20 kilometers of you), regional (within 200 kilometers) to global (everywhere) ranges. But instead of a fake world created by designers and programmers populated by role players like World of Warcraft, Ingress is the real world with real people.
The game is currently in a closed beta, but for the lucky ones with an Ingress invite, there are a couple things to note. Foremost, this is a smartphone-based game, not optimized for Android tablets. Given the nature of location-based games, this is understandable. Also, the map is limited to what is around you on the smartphone. Go the the Ingress Intel Map on your computer to see where portals are located outside of your immediate vicinity.
Ingress Advances The Concept Of Mobile Gaming
Ingress can be a touch confusing at first. By its nature, it is a learn-on-the-fly type of game that forces you to interact with it through real-world destinations (hence, the creeping in front of the post office at 10:30 at night). Yet, once you get the basic concepts down, the game offers a significant potential for addiction. Ingress also has the potential to redefine the nature of a mobile game.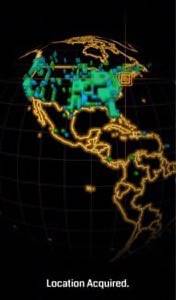 As yet, I have not seen a mobile game that branches into a such variety of technology categories the way Ingress does. There are location-based social games like Foursquare, but Foursquare is more grounded in social than gaming. There is plenty of augmented reality technology in smartphones (usually in a camera-based function), but usually not with an extra layer of augmentation spread across the entire world. I have seen social mobile games, but never anything that adds the element of MMO like Ingress does.
Essentially, what Ingress has done is take the basic concepts of mobile gaming and advanced them a step further. And it is just getting started.
There is an element of mystery to Ingress. At this very early stage, players are still getting used to the notion of hacking and linking portals together to control swaths of their locales. The linchpin to the operation, Niantic Labs (which is a part of Google but also an element within the game), is gradually releasing new aspects of game play that will double as viral marketing.
It's not clear when Ingress will be available to the public. It could be weeks, it could be months. Right now you can go to Ingress.com and request and invite and Google may or may not pick you.
I think it's worth a shot. Ingress should be enough of a game to keep the geeks among us interested but simple and engaging enough for the average player. And I am kind of fascinated by the layers of tech involved. In short, Ingress is hip, thoughtful and fun. Hopefully it will provide a blueprint for other games of its type going forward.