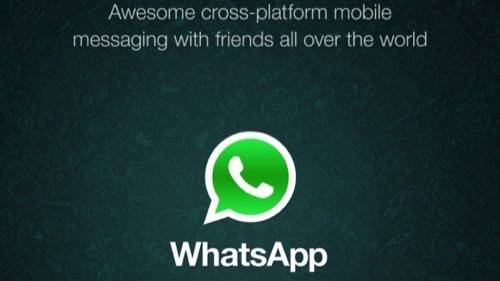 WhatsApp CEO Jan Koum is claiming that his company's popular messaging app has more monthly users than Twitter and conveys more messages than Facebook.
At the D: Dive Into Mobile conference Tuesday, Koum told attendees that WhatsApp currently processes eight billion inbound and 12 billion outbound messages… daily. If these stats are accurate, WhatsApp's traffic is twice as high as Facebook's estimated 10 billion messages per day. Koum also claimed that WhatsApp had more than Twitter's estimated 200 million users per month, though he didn't go into detail.
In a lot of ways, this success makes sense. First, WhatsApp is pretty much the most-used platform-independent messaging app, sitting on a variety of mobile platforms. Having a communication platform that can chat indiscriminately between iOS, Android and BlackBerry users is definitely going to attract a lot of interest.
The cost doesn't hurt, either. The app itself is free on Android, with unlimited service for free the first year. After that, it's $0.99/year for the service, which is still unlimited. iOS users have to plunk down the 99 cents for their app up front.
Defining Success
Koum's comparison to Twitter is interesting, but it's really just apples and oranges, since Twitter has never really taken off as a real-time two-way messaging service. It's more of a broadcast-something-and-sometimes-have-brief-interactions service.
The Facebook comparison, though, is far more interesting. Facebook Messenger is a perfect gateway mobile app, one of the better ways to get users engaged with Facebook on mobile devices. If WhatsApp is eclipsing Facebook, that's a lot of traffic Facebook is missing.
Is WhatsApp really on top? There are other cross-platform messaging services, notably Skype and Google Talk. Skype seems to be enjoying a very nice growth rate with voice-over-Internet traffic, but it is not clear how the Microsoft-owned service's text-based messaging traffic is faring.
Google Talk is well-integrated with Android and other platforms, too, but Google's whole messaging system may be undergoing a unification with the hush-hush Babel Project. So, we'll have to wait and see what will come of that, if anything.
(Check out The Anti-SMS: Kik Texting App Adds Image/Video Sharing.)
Then there are independent services like Kik that directly compete with WhatsApp, some offering the ability to share such things as video and sketches in addition to text.
Signs On The Horizon
WhatsApp's success has been noticed, too. Last winter, the company was the subject of possible acquisition rumors by Facebook and Google. The company denied those rumors, but there's still a lot of interest in such an acquisition, since the instant-growth of that kind of messaging traffic would be a very nice boost for either company.
(See WhatsApp Denies Facebook Deal Rumor – But It Still Makes Sense.)
Ultimately, that could be a mistake, since if WhatsApp users wanted to use Facebook or Google to communicate via text messages, they probably already would. I have a sense that following any acquisition, WhatsApp might see a big decline in user numbers – especially if the new owner were to impose ads as a monetization scheme.
Messaging has always been a difficult service to figure out. Users are confronted with closed, competing networks and have to decide which services they need to subscribe to so they can communicate with the most friends and family. Unified messaging clients are out there, but none will take care of every service. The loyalty to a given apps seems to always depend more on how many contacts are in-network than features of the app itself, especially when cost is taken out of the equation.
WhatsApp seems to be enjoying its success for now, but how will it fare when the Next Big Thing comes along to capture the fickle attentions of messaging users or the user's friends?