Social media maven and "average Joe" wine connoisseur Gary Vaynerchuk is the author of "Crush It!: Why NOW Is the Time to Cash In on Your Passion", a step-by-step how-to guide for taking advantage of the Internet and social networking to create a powerful and influential personal brand. While any web savvy entrepreneur knows the importance of social media, this book is great for those looking for a crash course and an insider's view into what it takes to create a thriving business from a personal passion.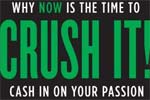 Vaynerchuk turned his father's discount liquor store into Wine Library, a multi-million dollar online wine store, thanks in no small part to the popular Wine Library TV video podcast, just one of the various social media tools he outlines in his book. Fans of Vaynerchuk's podcast will feel his enthusiastic and energetically friendly personality they know and love emanating from the pages of this no-frills, straightforward, slap-in-the-face social media wake-up call.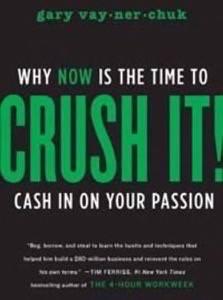 "Everyone knows the Internet represents one of the biggest cultural shifts since the printing press," Vaynerchuk says. "But I think society has been slow to recognize that it represents the biggest shift in history in how we do business."
From discovering your true passion, to setting up a WordPress blog, or from creating a Facebook Fan Page and to engaging with your audience on Twitter, Vaynerchuk covers all of his bases for social media. Most importantly, Vaynerchuk keeps it honest, managing to dispense his advice without coming across like a used car salesman or a cheap, "you can do it!" self-help author.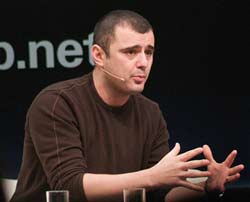 "Crush It!" is an intriguing inside look at Vaynerchuk's practices and a quick entertaining read at just 160 dense pages. The audio version comes in at just over 3 hours and 40 minutes and is narrated by the author with his usual "pumped up" enthusiasm. The audiobook may be a better choice not just because Vaynerchuk reads it himself, but in the true nature of openness and transparency, he veers off his script dozens of times to add insightful asides and updates to the written text. It wouldn't be surprising if Vaynerchuk read the book straight through in one take.
Photo by Flickr user Adam Tinworth.