The man in the car next to me is on the phone with the police. Just beyond him on the grass, a teenager in a hoodie is moving erratically. He takes off and the man chases after him, despite the police urging him to sit tight.
It is, of course, the story of Trayvon Martin and George Zimmerman. In the three years since Martin's death, the #blacklivesmatter movement that sprung up in its wake has gone international and come to encompass many more unjust killings. It's a story with which Americans have become sadly familiar.
But it was still jarring to be there at the moment of Martin's death. Inside a Samsung Gear virtual reality headset at the River VR startup accelerator SXSW expo, I watched grainy security camera footage of Martin buying Skittles and juice at a 7-Eleven. Then my perspective jumped to an animated recreation of Martin and Zimmerman's first encounter. After the two figures ran out of view, I was transported into the apartments of witnesses as real 911 audio played. I jumped at the sound of the gunshot.
Immersive Journalism
The story is the work of Emblematic Group, a Los Angeles-based startup founded by veteran journalist Nonny de la Peña and game designer Michael Licht. de la Peña said they threw the Martin film together in just a few weeks to show what kind of national story Emblematic can do on a headset like Gear, which requires you to be stationary within VR.
"I felt that the story was representative of a larger issue that's being reflected on in America right now," de la Peña said. "I've been thinking about building it since it happened. I have a strong enough team now that we can just make stuff."
She waved me into a back room, where the floor had been cleared for the startup's demonstration. I donned Emblematic's custom-made VR headset. Movement-tracking sensors jutted out of its top like a telephone pole.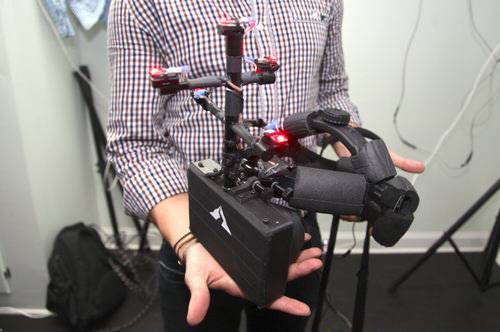 Emblematic, which has been around since 2007, built its custom headset back when there weren't any options for interactive virtual reality. Being able to walk around a room just wasn't possible with publicly available headsets.
That's changing. Both the HTC Vive, which was made in partnership with gaming company Valve, and Sony's Project Morpheus headset allow the wearer to take steps and interact with the virtual world. de la Peña said Emblematic isn't ruling out any platform. She agreed that Vive, which is the first option that opens up a whole room for movement, is particularly exciting.
A Rocket Strike In Syria
Inside the headset, I paced around an animated recreation of a city street in Syria. A young girl sang until a rocket hit, leveling the people and objects around me. The view then cut to a refugee camp.
de la Peña said the medium has brought her some controversy. At a recent filmmaker breakfast, her table was split on if virtual reality was a good fit or an impossible one for journalism. But de la Peña said that as soon as people try it, they're converted.
My personal unease with the medium came from some of the storytelling techniques. I felt real horror at the sound of the bomb and gunshot. I felt sad as ghostly people began to fill the refugee camp around me, and my heart hurt for Martin when Zimmerman took off after him. But I didn't come away with a deeper understanding of why.
Part of the reason Emblematic chose Martin's story is because it has strong audio. There were many, many calls to the police that day, including Zimmerman's chilling dialogue. Emblematic simply presented exactly what happened from the viewpoint of the witnesses narrating the shooting to 911. That's journalism.
Becoming A Witness To Events
de la Peña said editorializing may be essential for some types of stories. Virtual reality has the potential to drop the viewer into any scene, or even put them in someone's shoes. When the storyteller is free to help us see the world through Martin, or even Zimmerman's, eyes, that's when virtual reality gets taken to an entirely new level.
Emblematic has been working with a very small budget up until this point. With funding, it will be able to construct animated recreations that are more lifelike. It will diversify the types of stories it documents and look into shooting live action video. It will be able to build longer pieces that capitalize on the medium's true potential: empathy. I want to understand Martin and Zimmerman, and Emblematic is close to delivering on that.
"I couldn't do anything else with my life once I got involved with this field. It's just so visceral and emotional and intense," de la Peña said. "When you make stories, whether it's journalistic or fiction, you're really trying to take something that's inside you and give people the experience you're having in your mind. VR gets me closer to that than anything else."
Screenshots courtesy of Emblematic; photo by Signe Brewster for ReadWrite