A little startup called Bit.ly has unseated TinyURL as the default link shortening service on Twitter. This isn't just about shortening links, though. "The truth about Bit.ly," enterprise software analyst James Governor said today, "is that it's not a URL shortener, it's a trend management and metrics platform."
The key idea behind the Web is that pages are connected through hypertext links. Google changed the world and made money beyond anyone's wildest dreams by analyzing those connections between pages. It was a simple proposition, at its core: the more a page is linked to, the more authoritative it is. The web isn't just pages anymore, though. Now the web also includes people as a fundamental factor to take into consideration.
People share links to pages. By email, on Facebook, on Twitter and through countless other methods. The company that does the best job analyzing that sharing activity and creating a compelling user experience based on it is likely to become a very big deal. Companies like ShareThis, AddThis and Cli.gs are already making big plays in pulling data out of social sharing. Bit.ly made a major move in this direction today as well.
We don't want to argue that Bit.ly is the next Google, but the technology it's brought to market could be very important in the indexing of the social web. Bit.ly shortens links so they are easier to share, like TinyURL. The service creates a redirect from a short Bit.ly link out to a longer link on any web page. Allong the way the service analyzes the page being linked to, pulls out the key concepts discussed on that page, and then provides real-time statistics about where the link is being shared and how many people are clicking on it.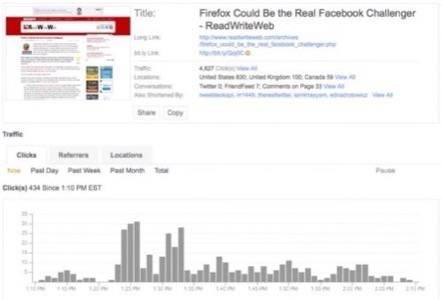 Today Bit.ly quietly became the new default link shortening service for Twitter. Neither company would tell us much about the transition but Twitter did indicate that Bit.ly was chosen primarily because of its superior reliability. TinyURL is notorious for downtime, which is a real killer when it comes to redirecting services. Link redirection services have enough ugly warts already that going down is just not acceptable. [Note, if you're interested in the business side of things – Twitter and Bit.ly also have some common investors, BetaWorks. BetaWorks is also a Tweetdeck investor. The group's stock in Twitter is very small though and can't explain the whole partnership.]
What Bit.ly Could Make Possible
Once Bit.ly has been put to enough use, and today's news will likely be a big part of that happening, you'll be able to ask it questions like: within the last hour, what are the five hottest web pages about President Obama's budget? What social networks are sharing links to my web page the most today? What are ornithologists on Twitter most interested in this week?
The columns and rows here are semantic key terms on pages shared, method of sharing used (Facebook, Twitter, email, etc.), number of click-throughs, time and person who created the original shortcut. There's a whole lot you can do when you have that kind of information about a link. Bit.ly says its API isn't quite there yet, but it's close.
Scaling Bit.ly
As you can imagine, scaling is a serious issue. Last week Bit.ly decoded short links for 50 million clicks, only about half of which were from Twitter – about 10% were shared on Facebook. That was up from 15 million just 5 weeks ago. Becoming the default URL shortener for Twitter should send those numbers through the roof. Real time metrics and latency on this kind of scale take time and money to get a handle on. The company says it has five layers of redundancy built already to make sure that Bit.ly doesn't go down.
A mind blowing number of links will now be sent by Twitter users, through Bit.ly and back into Twitter again. Twitter may or may not be planning on taking advantage of all of this information. The company tends to keep things pretty simple, acting as a platform for other people to innovate on top of.
We fully expect to see Bit.ly take advantage of this increased flow. And we expect to see many of the countless other startups building value on top of data gleaned from Twitter to do so as well, from Tweetmeme to Tweepz to Twazzup. Maybe even some startups that will have less silly names! This is serious stuff.
Publishing the metrics of sharing on the social web is something that is very fairly compared to indexing the pages of the web and analyzing the links between them. We may not find the next Google in Bit.ly or the services built on top of it, but something very important is afoot.