After pushing back deadlines by a few months, the 10 remaining teams in the Tricorder X Prize are nearing the day they will deliver a device that can diagnose 15 diseases and other basic health information through at-home tests. The teams are scheduled to deliver working prototypes in June to a UC-San Diego study that will test the devices on patients with known medical disorders to measure their accuracy.
See also: The Tricorder X Prize: The Biggest Thing In Home Healthcare Since The Thermometer
"We're pretty confident that the majority of the 10 finalist teams will actually be able to deliver," senior director Grant Company said. "Some may merge, and some may fall out, just because they can't pull it together. And that just reinforces how big of a challenge this really is. It's because the goals are very high."
The winning "tricorder"—and its competitors—likely have a long FDA approval process ahead of them, which means their consumer release could be years away. But when they do arrive, they will be able to diagnose problems like stroke, anemia and tuberculosis—tasks that have always been reserved for doctors.
Diagnosis: Home Diagnosis
Such devices will arrive at an interesting time in medical history. With the emergence of mobile phones and wearable devices, home diagnostics are poised to explode.
Company said the Apple Watch and affiliated software development, will be a welcome boost for the space.
"I think it's a good first step, and a useful barometer of what the public's appetite is for this type of technology," Company said. "There's going to be a need of collection and analysis, and these types of tools are going to be absolutely critical. If the masses are able to start building capabilities, using these research kits, it's the first step toward adoption."
Apple's recent backtracking on the watch's health sensors indicates just how tricky versatile diagnostic devices can be. But even without them in the first edition of the watch, Apple could play a crucial role in driving a central space for health data collection. Imagine if your phone knew your current health statistics, but also had your records and your 23andMe genetics profile.
"Right now it's just so fragmented. The first step is to centralize all the data collection," Company said. "The big part is trying to get patients and consumers aware of what's on the horizon. They're really going to have an opportunity to be extremely proactive."
Along with providing users with an immediate snapshot of their current health, your phone could quickly communicate with doctors about the results. Doctors could access an individual's results or look at trends in large populations. They can make calls on if an office visit is really necessary, or if a two hour visit could be condensed to a quick phone call.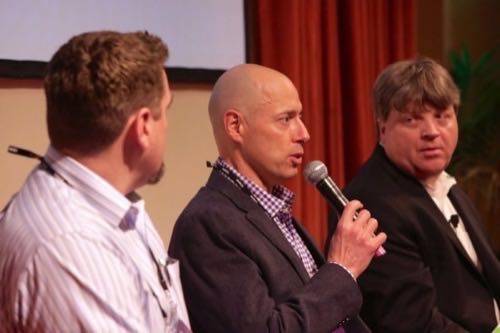 That applies in rural areas or developing nations too, where access to a doctor can be impossible. A tricorder—a term from the original Star Trek—could diagnose people who do not health care or work in tandem with a remote doctor to get a patient expertise.
"I think the missing pieces all along have been patient's awareness of what's going on inside them, based on their ability to harness technology to really figure themselves out," Company said. "I think that's a huge opportunity for all of us. So much of who we are and what makes us unique is really unknown."
Photo of Grant Company courtesy of the Tricorder XPrize