ReadWriteDrive is an ongoing series covering the future of transportation.
The traffic light turned 100 years old this month. At the rate things are going, though, it seems unlikely to survive another century. It might not even make it past the next decade.
The first electric traffic light, installed on Aug. 5, 1914, in Cleveland, was intended to bring some order to the chaos of mass-produced automobiles that were starting to flood the roadways. Now, a century later, these cars are on the cusp of driving themselves and communicating directly with each other.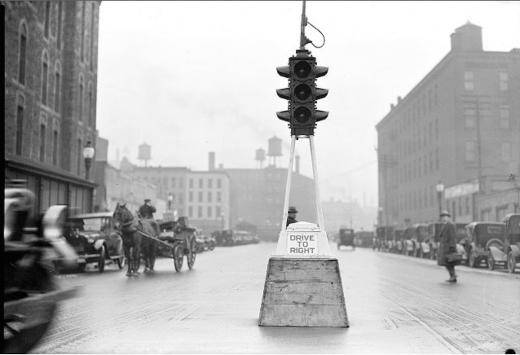 Together, those trends could force the venerable traffic light to evolve into a smarter form—or render it obsolete.
Cars Texting Cars
Experts like Christoph Stiller, a professor at Germany's prestigious Karlsruhe Institute of Technology, expect smart, self-driving cars—aided by vehicle-based radar, laser sensors and sonar and video systems—in five to seven years. Data shared between vehicles will make the roads much safer, which in turn presents something of an existential crisis for the traffic light, says Stiller, who has been working on autonomous car technology for more than 20 years.
Here's a video in which Stiller outlines some of his ideas:
One possibility is to make a much smarter traffic signal that can act as an information hub for an intersection, Stiller says. That means the signal needs to communicate with approaching vehicles, acting as the roadway equivalent of an air-traffic controller.
First, the traffic light will let your car know when it's about to change status. "It's green but changing to red in 10, 9, 8, counting down, seconds," said Stiller. "The vehicle could then adjust its speed if it makes sense to accelerate and make it through the green light, or decelerate because there's no way to make it safety through the green light."
Cars, meanwhile, will also talk to the traffic signal—communicating their position and speed so the signal can maximize traffic flow.
"In the long term, you could wonder why we even need traffic lights," says Stiller, who predicts that every car will be equipped with communications within 30 years. "If all traffic participants will be equipped with communication devices, one could think about abolishing traffic lights. But you need a fallback solution for pedestrians who don't have a mobile phone."
Can't Get There From Here
The first cars offering autonomous functions—already on the road today—are not fully self-driving, but offer hands-off, feet-off operation during certain controlled situations, like stop-and-go traffic jams and long stretches of highway. Over time, we'll see more sophisticated self-driving capabilities as a common feature.
"It will be very similar with car-to-car communications, which at first will have low bandwidth, and no guarantee that messages arrive," Stiller says. "If you lose a text message on your phone, or it's delayed, it's not a problem. But it's a big safety problem if your car loses a message that tells you about another vehicle approaching at a certain position, with a certain velocity at a certain direction."
Rapid and reliable communications is needed for your car to make split-second decisions about whether or not to slam on your brakes. That means something like Dedicated Short-Range Communications (DSRC), with new hardware added to cars and roads, or specific dedicated frequencies set aside for critical automobile communications.
"The debate is whether companies or the government want to invest in another multi-billion dollar infrastructure," says Jeff Miller, editor-in-chief of IEEE Intelligent Transportation Systems Magazine and associate professor of engineering at the University of Southern California. "We already have the cellular network that we potentially could use."
The question of DSRC versus LTE remains the VHS versus Betamax debate of the connected car world. Data privacy is also a concern.
Cell-based communications, especially as we migrate from 4G LTE to 5G, is expected to bring greater speed and reliability. But even with those improvements, I'm not sure if I want to bet my life on the cell-phone module in my car not dropping a message, or losing connection with a Bluetooth-like pairing to a dedicated frequency, just as I speed through an intersection.
On the other hand, I would be happy to see a friendly and more leisurely conversation between my car, your car, and traffic signals. Those communications can be measured in seconds, not milliseconds.
Where We're Going, We Don't Need (Networked) Roads
"It would make sense to have mobile phones talk with traffic lights, and pedestrians letting the road know when they want to cross the street. But it's a huge investment," Miller says. "You're talking about public agencies having to do it."
There are sensors and system loop algorithms used in today's traffic control networks. "But technologies used to control traffic signals are 40 to 50 years old," Miller says. "They aren't adaptable enough to connect directly into another network."
The federal government is also slow to move. On Monday, the National Highway Traffic Safety Administration issued a press release to give "advanced notice of proposed rulemaking" on vehicle communication technology. (Get that: The feds are going to announce what they will be proposing, which is all subject to change as the process grinds forward.)
Given these questions, Miller believes old-fashioned green and red lights might still be with us until 2060 and beyond. "I don't believe in 50 years that we're going to have 100 percent driverless vehicles on the road," he says. "As long as we have some vehicles that are driven, we're going to need a way to regulate them as they go through intersections."
That said, governments will be doing everything they can to incentivize highly connected autonomous or semi-autonomous cars—perhaps by creating something akin to today's carpool lanes. But those dedicated lanes could weave all the way through city and highway environments. Those special lanes, reserved for fast-moving networked cars, will be loaded with sensors of every kind that share signals with one another and the roadway—and never stop for a red light.
Lead image of the Traffic Light tree sculpture by William Warby; early traffic-light image via Broadstreet Corridor (website reportedly no longer active)