Over December we've published ten top 10 lists of the top products of 2008. We intend to open these lists up for public voting in 2009, to tap into the wisdom of the intelligent crowd that reads our site. But for now, you'll have to make do with the choices of us here at ReadWriteWeb. In this post we've done a megalist, the top 100 products of 2008. Come join us on RWW Live – our live podcast show – at 3pm PST today, as we discuss these products and the big trends of 2008.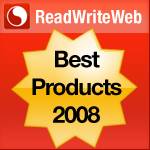 Of course there are far more than 100 great Web products out there, so there are some excellent ones not included in our megalist. Please leave a comment here and tell us what we've missed!
The ultimate 100 list was compiled from these posts:
Note that seven products made it to more than one of our top 10 lists, so we've noted when that is the case and added some new products that just missed the cut somewhere along the line.
ReadWriteWeb's Top 100 Products
This list is in alphabetical order, with category noted beside each item.
* products in more than one list. There were seven of these: Amazon Web Services, Android, Cooliris, Dapper, Hulu, Twitter, Zoho