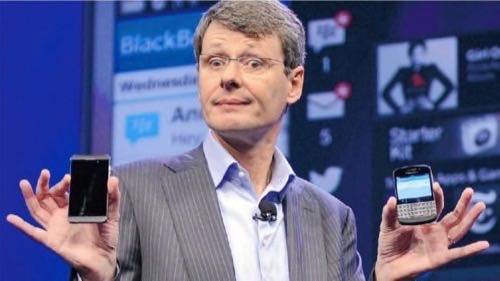 Thorsten Heins, the man charged with turning around the fates of BlackBerry, has officially lost his fight to bring the Canadian smartphone maker back to glory. Today BlackBerry announced that Heins would step down as CEO as part of a $1 billion cash investment from Fairfax Financial Holdings, the company that bid $4.7 billion to buy BlackBerry in September.
John S. Chen will take over as CEO and Executive Chair of BlackBerry's board of directors once the transaction is completed.
Heins was appointed CEO of BlackBerry (then Research In Motion) in January 2012 when co-CEOs and founders Jim Balsillie and Mike Lazaridis stepped down from the position. Heins oversaw massive job cuts as BlackBerry saw its smartphone marketshare decline against competitors like Apple and Android device manufacturers. Heins was responsible for the launch of the company's new BlackBerry 10 operating system and flagship devices Z10 and Q10. The failure of the new BlackBerry 10 to capture consumer or enterprise sales has been pivotal in BlackBerry's current dire financial situation.
The influx of cash and the replacement of Heins for Chen is the end of an almost three-month "review of strategic alternatives" that the BlackBerry board had instituted in August of this year explore the company's future. Options included taking BlackBerry private, an outright sale or selling off individual pieces of company. All of these options are still possible as Fairfax Financial takes over the board and CEO position of BlackBerry. For now, BlackBerry will continue to operating as a smartphone manufacturer and enterprise services company.
Chen is the former chairman and CEO of Sybase and has held executive positions at Siemens and Pyramid Technology. Chen has enterprise mobile chops through Sybase and should be able to focus BlackBerry's strength in enterprise security and communication as the company slims continues to slim down to its core strengths.
Mobile analyst Jack Gold of J.Gold Associates weighs in on the change from Heins to Chen:
"John Chen knows how to manage a mobile company, and perhaps more importantly, can make things happen in the industry. In fact, he had been rumored to be in line to run SAP, but that didn't happen," Gold said in an email. "I see this as a very positive step. The new management brought in to right the ship will have both a mandate to do so (with a proven track record) as well as more breathing room (with the increased cash reserve). I'd expect to see some significant redirections at BlackBerry over the next 6-12 months as the new management takes hold and new business priorities and directions emerge. John Chen is a non-nonsense CEO who will hold people accountable, and will bring either new growth to the company or position the company to be acquired at a higher premium than it can currently demand. I see this situation as a long term positive for BlackBerry."