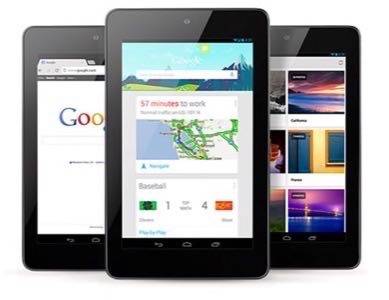 The three new Nexus devices Google announced on Monday – two tablets and a smartphone – will be the Android linchpins for the holiday shopping season. This is the first time that Google has announced more than one of its flagship Nexus touch screen devices at once and the trio diversifies the company's approach to the mobile market in a brand new way.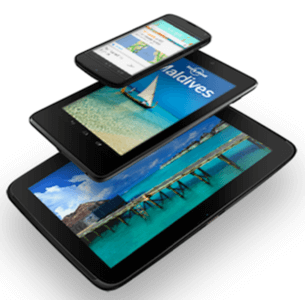 Three New Nexuses
The three new Nexus devices cover a wide range of shapes and sizes:
Nexus 4: Google partnered for with smartphone manufacturer LG for the first time for a Nexus device. This quad-core smartphone boasts a 4.7-inch screen (the same size as the Samsung Galaxy S 3 and HTC One X) and ships with Android 4.2, the latest version of Android Jelly Bean. The 16GB version of the device will be available on T-Mobile. Pricing is expected to start at $299, for an unlocked HSPA+ phone – no LTE capability. was announced.
Nexus 7: Google has improved the internal storage of the original Nexus tablet, bumping it up to 16GB for $199 and 32GB for $249. Google has also acquiesced to public demand and produced a Nexus 7 with cellular capabilities, giving the Nexus 7 with 32GB of storage an HSPA+ connection for $299. For comparison, the iPad Mini with cellular connectivity and 16GB of storage starts at $459.
Nexus 10: Google's first venture into a large-form-factor tablet, the Nexus 10 was created in partnership with Samsung. It boasts a 2560-by-1600 display (300 pixels per inch) and will have nine hours of video playback battery life (500 hours standby). The Nexus 10 starts at $399 for the 16GB model. A 32GB version is $499.
The Nexus 4 and 10 will go on sale through Android's Google Play store on Nov. 13. The refreshed Nexus 7 goes on sale today.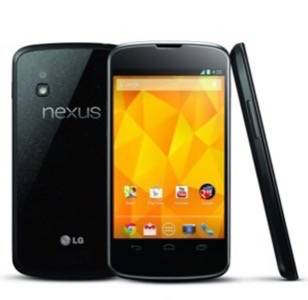 The Nexus Impact
It is only fair that if we call out Apple for releasing two new iPads in a year (and making some consumers feel like suckers for buying the first one), then we have to call out Google for the same treatment.
Google announced its first Nexus 7 tablet at Google I/O in June. It was a 8GB device at $199. Now, here we are less than six months later and there are three new models (16GB/32GB Wi-Fi and 32GB Wi-Fi/HSPA+) between $199 and $299. Of course, people who bought the original Nexus 7 should feel the sting a bit less than if they had bought a "new" iPad back in March ($199 vs. $499 and up).
The biggest impact of the new Nexus devices is the fact that Google has now spread its official flagship Android devices across the market to compete more broadly with Apple. With the advent of the iPad Mini, Apple now has a smartphone (iPhone 5), mid-sized tablet (Mini) and full-sized tablet (iPad). Google has three devices that can directly compete with Apple's lineup and each has some advantages over its iOS counterpart.
The Nexus 4 boasts better tech specs than the iPhone 5, including a quad-core processor and a larger screen. The Nexus 7 beats the iPad Mini on price, especially with the HSPA+ version coming in a full $160 below Apple's cheapest cellular-connected tablet. The Nexus 10 beats the Wi-Fi iPad on price.
This is going to be a slugfest between two heavyweights and each can point to multiple aspects of how their devices best the competition. Apple emphasizes that its mid-size Mini tablet has more screen area than the Nexus 7, while Google can laugh and point at the Mini's price as exceedingly high. Android enthusiasts will likely love the Nexus 4 though it wont come anywhere near iPhone 5 sales.
It will be interesting to see how the Nexus 10 fares. It enters a top-of-the-market ecosystem crowded by the iPad, Samsung Galaxy Note 10.1 and Microsoft's new Surface tablets. In its favor, the Nexus 10 will ship with Jelly Bean 4.2 at a very competitive price.
The War Is Just Beginning
Now that Microsoft has officially entered the consumer tablet market and its Window Phone 8 devices are on their way, the real battle for mobile supremacy between Apple, Google and Microsoft can start. This is the first time in the history of the mobile device industry that every major player has a full lineup of devices heading into a holiday season.
Right now is a good time to be a tablet or smartphone buyer. No matter what your preferences are, what price range you are looking at or what your mobile carrier is, you have some terrific devices to choose from.